If you want to raise money successfully, use a monkey—or at least its cousin.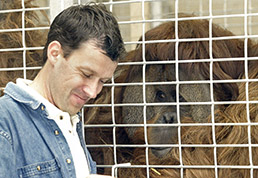 Azy, seen here with zoo Vice President of Life Sciences Rob Shumaker, should move into his new home by May 2014. (Photo courtesy of the Indianapolis Zoo)
"I think when you look at a great ape, I don't care which one it is, you see yourself," said Tim Ardillo, the Indianapolis Zoo's director of institutional advancement. "They're as interested in you as you are in them. You might see a tiger, you might see a penguin—and these are all wonderful animals—but there's nothing like a great ape."
The Indianapolis Zoo has reeled in $25 million of the $30 million it's seeking for a capital campaign that will pay for a new orangutan facility, among other projects.

Ardillo
It's the latest in a string of fundraising achievements for the zoo, which has raised $66 million since 1999 through capital campaigns. That's on top of the $3 million to $4 million in contributions it collects each year to support its $23 million operating budget.
Some other Indianapolis arts and cultural organizations also have raised large sums in recent years. The Children's Museum of Indianapolis, a perennial fundraising power, took in $74 million from 2003 to 2008.
But Kris Kindelsperger, a senior executive consultant for fundraising consultancy Johnson Grossnickle and Associates in Greenwood, said the zoo stands out for its succession of successful campaigns.
"Some organizations do a campaign and then they just stop," said Kindelsperger, whose employer worked with the zoo on its campaign. "The zoo has really done a very nice job going into a wave kind of motion."
The zoo had quietly raised money for two years and had $17 million in the bank when it publicly unveiled the orangutan campaign in December. By August, it had pulled in another $8 million—including $2 million from Lake County billionaire Dean White and his wife, Barbara. That was more than enough to start constructing the International Orangutan Center, which is scheduled to open in May 2014.
"That is a lot for a zoo, and I think if they've raised that kind of money in a relatively short period of time, they're obviously doing something right," said fundraising consultant Jessica White. White, president of Jessica White Associates in Indianapolis, is not related to Dean and Barbara White.
Mining relationships
Ardillo, who's been with the zoo since 2006, said much of the credit for the success of the latest campaign goes to the campaign's leadership cabinet.

The cabinet is led by former Cummins Inc. CEO Tim Solso and has more than 30 other members, including executives from Eli Lilly and Co., The Finish Line Inc. and Barnes & Thornburg.
While the zoo's staff handles day-to-day duties of the campaign, cabinet members mine their business and community connections to solicit donations.
"I wish I could say [the fundraiser] was an overnight success, but there really has been a lot of planning along the way," Ardillo said.
Fundraising experts also credit Michael Crowther, the zoo's CEO, for stepping up the organization's fundraising prowess after coming aboard in 2002. In the mid-1990s, the zoo had been on shakier footing and even made an unsuccessful appeal to the city for tax support.
Crowther, though, tosses accolades to his predecessor, Jeffrey Bonner, who joined the zoo four years after it opened downtown and led it for the next nine.
"I would never say that I've improved anything over what Jeff had done," Crowther said. "He was brilliant. … I'm just the guy currently in the saddle, and I've managed to avoid driving off a cliff."
Crowther said the pedigree of the board also has lifted the zoo's fortunes.
"You could never afford to hire people of this kind of caliber," he said. From the start, "they said, 'Here is the reality that we have: We have a zoo without an endowment, without tax funding, without a lot of money. Within our circumstances, how are we going to create our success?'"
The zoo, which draws about a million visitors a year, actually did have a tiny endowment when Crowther was hired. Now, it's far bigger: $28 million. Zoo officials draw only 3 percent to 4 percent a year—always for donor-specified programs and never for operating expenses.
That's part of the board's conservative financial philosophy, which includes a zero-debt policy.
Expanding the zoo
The board's priorities over the past decade stem largely from a 15-year strategy that started in 2001.
Once that plan was in place, the zoo had to "deliver the goods" to gain the community's confidence so it would keep supporting the organization, Crowther said.
Among other projects, the plan called for upgrading the dolphin exhibit, including building an underwater viewing dome that increased the number of people who could watch shows. The zoo opened the expansion in 2005 following a $30 million campaign.
In 2006 and 2007, the zoo began turning its attention to its next big project, an exhibit that would feature all four types of great apes: orangutans, chimpanzees, gorillas and bonobos.
But the fundraising environment soured during the 2008-2009 financial crisis, prompting the board to narrow the building's focus to orangutans.
A feasibility study Johnson Grossnickle and Associates prepared for the zoo in February 2010 struck an upbeat tone. It said community members and potential donors interviewed for the study believed the zoo had strong leadership and likely would be able to raise the money.
"The zoo has created a culture of philanthropy that is quite impressive," the study said. "The success of this campaign will continue to enhance fundraising for the zoo for the long term."
Making the pitch
Solso, who retired from Cummins at the end of 2011, said his involvement began in the initial stages of the campaign and grew to include contacting potential donors to solicit contributions.
"We have enjoyed the zoo with our kids and now our grandkids, so this was probably the most natural interest to be involved with," he said. "It's not a huge time commitment, but it's one I think is important."
Those calling on donors played up the conservation angle.
The World Wildlife Foundation says the two species of orangutan, named after their homelands of Borneo and Sumatra, numbered 230,000 a century ago. The eight apes from the Southeast Asian islands living at the zoo will be among the remaining 50,000 of their species today.
To further connect with possible donors, the zoo shared stories of each of the future orangutan center's residents.
For instance, there's the alpha male, Azy.
The 34-year-old ape spent most of his life at the National Zoo in Washington, D.C., where he participated in cognitive research involving computer-generated symbols.
And the zoo plays up the cute factor: "With his large and prominent cheek pads and expressive face, Azy cuts an attractive figure for female orangutans."
Connecting the public with animals by using that sort of emotional appeal has served zoos well in fundraising over the years, said Bill Tortorici, a member of the advancement committee for the Association of Zoos and Aquariums.
It's an advantage zoos have over other forms of public entertainment, such as museums, said Tortorici, who is also director of memberships at the Denver Zoo.
"If you were to look at zoos and aquariums as a product, we have a living collection that connects in ways to people that are just different," he said.
He noted the death of an elephant at his zoo that resulted in a public outpouring of support.
"That's the kind of connection you don't see very often in other industries," he said. "So we have that on our side."•
Please enable JavaScript to view this content.