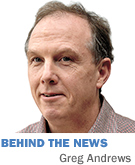 The legal battle over Mel Simon's multibillion-dollar estate has been so bitter and personal that at times the chance of an out-of-court settlement seemed near zero.
But it suddenly looks increasingly likely that Melvin's children and his widow, Bren Simon, will set aside their acrimony, at least temporarily, and reach a deal to divide up Mel's fortune.
Hamilton County court records show that attorneys for Mel's daughter Deborah on Oct. 19 asked Judge William Hughes to put discovery deadlines on hold and vacate the July 2013 trial date while the parties continue to negotiate a "memorandum of understanding."
Efforts to extract details from the attorneys involved in the discussions were unsuccessful. All contacted by IBJ either declined to comment or did not respond.
There are plenty of reasons the two sides should be able to set aside animosity and negotiate a settlement—starting with the fact that the fortune they're fighting over has swelled in size since the legal battle began in January 2010, four months after Mel's death at age 82.
Mel, a co-founder of Simon Property Group Inc., died with an estate worth perhaps $2 billion. His principal holding was Simon Property stock, which was a good investment during his lifetime and has only gotten better since. Simon shares now fetch $151 apiece, double where they were when Deborah filed to contest the will.
Deborah is one of Melvin's children from his first marriage. The other surviving children from that marriage are Cynthia Simon-Skjodt and David Simon, chairman and CEO of Simon Property Group.
She and her siblings contend Mel was suffering from dementia and didn't understand what he was doing when he revised his estate plan in February 2009, boosting the share of his fortune going directly to Bren from one-third to one-half.
The changes also wiped out a portion that was to go directly to the children and left charitable gifts stipulated in prior versions to Bren's discretion.
Bren, 69, who was married to Mel for 37 years, contends the changes fully reflected his wishes. She said Mel wanted to compensate her for the negative impact of the financial crisis, which had knocked Simon shares into the $40 range and caused the board to sharply reduce the cash dividend.
The court fight has exposed deep division between Mel's children and their stepmother. In one e-mail quoted in court, Bren said of the three: "I hope they rot in hell."
The hefty attorney's fees a case like this generates typically give parties a strong incentive to settle and halt the bleeding. But the Mel Simon estate is so large that the many millions of dollars in fees represent barely more than a rounding error.
But no matter how stubborn the parties might be, they can't help but recognize that the rising value of Mel's estate paves the way for a deal both sides could embrace as a victory.
That was the template attorneys used this fall to resolve a side dispute with Simon Property Group, which had blocked Bren's attempt in early 2010 to cash in Simon holdings held by a Mel Simon trust. The settlement allowed the sale to go forward, with the estate reaping $944 million—far more than the original transaction would have generated but a $100 million discount to the market value now.
Whether the sides can parlay the progress into a deal resolving all their differences is unclear. No doubt, the hurt feelings on both sides are an impediment. But no one can deny the obvious: There's more than enough money to go around.
Don Marsh scores pretrial win
A federal judge won't let Marsh Supermarkets Inc. tell a jury that former CEO Don Marsh invoked his Fifth Amendment protection against self-incrimination while fielding questions in a deposition two years ago.
The Oct. 23 ruling by Judge Sarah Evans Barker was a victory for the executive, who feared the company would use the fact he took the Fifth 215 times to "bludgeon" him in his trial slated for February 2013.
Marsh, 74, is accused of billing the company for millions of dollars in personal expenses. The suit, filed in 2009, charged he treated the company "like his personal checkbook" to bankroll extravagant trips and hide extramarital affairs.
Marsh took the Fifth on the advice of his lawyer because the Internal Revenue Service was investigating his expense reports. It later opted against pursuing criminal charges, and this August Don Marsh answered questions he previously had rebuffed.
Because Marsh cooperated in the discovery process and the later deposition, telling members of the jury about his previously taking the Fifth would improperly prejudice them, Barker ruled.•
Please enable JavaScript to view this content.