Indiana's largest military contractors are questioning their future operations as they await word on whether the U.S. Department of Defense will lose up to $1 trillion in funding in the next decade.

The matter largely depends on which presidential candidate wins Nov. 6.

President Obama has proposed cutting close to $500 billion by 2021 as the wars in Iraq and Afghanistan wind down.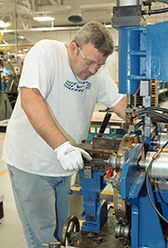 (IBJ file photo)
Opponent Mitt Romney wants to leave defense spending alone and take his scalpel to other offices' budgets.

And another $500 billion is set for automatic cuts—even though neither candidate wants them—because of the failure of a budget "supercommittee" to find steep reductions on its own. A 2011 deal on the debt ceiling had required automatic cuts if the committee failed.

"From a lot of standpoints, really, it's waiting to see, No. 1, what the federal government is going to do," said Ryan Metzing, who promotes the aerospace and defense industries at Indianapolis-based manufacturing coalition Conexus Indiana. "Is Congress going to reach a compromise on a budget, including defense spending?"

Another issue, Metzing said, is that many of the big defense manufacturers in Indiana are headquartered out of state. If cuts go through, a company's plant here might have to compete with outposts elsewhere for remaining work.

"Are they going to consolidate work? Are they going to consolidate operations? Close operations?" he said.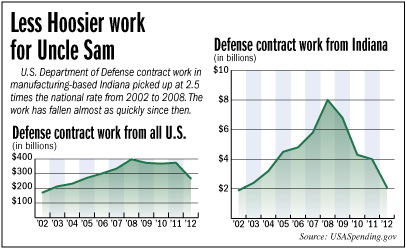 Spokesmen for Rolls-Royce PLC, Raytheon Co. and AM General LLC—all of which pull in hundreds of millions of dollars in military work annually—declined to comment on what their companies were doing in preparation for the looming cuts.

Rolls-Royce has 4,500 employees in Indianapolis covering defense and civilian markets. Raytheon has 1,000 people working in Indianapolis. And 2,000-employee AM General has the bulk of its work force in South Bend and Mishawaka.

"The defense budget remains unresolved, and it is impossible to predict the outcome," said George McLaren, spokesman for Rolls-Royce's military manufacturing operations in Indianapolis. "No one in Washington even knows when the budget will be resolved, let alone how."

The cuts would be from a defense budget that did well for Indiana, but has lost a lot of its girth in the past few years.

Contract work performed in the state peaked at $8 billion in 2008 after increasing more than 320 percent from $1.9 billion in 2002, according to USASpending.gov. Nationally, defense contract work experienced slower but still triple-digit growth of 132 percent.

The steep climb left Indiana more room to fall at the end of the Iraq and Afghanistan wars. Contract revenue already has fallen back almost to its level at the onset of the wars.

Hoosier companies performed $2 billion in defense contract work in 2012, a 74-percent drop since 2008. Defense work nationally slid 33 percent in that span.

The looming budget cuts have yielded a blitz of research reports forecasting potential woes for Indiana if defense contract work declines further.

The Center for Regional Analysis at George Mason University reported in July that Indiana stood to lose 14,950 of its 2.9 million jobs in fiscal years 2012 and 2013 because of the U.S. Department of Defense cuts.

The military think tank Center for Security Policy in September projected Indiana would lose $784 million in earnings and gross state product would drop $1.1 billion—about 0.4 percent.

The National Defense Industrial Association declared the defense cuts as a top issue of 2012.

Conexus' Metzing said it's important for companies that historically have done a lot of defense work to look more at commercial markets.

Raytheon spokesman Jon Kasle said his company was relying on finding new applications for existing products—a portfolio of radars, missiles and integrated systems.

"Raytheon will follow its customers' lead once the direction is clearer," he said.•