Turns out, Indianapolis is a pretty good place to run a high-growth business.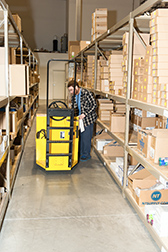 National Trade Supply LLC sells furnace filters over the Internet from this warehouse in Greenwood. (IBJ photo/Eric Learned)
The Indianapolis area produced more Inc. 500 companies per person from 2001 to 2010 than all but five other U.S. metro areas with more than 1 million residents, according to a recent study by the Kansas City-based Kauffman Foundation.
With 66 Inc. 500 companies launched in the last decade, Indianapolis was a more dynamic place, for its size, than all other Midwestern cities, and ranked higher than Denver, Los Angeles, Portland, San Diego, San Jose, Seattle and even New York.
Indianapolis wasn't the only Rust Belt city to do well. Buffalo, N.Y., placed 11th, Baltimore ranked 15th, and Louisville claimed 20th.
Which begs a question: If 21st century economic success depends on attracting the "creative class" to high-tech industries, why are some cities with decidedly unhip, industrial images launching so many of the companies every city covets?
The answer, according to the Kauffman researcher who wrote the study, is that economic success hinges on few of the things that have received so much attention the past decade—availability of venture capital or government grants, university R&D, patent activity or high-tech incubators.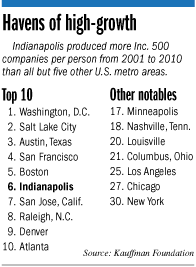 Nor does a low-tax environment seem to matter much. Nor do the cities with the biggest clusters of high-tech companies produce more Inc. 500 companies per person.
Rather, the only factors that proved significant in predicting the location of Inc. 500 firms were the rate of new business formation, the level of tech employment, and the flow of science and engineering graduates out of universities.
And then cities have to have environments that allow those talented individuals to easily connect with one another, in order to produce the teams necessary to launch high-growth companies, said Yas Motoyama, lead author of the Kauffman study.
"The connection of people matters more, rather than the talent," Motoyama said. He added, "In big cities, there are almost always talented people. The question is if there is a regional structure that can integrate these talented people."
Indianapolis had a decent but not great amount of high-tech employment, according to a 2009 analysis by the California-based Milken Institute.
The metro area's nearly 60,000 high-tech jobs, as a percentage of all jobs, ranked it 61st among U.S. cities of all sizes. That was ahead of Chicago, Pittsburgh and Boston, but behind Midwestern rivals such as Kansas City, Minneapolis and St. Louis.
A helping hand
Anecdotally, Indianapolis is a place where businesspeople interact with one another easily and often.
"It's a little bit of Hoosier hospitality in that we help each other out," said Todd Anthony, founder of National Trade Supply LLC in Greenwood. "It's not so much of a formal networking group as it is just friendliness from one business to another. We're willing to share tips and tricks and success stories."
Founded in 2003, National Trade Supply ranked No. 30 on the Inc. 500 list in 2007. The company, which now has $32 million in revenue, sells furnace filters and other indoor air-quality products to homeowners and HVAC contractors through a series of websites.
Angie Hicks, Angie's List's chief marketing officer, could have grown the consumer ratings service in Columbus, Ohio, where it was founded in 1995. But she and CEO Bill Oesterle moved it a year later to Indianapolis so they could be closer to their families—a common story among Indianapolis-area entrepreneurs.
And Indianapolis proved to have a good environment for entrepreneurs and a good flow of talent out of the state's universities, Hicks said. She noted that Angie's List was able to interact with other entrepreneurs, such as those at ExactTarget, another IT company that landed on the Inc. 500 list.
"We were an early customer of Exact Target. We ended up sharing some office space. We were in the same complex at one point," Hicks recalled. "There's a Midwestern kind of attitude about, 'Let's help out our fellow neighbor.' I like that. And you see that.
"You see people taking the time to interact and give advice to one another."
Challenging conventional wisdom
Motoyama took pains in his study to question the two reigning strategies for economic development: a focus on high-tech industries, as advocated by the Milken Institute, and a focus on attracting the "creative class," as popularized by economic development theorist Richard Florida.
Both Milken and Florida have created their own top 10 lists of metro areas. Indianapolis is on neither list. But in the Inc. 500 analysis, Indianapolis scored better than all but three of the cities on Milken's list and all but four of those on Florida's list.
"The driver of the economy really comes from entrepreneurship. But that doesn't necessarily mean that economies should promote the high-tech sector," Motoyama said. And, he added, "I don't necessarily go for the talent attraction-retention strategy."
Still, most of Indianapolis' high-growth companies do have an IT flavor—even if they serve bread-and-butter industries such as HVAC contractors.
Joel Kotkin, an urban affairs fellow at Chapman University in California, said the best indicators of economic performance in metro areas are overall job growth and total jobs in science, technology, engineering and mathematics. In an annual ranking based on those measures, Indianapolis placed No. 32 among large U.S. cities.
He cautioned that the Inc. 500 database may be too narrow a measure to give a completely accurate picture of entrepreneurial activity across the country.
"I have to be a little bit skeptical," he said, "particularly with some of these cities that have not seen huge job gains over the years, or are losing population."
In the talent-retention and -attraction game, Indianapolis has been a solid performer—it just doesn't get the credit larger metros do, said Aaron Renn, CEO of data mining firm Telestrian LLC and author of the Urbanophile blog.
"A lot of what Indianapolis has done flies under the radar," said Renn, who used to live in Indianapolis. "If the Cultural Trail were in New York City, it would be internationally famous. If it had been done in Chicago, it would be on the cover of The New York Times. There's a built-in bias to these stereotypically cool cities."
In the competition for talent, Renn said, Indianapolis should focus on its strengths—being a low-cost, family-friendly locale—not try to make itself into a high-end locale that can compete for the same kinds of residents now flocking to SoHo and San Francisco.
"We need to think about it like a business. Every business does a segmentation analysis, and says, 'What segment are we going after?'" Renn said. "You make a mistake when everybody tries to be the BMW. Instead, you can make lots and lots of money selling Toyotas."•
Please enable JavaScript to view this content.