One of the city's best-known retail developers is alive and kicking again after a harrowing real estate downturn and protracted legal battle with two lenders.
The Broadbent Co., a 40-year-old privately held developer, in recent months managed to settle lawsuits with two former lenders, retain control of its downtown headquarters, and close on a deal to refinance 10 well-positioned properties totaling almost 800,000 square feet in a $60.5 million deal.

George Broadbent has seen his net worth shrink.
The moves suggest Broadbent might yet survive a historic real estate downturn that appeared likely to lead to its demise. The company struggled during the recession and faced a barrage of lawsuits as it attempted to retain control of several of its properties by reorganizing them under bankruptcy protection. The moves—including co-founder George P. Broadbent's sale of the company to his wife as lenders circled—irked bank officials who saw the company's maneuvering as an attempt to escape paying its bills.
It is unlikely Broadbent escaped from its troubles unscathed—without hefty future payment obligations—though specifics about its financial condition are not publicly available. Broadbent's legal settlements with lenders are confidential.
Broadbent declined, through a spokeswoman, to discuss the company's recovery. George W. Hopper, an attorney for Huntington National Bank, declined to discuss the September settlement between Broadbent, Huntington and PNC Bank.
"It's a new day over there," said Clay Scheetz, a senior vice president at Carmel-based Grandbridge Real Estate Capital, which brokered Broadbent's refinancing in September. "They've had challenges like every other developer. As we can see from disclosures, they appear to have put all of those challenges behind them."
The properties Broadbent refinanced are mostly in Indianapolis, including the 130,000-square-foot Clearwater Crossing, 92,500-square-foot Castleton Point, 104,000-square-foot North Willow Commons at 86th Street and Ditch Road, and 8,500-square-foot Fashion Mall Commons.
Grandbridge, a subsidiary of the North Carolina-based bank BB&T, arranged the $60.5 million, senior 10-year financing with commercial mortgage-backed securities, or CMBS, investors.
The CMBS market is bouncing back after disappearing during the recession, Scheetz said, but the $50 billion expected volume this year is still well below the 2007 peak of more than $230 billion. The debt is attractive to developers since it can be easier to obtain than bank financing and rates are quite competitive, below 4 percent in some cases, based on creditworthiness and deal structure.
Scheetz described the refinancing as "successful," but declined to elaborate or discuss Broadbent's financial condition.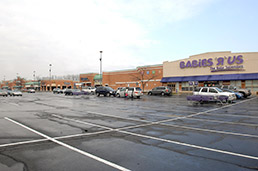 The Clearwater Crossing shopping center, located between the Fashion Mall at Keystone and Castleton Square Mall, is one of Broadbent's prime holdings. (IBJ photo/Perry Reichanadter)
The shopping centers Broadbent refinanced total 787,000 square feet, which works out to a borrowed amount of about $77 per square foot. That would appear to leave a strong equity position for Broadbent.
The land and buildings alone are probably worth $100 or more per square foot before considering the rental income stream, said Jacque Haynes, a vice president and retail broker at Cassidy Turley who also has developed small retail centers.
The shopping centers are probably worth $150 per square foot or more, depending on location, size, rent rates and occupancy, she said, noting that the Broadbent centers are all "viable" and generally well located.
Broadbent's dispute with Huntington and PNC began in August 2009, when his company sued them, charging they were wrongly attempting to restrict access to a $50 million credit line.
The banks had loaned The Broadbent Co. $21 million for the Greenwood Place development in May 2006, later extending the note.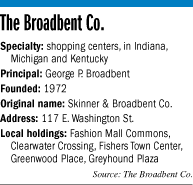 Huntington and PNC countersued in August 2010, seeking to collect the entire loan balance early, citing Broadbent's declining financial condition.
Their counterclaim might have been triggered by Broadbent's move a few months earlier to sell the company to his wife, Mary Clare Broadbent, for $50,000 as the mounting lawsuits threatened his control.
As lenders circled, Broadbent also transferred to her his ownership interests in five retail properties that had equity of more than $22 million for "estate planning reasons," according to an affidavit. He also sold her ownership interest in nine other properties for $150,000 to "raise personal capital" and "diversify his portfolio."
The banks and Broadbent eventually settled the case out of court, but not before a judge denied a request to seal the co-founder's financial records.
The court filings show that, in January 2007, Broadbent had net worth of $121 million, and his shopping centers had equity of $62 million. As of July 2012, his net worth had fallen to $48 million, and the equity in his real estate projects had shrunk to $10 million.
On top of that, his cash in personal accounts plummeted from $7 million to just $3,000, though he continued to have annual expenses of more than $1 million.
The Broadbent Co., founded in 1972, manages more than 3 million square feet of retail space, mostly in central Indiana. The company has 73 employees.•
Please enable JavaScript to view this content.