ELLETTSVILLE—Just west of this bedroom community of Indiana University employees, beyond the sign for stump-removal services and a loud "Jesus is Salvation" sign off State Road 46, is the tidy headquarters of Smithville Telephone.
A freshly sealed ribbon of asphalt leads to what looks like a retail strip mall, with each division of the state's largest independently owned phone company behind its own storefront.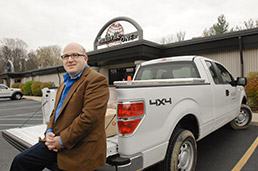 Smithville Digital's president Cullen McCarty at Ellettsville headquarters.(IBJ photo/Perry Reichanadter)
The busiest of late has been Smithville Digital, which provides fiber-optic communications service to businesses, hospitals and schools in 17 Indiana counties, mostly in the south.
While the 9-year-old division has wired large portions of southern Indiana—including the city of Columbus—with fiber, it's quietly been growing on the periphery of Indianapolis. That includes parts of Noblesville, which it wired to follow client Monroe Bank (later acquired by Old National Bank).
Next year, the unit plans to activate service to parts of Tipton County, such as in Sharpsville, and farther into Hamilton County.
"We want to expand more into Hamilton County, as well as northern Marion County," said Cullen McCarty, president of Smithville Digital.
His relatives bought a controlling interest in Smithville Telephone in the 1930s, and continue to operate the private company, which doesn't disclose sales. But McCarty said the company has been growing consistently at a 20-percent to 30-percent clip each year.
For the last three years, Smithville and Smithville Digital have been ranked in Broadband Communities' Top 100 fiber-to-the-home providers.
Smithville started in 1922 as a communication service between limestone quarries to the south in Smithville.
In subsequent years, it began wiring big parts of Monroe County and, up until the 1950s, provided electric service, as well.
"My great-grandfather was nearly electrocuted and decided it was time to get out of that business," said McCarty, a bespectacled, down-to-earth executive whose office includes a toddler playpen.
He'll have his work cut out for him bringing Smithville into Indianapolis, where consumers are more likely to identify with giants like AT&T and Comcast. But it surrounds the city, having strung fiber not only in Hamilton County but also in the Hendricks County town of Lizton.
Last year, Lizton became the first town wholly wired by Smithville, stringing fiber-optic cable—rather than copper wires—right to the doors of customers. It is part of a $90 million fiber expansion begun in 2008 that offers residential customers up to 100 megabits per second and businesses upwards of 1 gigabit per second.
Consider that in the early 1990s, 56 kbps (56,000 bits a second) was pretty typical in residential applications.
While business customers hold perhaps the biggest potential, the so-called overbuild allows for residential service, including television.
"Right now, the focus is on commercial. Residential is very finicky," said McCarty, pointing out the increased competition from telecom providers in the residential market.
Recently, Smithville connected Cummins' Walesboro engine plant, near Columbus, which also provides opportunities to connect with schools, nearby.
Smithville won a contract to install fiber for the city of Columbus, which has huge expansion potential for the company (about four years ago, it tried unsuccessfully to land a contract with the town of Fishers).
Many commercial clients aren't high-tech firms as one might expect but traditional businesses, such as banks, title companies, law firms and medical clinics that need big bunches of bandwidth.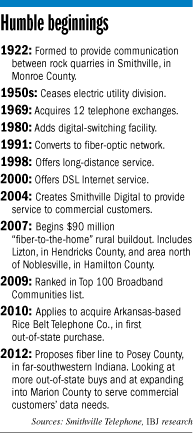 Most all of the major medical offices in the Bloomington area are served by Smithville's network, as telemedicine data transmission becomes more prevalent.
The economic development potential of fiber is a powerful draw. Hoosier Energy will use Smithville's fiber network at a power delivery operations center being built just east of Spencer, in Owen County.
The fiber overbuild is being financed largely by loans through the federal Rural Utilities Service. Smithville secured the loans at just the right time, as the economy was tanking and interest rates fell.
Smaller telecom companies have been feeding on opportunities abandoned by big carriers that focus on urban markets.
"These were the areas that AT&T didn't want. Some of the plant is old and they didn't want to update it," observed David Spencer, director of marketing at NineStar Connect, formerly known as Hancock Telecom.
NineStar, which was created last year by the merger of Hancock Telecom and Central Indiana Power, is expanding its fiber infrastructure outside the county, to Rushville and to New Castle.
NineStar needed to add high-bandwidth lines to accommodate plans by its electric utility arm to add so-called smart grid capabilities, such as remote meter reading. But that backbone also allows NineStar to offer high-speed fiber to homes and business customers as well.
Smithville started adding fiber to the backbone of its network in the early 1990s, when fax machines were still considered high-tech and required a more robust network. But then came DSL technology for Internet service around 2001.
"That's when we really got into the fiber business," McCarty said.
In more recent years, besides extending its footprint around the Indianapolis area, Smithville has set its sites on far southwestern Indiana, near Evansville.
And now it's going national: In late 2010, Smithville Holding Co. struck a deal to buy Arkansas-based Rice Belt Telephone Co. It was a good fit, McCarty said, because the Rice Belt owners had a lot in common with Smithville and the firm had started building fiber-to-the-home networks.
"We do have other opportunities as well. We're looking at a couple of other states right now. … You have to look nationally," he added.•
Please enable JavaScript to view this content.