Fishers officials are finalizing a deal with a local developer for a mixed-use project that would launch a long-awaited transformation of the town's suburban core.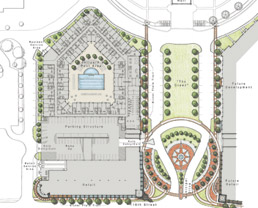 Fishers has picked a developer to transform a swath of land into an urban-oriented apartment community, retail space and parking garage. (Rendering courtesy of CSO Architects)
The $33 million proposal by Flaherty & Collins Properties calls for 203 apartments, 25,000 square feet of retail space, and a 406-space parking garage on 3.4 acres north of 116th Street and west of Municipal Drive, in front of the Fishers Town Hall.
The parking garage would be hidden from view within the structure, which would stand three stories along 116th Street and four stories to the north, with retail and restaurant space with outdoor dining wrapping the southeast corner.
It would be the town's first major mixed-use project and the first phase of a long-term plan to build an active town square for the Hamilton County community, whose residents on Nov. 6 voted to begin the process of turning Fishers into a city. A second phase eventually could complete the square on the east side of Municipal Drive.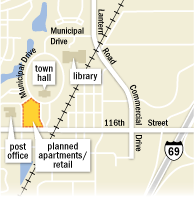 "It's something Fishers residents have been wanting for a long time and are going to be excited to see it moving forward," Town Manager Scott Fadness said.
Town officials selected Flaherty's from six proposals and are negotiating a project agreement that calls for an incentive package including free land and about $10 million from a tax-increment financing district to subsidize 200 public parking spaces and aesthetic upgrades. More than 60 percent of the TIF funding would come from the project itself, which would immediately hit the tax rolls without abatement.
Final approval requires a vote of the Fishers Town Council, following a public meeting.
The project would feature "traditional architecture with modern finishes" designed to make the single structure look like several buildings constructed over the years, said Tom Dickey, the town's director of community development.
Dickey, a former executive at Duke Realty Corp., sees the project as both a way to build a downtown and as an important tool for economic development: "This is a place we can show to a CEO looking to locate a place where employees will want to live."
Fishers has an uphill battle building a pedestrian-oriented downtown, but Flaherty's project could be a good start, said Tim Stevens, director of development for Indianapolis-based Mann Properties, which has holdings in the area.
Stevens is most enthusiastic about the new residential density. He sees the retail component as a tougher sell, though it should benefit from a "captive market."
"I'd love to see more density in the downtown of Fishers—that's going to be good for the overall market," Stevens said. "If you get more people living there in the downtown, they can achieve some of the things they want to do to create more of a culture, retail and dining scene, instead of it being a widely distributed suburban space without a core."
A who's who of local developers had sought the deal, including Keystone Group Inc., J.C. Hart Co., Ambrose Property Group/The Whitsett Group, Milhaus Development and Browning Investments/Sheehan Properties.
Construction is set to begin in mid-2013 with completion by 2015. The first apartment residents would begin moving in by late 2014.
The apartments would feature 9-foot ceilings, granite countertops, stainless steel appliances and brushed-nickel hardware. Monthly rents would range from about $1,000 to $1,200.
Town leaders are confident the units would lease up quickly. About 18 percent of the housing stock in Fishers consists of apartments or rental homes, well below the national average of 30 percent.
The commercial space also should be well-received, said Donna Hovey, a retail broker in the local office of CBRE.
The firm's research shows that retail space in downtown Fishers—429,000 square feet in 24 properties—is 98 percent occupied, up from 92 percent in 2010. And demographics are some of the strongest in the state: More than 158,000 people with an average household income of $104,000 live within a five-mile radius, Hovey said.
Fishers households also are big spenders, shelling out an average of $67,000 per year in consumer expenditures.
"I think the area can support more retail, but I don't know if it can support another 25,000 square feet," said Hovey, who noted the retail nearest to the project, centers owned by locally based Broadbent Co. that include the restaurants Chatham Tap and Wild Ginger, are almost 100 percent occupied. "Planned correctly, they could probably fill it up. It sounds like a good project for Fishers."
Leasing retail space with a more urban character could be a struggle for a town where most stores are served by a sea of surface parking. Town officials hope to land a mix of local and national tenants.
If demand isn't strong, the town won't hesitate to scale back its ambitions, Fadness said.
"We're conservative and want to make sure whatever we build is sustainable," he said.•
Please enable JavaScript to view this content.