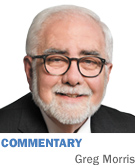 Education is on my mind this week. There's been a lot of progress made in education reform the past few years, but I fear we are at risk of moving backward. I'm worried the defeat of Tony Bennett as superintendent of public instruction puts this state's education reforms not at risk, but on a slower pace. A recent story headline read, "Teacher wrath boosts Ritz to upset in state education race."
During her successful campaign, Glenda Ritz, our newly elected education chief, pledged to roll back many of Bennett's (and Gov. Daniels') reforms. However, that should prove to be a difficult campaign promise to keep. Why? Because the Legislature and Gov.-elect Mike Pence appear to be on board with our current track for reform. In addition, Daniels appointed the current board of education that Ritz that will presumably report to. So, her new bosses are pro-reform.
I think it's a real shame that Bennett was not given the opportunity to continue with his initiatives to improve education for Hoosier kids. That's where his drive has always come from. His goal wasn't to attack hard-working teachers and administrators in schools that are producing good results. For Bennett, policy has always been about what's in the best interest of the kids.
As I've discussed previously, Daniels and Bennett have often been demonized because they've been forcing change in an attempt to fix a failing system. Isn't that the way it always is? Everyone says they want better schools. But when significant change is finally proposed and executed, the special interests scramble to fight it. Nothing happens and the cycle repeats itself. Well, we need to make sure that doesn't happen here in Indiana. Too much positive work has been done to lay down a strong foundation for reform. We can't return to the status quo. We can't go backward.
Change does not come easily. Education reform is a topic that brings out passion—and rightfully so. Our children are our future. It's tough to take the lead and criticize some teachers, administrators and school systems when there are good things happening in many schools. But the numbers don't lie. Indiana students as a group have been underperforming and schools as a group have been failing for years. Fortunately, reform is already producing results.
Don't get me wrong. It's not all bad news in education. There are excellent school systems that consistently perform at a high level. There are excellent teachers and outstanding administrators doing great work. And these high performers don't want to be saddled with state mandates they say will hinder the success they are already achieving. Yet, the facts show there are underperformers, and they are the ones who are loudly complaining to protect their own self-interest.
Everyone would like to see more of a consensus on what changes are needed. However, it's been obvious for decades that consensus was not at hand. The change we need has to be forced. Daniels and Bennett forced a lot of that change in a short amount of time. That doesn't make either man popular with certain elements of the education establishment, and as a result, Bennett paid the ultimate price in his failed re-election bid.
With the tough fight against the status quo, I'm sure Bennett always knew there was a possibility he'd last only one term. I'm sorry to see it turn out that way, but I applaud Bennett's effort and tenacity. Thanks, coach, for taking one for the team.
Looking ahead, I remain hopeful that superintendent-elect Ritz can deliver the current reform mandate with more of a velvet-glove approach that educators will find more palatable. I hope she'll be able to work with Pence and the Republican super-majority Legislature as a partner for positive change—rather than as an adversary.
We might disagree on some of the details of reform, but I hope we can all agree that we can't go backward. Education reform has to keep moving ahead. It's about the kids—and it's about all of us. All of our futures are tied together.•
__________
Morris is publisher of IBJ. His column appears every other week. To comment on this column, send e-mail to gmorris@ibj.com.
Please enable JavaScript to view this content.