An executive ousted from the firm developing The Barrington in Carmel alleges that the $142 million retirement-community project was driven by conflicts of interest.
The allegations by David Brown, former vice president for development at Senior Quality Lifestyles Corp. in Dallas, prompted CEO Charles Brewer to reassure bond investors in a Nov. 9 conference call that he didn't personally benefit from SQLC's decision to take over the project early this year.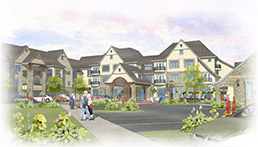 The Barrington, a continuing care retirement community, is under construction in Carmel. SQLC, a not-for-profit developer from Texas, took over the project early this year.(IBJ photo/Perry Reichanadter)
Brewer was a seed-capital investor in The Barrington, a high-end senior-living complex that was delayed for three years, but he said he disclosed his interest to fellow board members and divested himself before SQLC became involved.
"SQLC was asked to come on board because we have a checkbook," Brewer told IBJ. "That's a benefit for Carmel residents."
Construction on The Barrington began this fall after an August sale of tax-exempt bonds raised $119 million. The Barrington's not-for-profit owner, Mayflower Communities Inc. (an affiliate of SQLC), used the city of Carmel as a conduit to issue the bonds, but no taxpayer dollars are at stake.
SQLC owns and operates several "continuing care retirement communities" in Texas; The Barrington was its first out-of-state project. Brown, who was fired in June, believed the Carmel market already was saturated with similar options.
The failure of a project like The Barrington would be bad for residents, who pay refundable entrance fees of about $300,000, plus monthly service fees for a "life-care contract," said Dusty Fillmore, Brown's Dallas attorney.
"It is our view that these continuing care retirement communities like SQLC use their tax-exempt status as a marketing tool," Fillmore said. Residents, who usually sell their homes to come up with the entrance fee, assume the not-for-profit will protect their money, he said. "These residents own nothing but contract rights."
Brown accused Brewer of pushing the not-for-profit SQLC into the project to bail out himself and the for-profit construction manager, Irving, Texas-based Greystone Communities, with which Brewer has close ties.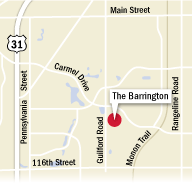 Brewer thinks Brown, who'd previously worked at Greystone, simply didn't like the company and was looking to give it a black eye.
Whether The Barrington would be viable "was only a question in the mind of one person, who was a disgruntled former employee," Brewer said.
The two battled within SQLC before Brown was fired. Then the fight moved to Texas courts, after someone sent a disturbing letter to residents of SQLC's Edgemere community in Dallas. The letter said SQLC was using Edgemere residents' money to invest in the Indiana project.
It's true that SQLC used about $2 million from Edgemere to invest in The Barrington, Brewer said, but the bond covenants permit that, once occupancy is high enough to cover expenses through residents' monthly fees.
"Everything we do is tightly within the confines of the indenture," he said.
Brewer said he sued Brown, who denied writing the letter, to keep him from writing more letters to SQLC's residents. Brown detailed his allegations in an answer to that suit, which Brewer later withdrew.
The Dallas Morning News published an article on the saga last month.
John Kerber, an investment analyst at Federated Investors in Pittsburgh, which holds bonds on The Barrington and other SQLC facilities, said he was satisfied with the explanation Brewer offered on the conference call, but he wishes the company had disclosed the conflict-of-interest issue earlier.
SQLC had not told bondholders that Brown's internal complaint prompted the board of directors to hire an outside attorney to investigate.
In a June 8 report, Texas attorney Carvan Adkins said Brewer was indeed late in disclosing his personal financial interest to his two fellow board members. Adkins concluded the conflict didn't have a material effect on SQLC's decision about The Barrington because the board also had hired an independent analyst.
The one development-team member that wasn't aware of SQLC's conflict-of-interest drama is Mayflower Communities.
John Roberts, a Carmel businessman, joined Raymond Goodman, a New Hampshire hospitality executive, and Everett Winters, a retired Southern Methodist University administrator, to form Mayflower in November 2007 for the purpose of developing The Barrington, Goodman said.
"We all had relationships with Greystone," Goodman said. "We thought it would be a good partnership, given the disparate skill sets we had."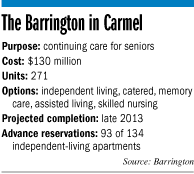 Greystone sought SQLC's help with the project in December 2011. Four or five months ago, SQLC absorbed Mayflower as an affiliate with Brewer as chairman of its board, Goodman said.
Goodman said he didn't know about the Dallas Morning News article or the conference call with bondholders.
Plans for The Barrington were scaled down when the recession hit, but it still couldn't go forward because of unfavorable financial markets, he said.
The plans now call for 134 independent-living apartments, plus "memory care," catered apartments, assisted living and skilled nursing for a total of 271 units. The project is on 19 acres on Guilford Road, north of 116th Street.
One reason Greystone wanted SQLC to handle the project, Brewer said, is that he has good relationships with two dozen mutual funds that tend to buy retirement-community bonds.
"There's a lot of trust in this business," he said.
The Barrington is attracting enough pre-completion sales to keep bondholders happy. The developers have deposits on 93 of the 134 independent-living units—two more than the bond covenants require.
Construction is ahead of schedule and under budget, according to an update from Greystone. The Barrington is expected to open in late 2013.
"That's all to the good," Kerber said.•
Please enable JavaScript to view this content.