Mass Ave merchants ushered in the holiday shopping season a week before Black Friday, staying open late and urging consumers to start buying early.
Broad Ripple shops hosted their holiday preview in early November.
Contemporary craft boutique Homespun: Modern Homemade, meanwhile, joined forces with Irvington neighbor Black Acre Brewing Co. and the Spice Box food truck to serve shoppers seeking a respite from the maddening crowds.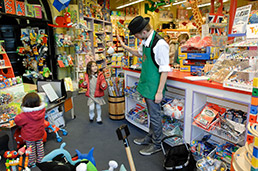 Mass Ave Toys' product mix draws shoppers year-round, but the store is gearing up for the busy holiday season. (IBJ Photo/ Perry Reichanadter)
IndySwank owner Jennifer Von Deylen is taking the opposite approach, setting up a temporary store in Circle Centre mall in hopes of reaching the frenzied masses who might not make it to the Fountain Square shop she founded in 2009.
"December is always my best month by far," she said, "but I'd like to get more of the holiday business."
She's far from alone. National retailers are licking their chops over the $586 billion consumers are expected to spend during the holiday season, and small-business owners also are bellying up to the buffet.
They're just not getting nearly as much attention.
Independent stores "are at a tremendous disadvantage these days and it's getting worse," said Richard Feinberg, a professor of retail management at Purdue University.
Consumers are drawn to big stores' extended hours, deep discounts and online convenience, he said, making it more difficult for small shops to compete.
The stakes are high: Holiday sales can represent up to half of a retail business's annual revenue, Feinberg said, and as much as 75 percent of profit.
"This is our Indy 500," agreed Kay Feeney Caito, marketing manager for locally owned Mass Ave Toys. "It's what we work all year for."
And like the famed 500-mile race, it's important to get off to a good start. Businesses of all kinds were revving their engines for weeks in anticipation of the green flag's dropping on Black Friday.
More than half of consumers planned to shop at some point during Thanksgiving weekend, according to an International Council of Shopping Centers survey released this month.
"Never underestimate the power of a sale," Purdue's Feinberg said. "We are all looking for good deals."
So are independent retailers doomed to settling for the scraps from big-box stores? Not necessarily. Feinberg and others said events like American Express' Small Business Saturday, now in its third year, help small shops cut through the clutter.
"It has been a really positive thing for Main Street folks," said ICSC spokesman Jesse Tron.
The promotion encourages consumers to "shop small" on the day after Black Friday, and Indianapolis merchants say it's working.
Last year, Amanda Taflinger had customers lined up around her Irvington boutique on Small Business Saturday. This year, she got Spice Box to park outside, selling sustenance in the form of Indian food. Black Acre offered up liquid refreshments and a place for shoppers to take a load off.
Homespun also will participate in the Irvington Merchants Holiday Open House on Dec. 7 and Yelp's Totally Bazaar holiday shopping party at Indianapolis City Market Dec. 13. More than 60 local businesses will be represented at the Yelp event, which organizers expect to draw about 2,000 shoppers.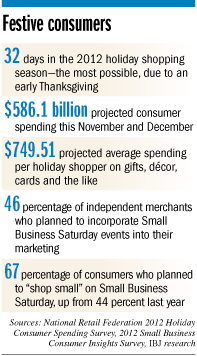 "We participate in as many activities as possible," Taflinger said. "We always encounter new people, which helps bring customers in year-round."
It's up to Taflinger and her husband, Neal, to nurture those new relationships. They do that by staying in touch with customers through social media, website updates and e-mail newsletters.
Because Homespun's inventory changes often—the shop sells handmade goods from artisans throughout the United States and Canada—the owners focus their messages on their one-of-a-kind products.
"We have the unique items people want, not huge discounts," Taflinger said. "People understand we can't do that."
Indeed, many independent retailers take pride in offering a different shopping experience from the giant chains. Among the points of distinction: product offerings, customer service and a sense of community.
At Mass Ave staple Silver in the City/At Home in the City, for example, staff is trained to help shoppers navigate a sales floor full of jewelry, home décor and gifts. Purchases are packaged in decorative bags with tissue paper.
"Little things like that make a difference," said store owner Kristin Kohn. "If you're shopping for gifts, you're going to find things you've never seen before. You don't have to settle for the same picture frame you see on your way to the frozen foods aisle every week."
Mass Ave's annual Midnight Shopper event kicked off the holiday season a week before Black Friday, and additional events are scheduled Fridays through Dec. 21.
Broad Ripple merchants' holiday preview was Nov. 9, and they expect to get another boost in business Dec. 8 during the Broad Ripple Lights Up! Festival. Ellen Morley Matthews, owner of Chelsea's gift shop, doesn't do anything out of the ordinary to attract shoppers.
"I feel like we have a great inventory at affordable prices," she said. "We try to be as good as we can be all the time."
IndySwank's Von Deylen, on the other hand, is pulling out all the stops this year. She opened the pop-up shop at Circle Centre on Nov. 9, and hired seasonal staff to help sell its vintage-inspired clothing. She planned to open that store at midnight on Thanksgiving, and was bringing in models for a live window display on Black Friday.
For Small Business Saturday, Von Deylen organized a shopping party for the original Fountain Square location, complete with wine and music.
"You have to work to get people in your store," she said. "You can't just throw up a sign and wait for them to show up."
Janet Pillsbury agrees, though the owner of Carmel's My Toy Garden said the work she does all year carries the specialty toy store through the holidays. She's doing something right. October sales were up 45 percent from 2011, Pillsbury said, and November is trending the same way.
The former teacher sells educational toys, employing "guides" rather than sales clerks in hopes of helping shoppers navigate the store's unusual offerings. Customers also are encouraged to play before they buy. Pillsbury wasn't planning anything special for Black Friday or its aftermath.
"We have a very relationship-focused strategy," she said. "Black Friday isn't relationship-focused. It's frenzy-focused."•
Please enable JavaScript to view this content.