During Republican Tony Bennett's tenure as state schools chief, Indiana became the poster child for school choice.
But with Bennett's surprising election loss to Democrat Glenda Ritz this month, the future of charter schools and private-school vouchers is murkier.
After his loss, Bennett told the trade publication Education Week that Ritz could make it onerous for private schools and privately run charter schools to operate in Indiana—thereby curbing their growth.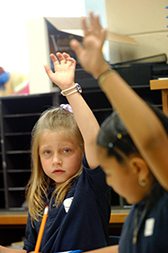 These students at Christel House Academy are among more than 36,000 statewide who attend either charter schools or use publicly funded vouchers to attend private schools. (IBJ file photo)
In her campaign, Ritz accused Bennett of privatizing public education—and her convincing victory suggests that many Hoosiers agree.
Ritz opposes vouchers outright and has said there are too many underperforming charter schools. But in an interview this month, she indicated that dealing with charters and vouchers is a notch or two down on her priority list.
"I'd have to actually look at the law to see what kind of oversight my office has when charter schools are sponsored by other entities," Ritz said in a Nov. 14 interview. "I want to work with the charter groups that are happening now and actually have some good dialogue."
On vouchers, she reiterated her standard position—"I'm for public dollars going to public schools"—but declined to comment further until after the Indiana Supreme Court rules on the constitutionality of the program.
The court heard arguments Nov. 21 in a case brought against the law by the Indiana State Teachers Association. Ritz, whose campaign against Bennett was endorsed and funded by the teachers' union, was until this month a co-plaintiff in that suit.
Organizations that run either charter schools or private schools in Indiana say they don't expect Ritz to be able to make significant changes to the rules under which they operate. But they are keeping close tabs on the situation.
"We're just keeping our eyes on it and are optimistic that a lot of the work Mr. Bennett and others have done doesn't get undone," said Kristoffer Haines, vice president of national development for Rocketship Education, a California-based charter school network that plans to open eight charter schools in the Indianapolis area beginning in 2015.
"We use Indiana as a point of reference for the direction that we would hope other states would [pursue]," Haines added.
Charters proliferate
Rocketship received approval for its charters from the Indiana Charter School Board, which was created by the Legislature in 2011 and has been approving new charters in much larger batches than any other charter school authorizer has ever done before.
Other parties that can authorize charter schools are the mayor of Indianapolis and Ball State University, as well as any local school district. Many education observers expect Purdue University, once Gov. Mitch Daniels becomes its president in January, to also begin to approve charter schools.
But Ritz said she does not like the board—which is independent from the Indiana Department of Education—because she prefers local organizations approving charter schools for their own communities.
"I am in support of local charters," Ritz said. But, she added, "I am not a proponent of the Indiana charter board and the establishment of that, because those are not local charters. Those are state-driven charters."

Ritz
Upon taking office in January, Ritz will be able to give Democrats a 4-3 majority on the Indiana Charter School Board by replacing Bennett's appointee to the board.
The other six board members are split evenly between Republicans and Democrats because each party caucus in the House and Senate appoints one member and the governor appoints two members, but must pick both a Democrat and a Republican.
However, since there are many pro-charter Democrats, it would not be hard for Gov.-elect Mike Pence, a Republican, to appoint two charter advocates to the board to counter changes Ritz wants to make.
Local charter school advocates say they're not worried about Ritz slowing down the expansion of charter schools because, even if she does have an influence on the Indiana Charter School Board, there are still other places charter schools can go to win approval for new schools.
"I don't see any scenarios where high-quality charter operators can't get their charters approved," said David Harris, CEO of The Mind Trust, an Indianapolis-based education reform group that awarded two $1 million grants this year for charter school groups to add seven to nine more schools. "The pathway may change at some point. There are just so many different options."
However, Harris acknowledged, since the Department of Education grades charter schools and exercises other kinds of oversight, Ritz could make life more difficult for charter schools.
"There are going to be ways that they can complicate things," he said. "Charters are going to have to be very careful about submitting reports on time, and things like that."
New voucher rules?
Some private schools that receive vouchers have similar concerns about Ritz.
The Archdiocese of Indianapolis, which operates 72 private schools in Indiana, is eyeing Ritz's moves on the voucher program, created by the Legislature in 2011, which this year gave scholarships of about $4,000 each to more than 9,300 students in Indiana. Most of those students enrolled in Catholic schools.
The voucher program, which will have no cap on participation starting next year, was the first statewide program in the nation without an enrollment ceiling. Since the creation of Indiana's program, Louisiana and Idaho have passed similarly far-reaching voucher programs.
Joe Peters, the associate executive director of Catholic education at the Archdiocese of Indianapolis, said it would take more than a few extra rules to force the archdiocese to stop participating in the voucher program.
"We're used to some state regulation. We do it every day," Peters said, noting that the archdiocese's schools have been accredited by Indiana for decades. "It would have to be like adding something against our faith. I don't think that's going to happen."
Indeed, Ritz has limited powers for altering the voucher program, which is also called the Choice Scholarship Program. The Legislature wrote into the law that created the program specific demands that the state not interfere with the curriculum of private schools.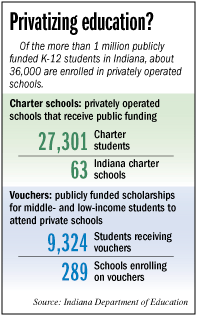 "The creation of the choice scholarship program does not expand the regulatory authority of the state, the state's officers, or a school corporation to impose additional regulation of nonpublic schools," the law states.
Ritz has no clear way to change the law or the administrative rules for enforcing it. Republicans who passed the law now enjoy super-majorities in both chambers of the Legislature.
In addition, Pence, who supports the voucher law, will appoint 10 of the 11 members of the State Board of Education, which writes the rules that affect schools. Ritz will be the 11th member of that board and its chairwoman.
But Ritz will have authority to change how existing rules are interpreted and enforced, which could place a heavy burden on private schools that run just one or two schools, noted Robert Enlow, president of the Indianapolis-based Friedman Foundation for Educational Choice, which championed the voucher law.
To date, 289 schools have accepted state-funded vouchers.
"Remember, most of these schools don't have oodles of administrators like traditional schools," Enlow said. "They could try to create much more paperwork for them."
The voucher law itself includes a long list of curriculum requirements, and it is conceivable that Ritz could require extensive paperwork from private schools to prove they are, indeed, complying with those requirements.
The voucher law also has some vague provisions that could be interpreted broadly to allow the Department of Education to make it difficult for students to participate. For example, the law states, "The department shall establish the standards used to allocate choice scholarships among eligible students."
"There's no doubt that she could interpret the rules that exist currently much more onerously, and make it harder for schools to get payment," Enlow said. "She opposes any public money going to private schools. If that's her starting point, then that obviously causes us concern."•
Please enable JavaScript to view this content.