WXIN-TV Fox59 news anchor and reporter Eva Pilgrim is leaving the local station for a similar position at the ABC affiliate in Philadelphia.
Pilgrim, who was hired by Fox59 in late 2009, anchors the station's 4 p.m. newscast and reports for the 10 p.m. newscast. She's also a back-up anchor for the primetime show. She began at Fox59 as a morning news anchor during the 4:30 a.m. to 6 a.m. segment.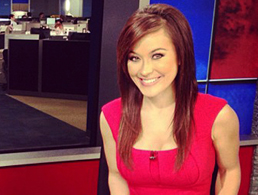 Pilgrim had risen from the morning news at Fox59 to anchor at 4 p.m. (Photo courtesy Eva Pilgrim)
She announced the move Monday via Twitter and on her blog, Everyday Eva: "When I got the call saying I got the job … I cried … unexpectedly," she wrote. "I was excited and happy but all of a sudden I realized how much I was going to miss Indy."
Her last day at Fox59 will be Wednesday.
News Director Lee Rosenthal said the station is interviewing in-house and external candidates to replace Pilgrim.
"It's a no-brainer," Rosenthal said of Pilgrim's move to the much-larger media market. "It's a great job. It's great to see a good person go to a good place."
Pilgrim was born in Seoul, South Korea, and grew up in a military family traveling all over the United States before her family settled down in South Carolina, according to a Fox59 bio. She attended the University of Florida and University of South Carolina.
She previously worked at TV stations in Charlotte, N.C., Bluefield, W. Va., and Columbia, S.C.
Please enable JavaScript to view this content.