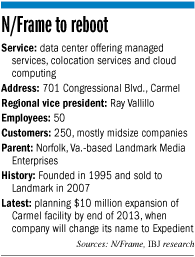 Locally based N/Frame has dialed up the investment for a previously announced expansion of its Carmel data center.
At least $10 million for infrastructure upgrades and more floor space for computers are planned by the end of 2013, said Ray Vallillo, regional vice president of N/Frame, which provides off-site computer infrastructure.
The company announced a multimillion-dollar expansion last summer, saying updates at its sister centers have typically been in the range of $2.5 million to $6 million.
When completed, the Carmel facility's additional 10,000 square feet of computing space will make it the largest among its sister facilities in six cities in the eastern United States.
The nearly 40,000-square-foot facility is inside a 14-year-old building in Meridian Technology Center, near 116th and Pennsylvania streets.
In 2007, N/Frame was purchased for an undisclosed price by Virginia-based Landmark Media Enterprises. It owns newspapers, TV stations and data centers. Landmark previously owned The Weather Channel, which it sold to NBC Universal in 2008.
Its other data centers are in Baltimore, Boston, Cleveland, Pittsburgh and Columbus, Ohio.
Most of those data centers go under the Expedient name, which N/Frame will adopt by the end of next year, Vallillo said.

Vallillo
The Carmel data center has about 50 employees. That number isn't expected to immediately grow despite the large investment. That's because, as is the nature of these facilities, much of the upgrades will be in supporting electrical and cooling infrastructure, including two additional 2.2 megawatt Caterpillar generators that provide backup power.
The facility is a maze of computer racks. Some of its 250 customers roll their own racks of computers into the facility. The names of those customers are closely guarded.
"They don't want people to know where their data is stored," Vallillo said.
Seven hundred tons of refrigeration units blast cold air from vents in the floor, which is drawn through ventilated racks.
To gain space for new equipment, N/Frame will gut some of the office space it provides for clients who need space to operate during an emergency.
"If we grow again, we'll have to find more real estate," said Vallillo, formerly a vice president at Indianapolis software company Consona.
Such commercial data centers—N/Frame's is among the largest in the region—have grown in recent years as companies seek to reduce their own investment in computing infrastructure.
The centers operate computer servers that enterprises can use rather than, or in conjunction with, their in-house IT systems. Clients of these centers can dial usage up or down as needed.
Other big data centers in the metro area include Bluelock LLC, Lifeline Data Centers and LightBound LLC.
LightBound completed perhaps the biggest data center project in recent years. Just over a year ago, it activated a veritable bunker near Lucas Oil Stadium. At a cost of more than $30 million to build and equip, the center's concrete walls are nearly a foot thick.
"Our building is truly hardened," said LightBound co-owner Jack Carr.
Among LightBound's 400 customers is Indianapolis-based marketing software firm ExactTarget, whose clients include some of the nation's most prominent and highly regulated companies.
One would think the sluggish economy would mean slower times for such data centers. But between the migration to cloud computing and regulations requiring companies to better safeguard and protect financial and medical records, the need for robust data centers is on the uptick.
"We've kind of become recession-proof," Carr said.
One particularly favorable trend in the local market is the growth of information technology companies. Vallillo dubs the region the "Silicon Valley of the Midwest."
"That's what has me excited—the growth opportunities in these businesses," Vallillo said.•
Please enable JavaScript to view this content.