James Dean was 24 when, in 1955, he famously crashed his Porsche 550 Spyder on California Route 466, ending a life and birthing a legend.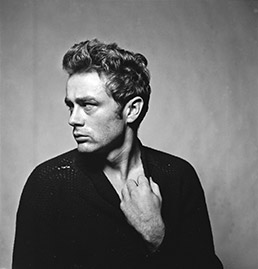 James Dean, 1955 (James Dean® is a trademark of James Dean Inc., licensed by CMG Worldwide Inc. www.JamesDean.com)
It's that transition—from human being to icon—that provides the basis for the Indiana State Museum's new exhibition, "Eternal James Dean" (running through June 2). And even if the show doesn't have much new to say about this singular sensation, it provides a well-proportioned, sometimes moving portrait of the actor and his legacy. And where else can you see Dean's elementary school basketball uniform or his forensics trophy?
The experience is laid out chronologically. Concise narrative text accompanies Dean's baby shoes, school ephemera, and early theater memorabilia from his days in Marion and, later, Fairmount. His uncle's red 1949 Ford, which Dean borrowed to take a date to the prom, provides some physical if not psychological dimension.
Things get more interesting when Dean falls in with the Actors Studio and begins landing TV work. The push of a button gives us too-brief glimpses of Dean in a few of his appearances on TV anthology shows, such as "Studio One Hollywood," "Danger" and "The Philco-Goodyear Playhouse." There's even a glimpse of Dean as the Apostle John in a TV project. Yes, he shines in them. And it's helpful to have this understanding of the scope of his largely lost work considering how he's often thought to have played only three roles—Cal Trask in "East of Eden," Jim Stark in "Rebel Without a Cause" and Jett Rink in "Giant."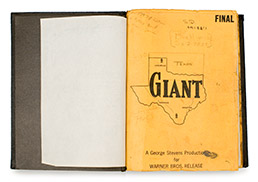 James Dean's script from the Warner Bros. production of "Giant," 1955 (Courtesy of the James Dean Estate. Courtesy of the Fairmount Historical Museum)
A side trip into Dean's non-movie interests includes a display featuring his Triumph motorcycle and another with his bongos and other instruments
(it's not hard to imagine him aggressively banging on the bongos in a small New York apartment after getting a rejection for a TV commercial or stage production). There's even a quirky stop-motion film Dean created celebrating his interest in bullfighting. After reading of Dean's fascination with the combination of art, athleticism and out-of-control elements in the vicious sport, it's difficult not to see the bull in his eyes during key moments in his films.
That section comes next, with Dean's trio of big-screen films represented with movie posters, Academy Award nomination letters and scripts. (For the movies themselves, you'll either have to watch at home or wait for a promised festival of them on the museum's Imax screen in February.)
Dean's most impressive performance of all, though, may be in the public service announcement he shot for the National Safety Council. Here, taking a break on the set of "Giant" and still wearing his cowboy hat, Dean is guided by host/actor Gig Young to warn teenagers of the danger of speeding.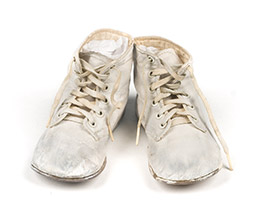 Above, James Dean's baby shoes, 1931. ((Courtesy of the James Dean Estate. Courtesy of the Fairmount Historical Museum.) )
I don't know if it was scripted and rehearsed or not, but Dean blurs the line between reality and fantasy, offering a version of himself that's dangerously cool. Yes, Dean says the right things. But you can imagine teens of the time reading between the lines, knowing that Dean isn't going to slow down for anyone, let alone the fatherly Gig Young.
For all the memorabilia and clips, though, the most telling sign of the impact of Dean on our culture isn't in a display cabinet or on screen—it's in the small print on an ID plaque: "'James Dean' is a trademark of James Dean Inc., licensed by CMG Worldwide Inc."
I can't help but wonder what the rebel artist would have thought of that.
__________
After checking out "Eternal James Dean," make sure to pay a visit to the museum's recently rediscovered T.C. Steele painting. You may recall that restoration work on one earlier this year revealed (surprise!) another hidden below.
Both "An Old Garden" (1889) and the untitled work (1890—yes, the covered-up one was actually painted later) are being shown through April.•
__________
This column appears weekly. Send information on upcoming arts and entertainment events to lharry@ibj.com.
Please enable JavaScript to view this content.