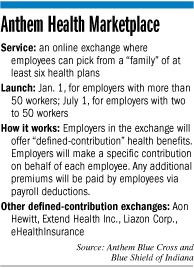 Anthem Blue Cross and Blue Shield of Indiana will open a new online exchange to Indiana employers on Jan. 1, where workers could purchase medical benefits from a group of plans using a fixed sum of money given them by their employers.
The online exchange, called Anthem Health Marketplace, is the biggest move yet by health insurers in Indiana to sell defined-contribution health plans—which are the 401(k) of health benefits.
Most employers now pick a set of health benefits and then tell employees how much they must pay for coverage. But with defined-contribution plans, employers choose a batch of health plans and set an amount they will contribute toward buying one of them.
Then employees choose which to purchase, apply their employer's contribution, and make up any difference with their own money.
The defined-contribution idea dates back to so-called "cafeteria plans" of the 1980s, but it is getting new momentum now as employers desperately seek ways to control the costs of their employee health benefits.
Anthem held a webinar with benefits brokers in November to pitch the concept. Its main selling points are that defined-contribution plans allow employers to predict and control their spending on health benefits and that they give employees more choices to find a health plan that fits their needs.

Rhodes
"There's a great deal of conversation and discussion with our clients and our partner agents in the market about this market solution," said Rick Rhodes, regional vice president of sales for Anthem Indiana. "We believe this is a solution that is sustainable."
Anthem, a subsidiary of Indianapolis-based WellPoint Inc., is launching similar exchanges in eight other states: California, Nevada, Colorado, Missouri, Wisconsin, Kentucky, Ohio and Georgia. The exchanges use technology developed by Minnesota-based Bloom Health, in which WellPoint and three other Blue Cross and Blue Shield insurers bought a controlling stake last year.
In all, WellPoint expects employers covering 30,000 people to use its marketplace to choose benefits next year. Nationwide, WellPoint Inc. insures 26.7 million people through its employer clients.
In Indiana, two employers will pilot the Anthem Health Marketplace. Rhodes declined to name them, but said each employs more than 100 workers.
Initially, the Anthem Health Marketplace will be open to employers with 51 or more employees. Then on July 1, it will expand to include employers with two to 50 workers.
Sheri Alexander, senior vice president of employee benefits at Indianapolis-based insurance brokerage Gregory & Appel, said the defined-contribution concept has legs—especially for employers with 51 to 250 workers.
"I think they'll eat it up," Alexander said, adding, "It definitely could gain traction out of the gate."
Anthem's online exchange soon will have company. Minnesota-based UnitedHealthcare is eyeing the concept. And consulting firms, such as Aon Hewitt, are operating exchanges where multiple insurers can offer plans. Benefits brokers say Aon hasn't actively pitched its exchange in Indiana yet.
In addition, the 2010 Patient Protection & Affordable Care Act called for publicly run insurance exchanges in all states by 2014. Those exchanges will give small-business employees and other individuals a forum to buy health insurance and also receive taxpayer-funded subsidies—if their incomes are low or moderate.
One group eager to try the Anthem Health Marketplace is the Indiana State Medical Association, the state's largest trade group of physician practices. The association is working with Anthem to begin participating in the first half of next year.
"It gets employees more involved in the actual costs of premiums," said Michael Haffey, general agent for the ISMA Insurance Agency. "That's how we're going to control benefit spend is by getting the employee more engaged."
That's good news for employers but potentially disconcerting news for employees. Since 1999, average premiums for family health coverage have risen 172 percent, to more than $15,000, according to data compiled by the California-based Kaiser Family Foundation. Wages over that same time have risen just 47 percent.
If such trends continue, employers could use defined-contribution plans to shift the bulk of the burden of fast-rising insurance premiums onto workers, whose pay likely would not keep pace.
In a defined-contribution plan, employers would pay a set amount—say $10,000—for each employee's health coverage. They could also decide to raise that amount by, say, 3 percent each year.
Employees could apply that $10,000 in an online exchange to buy a health plan. If a health plan cost more than $10,000, employees would pay the balance via tax-free payroll deductions—as they pay their share of insurance premiums now—throughout the year.
Down the road, brokers expect Anthem to offer life, dental and vision coverage through its marketplace, in addition to medical insurance.
Haffey said the hope is that having employees choose their own health plans will lead to smarter buying decisions that help slow the growth in health insurance premiums. And if employers have to absorb less in insurance premium hikes, they might be able to boost wages faster than they have in the past decade.
"The current model's not sustainable," said Haffey, who is also senior vice president of marketing at benefits brokerage Brown & Brown of Indiana. "Businesses are canceling benefits altogether over the last few years, because they can't afford the continual 30-40 percent increases."
Haffey cited data from Liazon Corp., a New York-based exchange that's been operating nationally for a few years, showing medical bills racked up by an employer's workers actually go down after they join an exchange, because more employees opt for cheaper plans with high deductibles and become more sensitive to the cost of health care.
Haffey is in the process of helping Indiana employers enroll workers and their dependents in the Liazon exchange, starting Jan. 1. Those employers, which collectively cover 1,000 people, will be Liazon's first clients in Indiana.
Haffey said the employers did not want to be publicly identified.
Both the Liazon and Anthem exchanges start the enrollment process by asking employees a series of questions about their tolerance for risk, the state of their personal finances, and their use of health care.
The software behind the exchanges then recommends a health plan based on the answers.
Employees aren't restricted to the recommendation, but can pick from a family of health plans that their employer has selected.
In the Anthem Health Marketplace, employees will pick from six to eight plans. Currently, most employers offer their employees only two or three different plans. Some offer one.
The plans will have various features, but will be allowed to vary in price by only 35 percent above a certain benchmark and 10 percent below that benchmark.
The price range is restricted so that all customers do not flood into a particular option based on their health status. Such "adverse selection," as it is called in the insurance industry, could produce a health plan that attracts only very sick employees, then does not bring in enough premiums to cover the medical bills of those employees.
Brokers said it will be challenging for Anthem to price the health plans—at least initially. Anthem's Rhodes agreed.
"A big key to this is just making sure that we can price for the spread of risk," he said.•
Please enable JavaScript to view this content.