A historic church on the east side that preservationists had tried to save from the wrecking ball is back on the market following the settlement earlier this year of a lawsuit between the church and the city.
The 4.5-acre site of the St. John United Church of Christ is being co-marketed for retail use by broker Scott Lindenberg of Reliant Partners Real Estate and retail developer Thompson Thrift.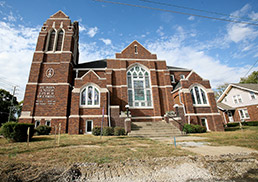 The Gothic Revival-style church sits on the northeast corner of Washington Street and German Church Road. (IBJ file photo)
Thompson Thrift was brought in on the listing about 60 days ago, said Chris Hake, Thompson Thrift's director of retail development. There's no listing price.
Hake said it's possible Thompson Thrift would become involved in development of the site if the right opportunity came along, but at this point the firm is serving only in a marketing capacity.  
The listing promotes the site's visibility along the high-traffic Washington Street corridor and its potential for accommodating a multi-tenant retail structure with outlots.
For about a century, the land has been the site of the Tudor Gothic Revival-style church once known as Deutsche Evangelische St. Johannes Kirche. The church sued the city of Indianapolis in late 2010 over the city's emergency designation of the building as historic, a status the church said had foiled its plans to sell the property to Gershman Brown Crowley, a local developer that represented the CVS drugstore chain.
The lawsuit was temporarily settled in 2011 when the church agreed to give the preservation group Indiana Landmarks six months to find a buyer that would save the building. Terms of the settlement called for the city to rescind the historic designation if a buyer couldn't be found. The designation was lifted in February.
At one time the church had hoped to use proceeds from the sale of the property to build a $3 million church at Prospect Street and Carroll Road that would have the amenities necessary to boost membership and lift the church out of financial distress. The shrinking congregation said it didn't have the $1.3 million it needed to pay for utility bills, maintenance and capital projects at the old church.
A church administrator wasn't available to comment on the congregation's plans if the church is sold.
Please enable JavaScript to view this content.