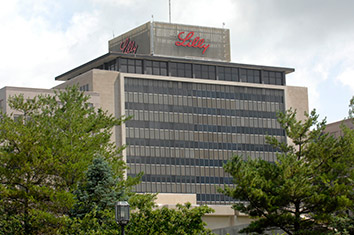 Eli Lilly and Co. will launch another study of its possible Alzheimer's treatment solanezumab, a move that delays a regulatory decision on a drug that flashed potential to help patients with mild cases of the fatal, mind-robbing disease.
The Indianapolis drugmaker's shares sank Wednesday before markets opened and after it announced that it will conduct the additional, late-stage study of solanezumab in mild cases of Alzheimer's. Lilly hasn't determined details of the study but said it will start no later than next year's third quarter.
In August, Lilly said the potential treatment failed to slow memory decline in two late-stage separate studies of about 1,000 patients each. But scientists saw a statistically significant slowing when they combined trial data.
They also saw a statistically significant result when they examined a subgroup of patients with mild cases of Alzheimer's disease.
Doctors and analysts have said they expected Eli Lilly to do more research before seeking approval. The additional study could provide data that helps Lilly build a better case for the drug's approval.
But the new study will likely take at least a few years because researchers will have to measure a patient's rate of cognitive decline, which involves the ability remember things, over time.
Drugmakers have tried and failed for years to develop successful treatments for the disease, and patients and doctors are anxious for something that can slow the disease's progression. Analysts have said such a treatment, if approved, could be worth billions of dollars in annual sales.
"When you go for the blockbuster, you have to pay for the blockbuster, either in money or time," WBB Securities analyst Steve Brozak said regarding Lilly's announcement.
About 35 million people worldwide have dementia, a term for brain disorders that affect memory, judgment and other mental functions. Alzheimer's is the most common type. In the United States, more than 5 million people have Alzheimer's, which is the country's sixth-leading cause of death.
Many Alzheimer's patients typically live four to eight years after diagnosis, as the disease gradually erodes their memory and ability to think or perform simple tasks. Current Alzheimer's treatments only temporarily ease symptoms such as memory loss, confusion and agitation. They don't slow, stop or reverse mental decline.
Lilly shares fell 4.7 percent, or $2.40, to $48.20 each in pre-market trading. But the stock price was still up more than 13 percent since Lilly announced initial study results in August for solanezumab.
 
Please enable JavaScript to view this content.