It seems strange walking into the Ambassador for the third time in as many years to review yet another incarnation of the building's ground floor restaurant.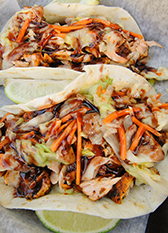 The Blackened Salmon Tacos appetizer at the Diplomat features Asian slaw and a blueberry sauce. (IBJ Photo/ Perry Reichanadter)
But here we are, back again, with barely any decorative indication that this is now The Diplomat at the Ambassador (43 E. Ninth St., 602-4433) rather than Azul or The Bar at the Ambassador.
The space started out with such promise. While it was being turned into a restaurant space, the tenant was announced to be Bar Yats, which seemed like a smart concept—quick and tasty, limited-menu Cajun Creole with beer to wash it down. That deal fell apart, though, before the doors opened. And the eateries that arrived instead, while having their pluses, were missing the secret ingredient called "identity."
That problem still persists at the Diplomat. This time, the menu continues to tilt to the South, although with anchoring traditional bar options, including a decent burger lineup. But there's no clear focus, and the service on our visit wasn't particularly efficient or endearing.
Still, I'm rooting for third time's being, if not the charm, at least a base on which to build what could be an anchoring neighborhood bar and restaurant.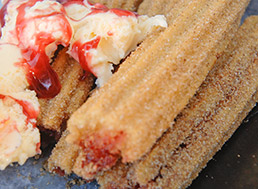 One meal-ending option at the Diplomat: a Raspberry Churro with ice cream. (IBJ Photo/ Perry Reichanadter)
We started with an order of Grilled Prawns with Jalapeno Honey Glaze ($10), attractively lined up over fried spinach, but slightly overcooked and lacking fire. The blackened Salmon Tacos appetizer ($10) was a marked improvement, with generous pieces of well-done salmon surrounded by a flavorful blend of Asian slaw and blueberry barbecue sauce.
The Diplomat Burger ($8 with a 50-cent cheese upgrade) had that great grilled flavor you often wish you could get at home, but never quite achieve. Other burger options include Southwest and a Veggie Black Bean. The Southern Style Fish ($7), with Cajun Cole Slaw and a slightly spicy cocktail sauce, didn't take any chances but delivered. If there's room for big improvement, it would be in the fries, which seemed an awful lot like what you throw in the oven for the kids when you're headed out for a date night.
We ended with an oddity, a Raspberry Churro ($7) that seemed like an over-ambitious state-fair food contest entry. Not that there's anything wrong with that. It made me want to see what the kitchen could do with other fair staples. Now there's a restaurant concept.•
–Lou Harry
__________
Third in a month-long series of reviews of late-in-the-year restaurant newcomers.
Please enable JavaScript to view this content.