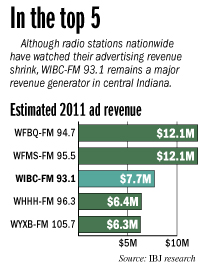 WIBC-FM 93.1 is conducting listener surveys that gauge the reaction to the conservative bent of the station's hosts, such as Rush Limbaugh and Greg Garrison. But Emmis Market Manager Charlie Morgan said the questions are not an indication the station is considering a more moderate approach.
"WFYI is liberal and WIBC is conservative, and we don't apologize for it," Morgan said. "WIBC is the place to go for the conservative view."
Morgan said the surveys are routine in the radio business and the company does them on all its stations every year or two. He said there are no plans to change the programming or on-air talent at WIBC.
Tom Taylor, publisher of Tom Taylor Now, a daily radio newsletter, said some news-talk stations have recently sought to balance their political and news content.
"The macro picture is, a lot of people in the talk-radio business are looking at political vs. news-talk content," Taylor said. "You're seeing a questioning, much like you have within the Republican Party: 'Should there be a bigger tent?'"
Taylor added that the portable people meter technology rolled out by New York-based Arbitron Inc. in recent years now gives ratings for public radio stations. He said those ratings have shown the power of the public stations, which tend to be more liberal than commercial stations like WIBC.
WIBC, which is owned by locally based Emmis Communications Corp., still has nearly twice the number of listeners as the local public station, WFYI-FM 90.1, which also airs news-talk.
In addition to local news shows hosted by Steve Simpson and Ed Wenck, WIBC features right-leaning shows hosted by Rush Limbaugh, Greg Garrison and Dana Loesch.
According to industry sources, WIBC remains the No. 3 radio station in the central Indiana market in terms of annual revenue, behind country station WFMS-FM 95.5 and rock station WFBQ-FM 94.7.
Please enable JavaScript to view this content.