Unlike similar lists for the live arts, movie top 10 lists tend to generate more push-back. That's because audiences have greater opportunity to see the work for themselves and formulate their own opinions.
To which I say: Bring it on. Feel free to go add your comments below and take me to task.
For me, there was no single stand-out movie of the year. What about "Lincoln"? A terrific movie, yes. It just didn't end at the best point. Not to spoil anything, but there's a beautiful moment when Abe walks away from the camera that
would have been a subtle, evocative, thought-provoking, original way out of the story.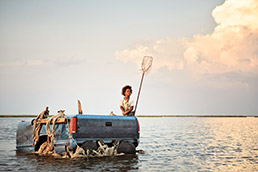 "Beasts of the Southern Wild" (©Cinereach Ltd.)
Even with the extra, unnecessary ending, though, "Lincoln" effectively humanizes while never diminishing its subject. And it's surprisingly funny. Daniel Day-Lewis, who I've often felt calls too much attention to his own performances, has never been better. OK, maybe in "My Left Foot."
For the Best Actor Oscar this year, his prime competition seems to be Bradley Cooper in "Silver Linings Playbook." Working against Day-Lewis could be the fact that moviegoers expect big things from him. They didn't expect much from Cooper, previously best known for the "Hangover" movies.
Never underestimate, though, the value of a solid, character-focused script and a talented director (David O. Russell, who also helmed "The Fighter"). "Silver Linings Playbook" has moments that are surprising and very funny. And those moments pay off because the characters have been so smartly and originally developed, making this genre mashup (Problem drama? Romance? Dance movie? Comedy? All of the above?) the feel-just-about-everything movie of the year. It's hard to imagine anyone not liking it.
 
Bill Murray, Frances McDormand, Edward Norton, and Bruce Willis populate Wes Anderson's "Moonrise Kingdom." (©2012 Focus Features)
That's not the case for "Moonrise Kingdom." For some, Wes Anderson's movies ("The Royal Tenenbaums" and "Rushmore" among them) are too precious, too deliberate. And I'll admit I wasn't really a fan until he dispensed with live actors and crafted the one-of-a-kind "Fantastic Mr. Fox."
This time, his live action escape-from-scout-camp world is as artificial as that of Mr. Fox and company. The cast—including Bruce Willis, Edward Norton and Bill Murray—gamely deadpans its way through the proceedings, making this the one movie of the year I've rewatched for pure pleasure. A smile throughout.
Ang Lee also creates his own world in "Life of Pi." I'm glad I hadn't read its source novel because I watched with a wonderful sense of, "What's going to happen next?"
To Lee's credit, I spent precious little time concerned about how the movie was made and more about the tale being told by a man of multiple faiths who promises his story will convince us of the existence of God. I don't think it quite does that. But the film offers a unique, original vision. There's no other film like it.
Also firmly in the "original vision" category are "Beasts of the Southern Wild," in which a young girl heartbreakingly navigates her post-flood world, and "Starry, Starry Night," a Heartland Film Festival highlight about another young girl on a personal journey. I hope the movie finds wider release.
Brilliant (and I don't use that term often) design is central to "Anna Karenina," giving it a decidedly un-"Masterpiece Theatre" atmosphere. The concept here places most of the action in a theater—sometimes on stage, sometimes in the wings and in the balconies, sometimes on the floor where an audience will be. The choice has something to do with the artificiality of Russian society of the time, but the images are so magnificent that it really isn't necessary to think too hard. Best to just lose yourself, as I did, in the sumptuous imagery and big emotions.
Speaking of big, superhero movies don't get any bigger than "The Avengers," which somehow manages to juggle the stories of a gaggle of powerhouses while never creating a traffic jam. With wit that never compromises the characters and special effects that serve rather than compete with the story, "The Avengers" proves there's plenty of life left in the genre.
I was happy to see there's also life left in the teen angst drama, with "The Perks of Being a Wallflower" making other high school films feel like cartoons. A troubled boy returns to school, and what might at first seem like just another outsider film turns into a quirky, knowing, engaging story of friendships and missed connections.
I'm still not sure what to make of "Safety Not Guaranteed"—and I'm hesitant to say anything at all about it so that you can walk in with the same naïveté that I did and be won over by its quirky charms.
In it, a magazine writer and a pair of interns set about researching the story of a man who claims to have traveled back in time. Unlike another loopy science-fiction-ish film this year, "Chronicle," this one knows how to build to a satisfying conclusion. (If "Chronicle"'s final third was as strong as the rest of the movie, it would be on this list.) Kudos to "Safety Not Guaranteed" screenwriter Derek Connolly, who tells a wholly original story peopled with characters to care about.
Since I already listed 10 films, there's not a spot for the yet-to-open-in-Indy "Zero Dark Thirty." Structured as a kind of "All the President's CIA Agents," it methodically takes its audience into the detail work that led to the killing of Osama bin Laden.
My only complaint: Too much time is distractingly spent on actress Jessica Chastain, who can't manage to bring the same kind of inner reality to her character that the supporting cast seems to manage with far less screen time.
As for "Les Miserables," I loved the scope and scale—and Anne Hathaway gives a justly praised raw performance. But the lack of vocal power in Russell Crowe's Javert mitigates things a bit. High point: Colm Wilkinson, the original Valjean, as the Bishop.
And, no, I haven't yet seen "Argo" or "Django Unchained."•
__________
This column appears weekly. Send information on upcoming arts and entertainment events to lharry@ibj.com. 
Please enable JavaScript to view this content.