A number of years ago, while working on a travel story, I found myself in Winona Lake, a town in northern Indiana best known for being an HQ for evangelist Billy Sunday. Well, praise be that I made the decision to dine at a humble-appearing local place serving Asian-influenced dishes in compartmentalized Bento boxes.
My kids still talk about it as one of the best meals they've had in their lives.
Well, I no longer have to convince folks that Winona Lake houses such a gem. That restaurant, Cerulean, has branched to Indy (339 S. Delaware St.,  870-1320). While in appearance and menu it's far from a carbon copy, it's already established itself as an Indy must-go for creative food lovers.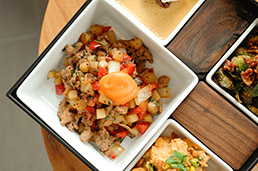 Lunches at Cerulean are served in Bento boxes. Each creative collection features an entrée and three sides. (IBJ Photo/ Perry Reichanadter)
For lunch, the Bento boxes have come along for the ride, but this time they house an eclectic mélange of unexpected tastes and textures. And you are guaranteed a variety, given that your task as a lunchtime diner is to pick one of nine main courses and add three equally inventive sides.
Be prepared: Few of the descriptions on the menu will quite prepare you for either the look or taste of each dish.
For instance, lesser eateries might give you an image of what Pork Sausage Hash ($11) looks like—chopped potato, onion and red pepper mixed with flavorful pork pieces. But, until you taste, it's tough to appreciate what a little sweet potato ketchup does to the mix. We sided it with a Roasted Carrot Soup which, with ginger, cilantro and crème fraîche, was subtle to a point of almost disappearance. Sweet Potato Custard, with spiced nuts, made more of a statement. And a mix of butternut and acorn squash with pecan brown sugar tuile (a thin cookie wafer), sherry vinegar and brown butter would have been equally satisfying as a dessert.  
The Panko Chicken ($15) came with three lightly crispy tenders perched on a sauce of honey and cranberry ginger. Sides we tried with it: a hearty Chorizo Potato Salad with corn and scallions; and Broccolini with shallot, cranberry, walnut and smoked pork, both served cold. But a third side, small and tender Brussels Sprouts served warm with bacon pieces, maple syrup and sage, was the favorite of this Bento.
When the main courses and sides prove this exciting and satisfying, dessert is mandatory. The Vanilla Bean Macaroon ($5) attractively blended cookie and white chocolate into light-as-air bliss. The Chocolate Mousse Bomb ($5) with espresso custard took a bolder approach. The perfectly formed outer chocolate layer gave way to rich mousse and a creamy espresso-flavored inner filling. 
With a format that encourages experimentation and an atmosphere that feels like nothing else locally, Cerulean gives Indianapolis another destination restaurant to enjoy and proudly show off to visitors.
And it made me want to revisit Winona Lake.•
—Lou Harry
__________
Fourth in a series of reviews of late-in-the-year restaurant newcomers.
Please enable JavaScript to view this content.