With so much to choose from in Indy (yes, I said that), it's impossible to say with any authority what was best. Instead, here's a rundown of some of my favorite A&E offerings in 2012.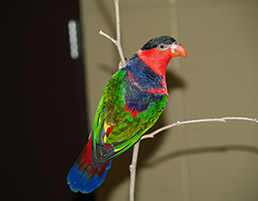 Flights of Fancy (IBJ File Photo)
Upgrade
A budgie is a budgie. But a flock of budgies flying around your head in an enclosed area? Next to an aviary where lorikeets perch on your head as you serve them nectar? And another where Helmeted Guinea Fowl walk across your path as a White-cheeked Turaco flies above? Well, those add up to "Flights of Fancy: A Brilliance of Birds," a fun and well-executed section of the Indianapolis Zoo that sure beats the old petting zoo.
New Attraction
The adrenaline-pumping yet oddly peaceful Go Ape adventure course in the trees at Eagle Creek Park upgrades an already great city amenity. With zip lines and Tarzan swings, it's sweaty, bruise-producing fun.
Dance
Getting tired of hearing me rave about the Indianapolis City Ballet's world-class "Evening with the Stars" benefits? Too bad. This year's highlight: Christopher Wheeldon's "Liturgy" featuring Wendy Whalen and Craig Hall of the New York City Ballet. But, as in previous years, the competition for a single highlight was absurdly high.
TV Show
The Super Bowl lured "The Late Show with Jimmy Fallon" here for a fun week of shows that didn't just carpetbag but took hilarious advantage of the Indy specifics. Letterman, where art thou?
Fest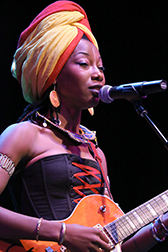 Lotus Fest (Photo/Jim Krause)
Why it took me this long to sample Bloomington's annual Lotus Fest I don't know. But I do know now that the quality and range of music, combined with the playful professionalism of the staff and the adventurous, trusting nature of the audiences, makes this an event to be proud of … and to return to. See you there in 2013.
Museum Show
The Indianapolis Museum of Art consistently impressed. But while the revamping of the African Art galleries and the current show on Islamic art delivered, my favorite was the smaller "Urban Vision: American Works on Paper (1900-1950)." The single-room show afforded a view of a world of wonder, capturing the awe and trepidation of cities rising beyond the imagination.
Music
Indianapolis Opera didn't seem to be holding back anything in its stunningly designed, beautifully played and strongly acted production of "Faust," the finest overall production I've seen in my years of attending IO.
Hoosier Art Shows
No, the Super Bowl didn't need a terrific local art show magnet. But it got one in "Turf," occupying the old Indianapolis City Hall/old Indiana State Museum in the days leading up to the big game. But you didn't have to go to a gallery to see engaging artwork. The "46 for XLVI" mural project, honchoed by the Arts Council of Indianapolis and the city, beautifully took the arts to anyone with eyes.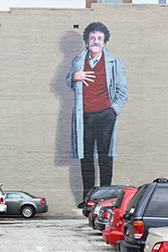 Vonnegut mural.(IBJ File Photo)
Fringe
NoExit Performance, best known for some pretty somber work, surprised Indy Fringe audiences with the charming one-man "I Am Peter Pan." Directed and devised by Michael Burke and anchored by a joyful and sad tour-de-force performance by Ryan Mullins, it points to the future of quality theater here.
Plays
Sorry, I can't choose. In the Indiana Repertory Theatre's production of August Wilson's "Radio Golf," local favorite David Alan Anderson shined bright in the midst of an outstanding cast. Meanwhile, in the Phoenix Theatre's take on Tracy Lett's sprawling, brutally intimate epic "August: Osage County," a gaggle of Indy's top talent rose to the play's enormous challenges. I'd stack either against productions of these challenging shows anywhere.
Visiting Artists
If you think the Center for the Performing Arts in Carmel features only conservative entertainment choices, then explain 500 Clown's production of "Frankenstein," which offered jaw-dropping acrobatic feats that were oddly integral parts of an ultimately devastating whole. It spoke to the wonder and fragility of the human body, the power of a mob, and the soulful ache of the theatrical arts.
Book by a Local Writer
OK. I'll admit to not having done nearly the amount of reading I should/could have this year. But that fact doesn't diminish my enthusiasm for Michael Feinstein's "The Gershwins and Me: A Personal History in Twelve Songs" (Simon & Schuster). And, yes, I consider the artistic director of the Center for the Performing Arts a local.•
Please enable JavaScript to view this content.