If the Great Recession is having an impact on the Indianapolis Indians, it's a positive one.
The team has seen its fortunes steadily improve since 2009, a period when many sports and entertainment properties have struggled financially.
The AAA farm club of the Pittsburgh Pirates saw profit grow to $1.57 million on operating revenue of $11 million in 2012, compared with profit of $1.06 million on revenue of $10 million the previous year.
The Indians got a boost from revenue generated by hosting several Super Bowl events in February, but also saw increases across baseball game-day categories.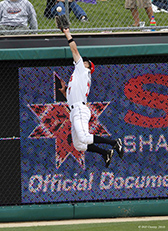 The Indianapolis Indians earned $1.57 million in 2012. (Photo courtesy of Bill Gentry)
Ticket sales increased from $4.3 million in 2011 to more than $4.6 million in 2012. Attendance topped 595,000, marking the team's fourth consecutive year with an attendance increase and its second-highest total since 2001.
"Attendance for us, like a lot of sports teams, really drives the economic engine," said Indians Vice President and General Manager Cal Burleson.
Concession revenue increased from $1.7 million to $2 million and advertising and sponsorship grew from $2.4 million to $2.7 million. Suite rental and merchandise sales also saw solid gains.
"We feel really good about our sponsorship and ad sales," Burleson said. "That was an all-time record for us last year."
As a result of the team's financial gains, Indians stockholders got a $400 per-share dividend in addition to a $560 special dividend, fueled primarily by revenue from Super Bowl events.
There are 730 outstanding shares of stock of the thinly traded publicly held company, and the Indians continue to offer a stock buy-back program. The per-share buy-back price increased from $25,000 in 2012 to $26,265 this year.
Please enable JavaScript to view this content.