A local developer hopes to build a $20 million apartment and retail project on one of several Old Northside lots once used by the defunct car dealership Payton Wells.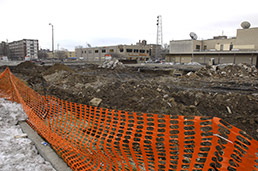 A demolition crew has torn down the former home of the Payton Wells car dealership. The property's owner is seeking $1.8 million for the parcel, one of four Wells owned. (IBJ photo/Perry Reichanadter)
A fresh sale offering of several properties once owned by Wells—on either side of Meridian Street south of 16th Street—is generating strong interest among developers.
One of them, locally based Crossroads Development & Consulting, is working on plans for a four-story apartment community called The Kennedy with five wings and courtyards along Pennsylvania Street and a separate, smaller building with first-floor retail and restaurant space along Meridian Street.
Property owner Bill Mays, who in December settled a long-running dispute with lender PNC Bank and refinanced the properties with another bank, is asking $5 million for all the Payton Wells land, which adds up to about 4.5 acres.
A listing with locally based Newmark Knight Frank Halakar breaks it into four parcels, which can also be purchased separately.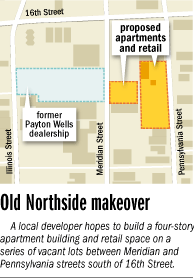 The largest of the parcels, at 1510 N. Meridian St., housed the flagship Payton Wells dealership, which went out of business in 2007. Demolition crews in recent weeks leveled the dilapidated building, which Mays described as "a hindrance to getting anyone interested" in the property.
A roughly 1.5-acre parcel along Pennsylvania Street that Crossroads would need for its project is listed at $1.5 million. The company also plans to buy a half-acre plot owned by CVS with Meridian Street frontage. (Earlier plans for a Jack in the Box restaurant on the site failed to secure zoning approval.)
Crossroads does not have the Payton Wells property under contract, Mays said, but the company has an option on the land that gives it first right of refusal in the event someone else makes an offer.
Crossroads is led by Mark Young, who founded the firm last year after a seven-year stint as chief operating officer of the Indiana Housing and Community Development Authority.
The company is partnering with locally based The Whitsett Group, which would build the project and manage the apartments. The 148 units, ranging from studios to two-bedrooms, would rent for $600 to $750 a month. Financing would be via affordable-housing bonds.
The developers have sought input from neighborhood groups on an early version of the plan. The reception has been mostly positive, though some are pushing for the project to include market-rate units. The architect is locally based Puzzello LLC.
Crossroads expects to submit its documentation for financing and its application for regional center design approval as early as February, with a goal for completion of construction by the beginning of 2015.
The plans have not stopped listing agent Newmark Knight Frank Halakar from marketing the property for sale to other potential buyers, said principal Todd Maurer, who noted none of the parcels is under contract.
He said opportunities for the parcels range from housing to medical office to retail. Zoning shouldn't be too hard a sell, he contends, since most of the land is currently zoned for a car lot.
"Most uses would be more welcomed by the neighborhood and city than a car lot," he said.
Urban Space Commercial Real Estate principal Brian Epstein, who is listing the nearby former home of WXIN-TV Channel 59 at 1440 N. Meridian St., said the Payton Wells properties are "outrageously priced," but he expects the owner will be willing to deal. The 33,000-square-foot former studio he's listing has an asking price of $995,000.
"I think it's slowly coming around," Epstein said of redevelopment in the area, noting the neighboring drugstores and a new local hardware store. "It just takes time, finding the right developers."
A series of events that led to Mays' owning the properties began in 2006 when he lent Wells, his friend, $1.2 million at a time Wells was trying to save his business and banks wouldn't extend more credit.
Once the business folded, Mays found himself in the perilous position of getting little or nothing if the holder of the first mortgage failed to maximize the value of the real estate.
So in early 2008, he borrowed $3.5 million from PNC predecessor National City Bank to buy out the mortgage holder.
Mays had put himself in control of six acres of real estate—nine parcels along both sides of Meridian Street—that appeared to have strong redevelopment potential. But that was just before the onset of the financial crisis.
The only deal struck so far resulted in construction of the CVS drugstore on the southeast corner of Meridian and 16th streets. The sale also shrank the principal on Mays' loan to $2 million, the amount PNC was suing him to recover.•
Please enable JavaScript to view this content.