The bank that owns the hulking pile of code violations known as Di Rimini at the southeast corner of Capitol Avenue and St. Clair Street expects to invest more than $1.5 million to finish the ill-fated project.
Louisville-based Stock Yards Bank & Trust, which last year took ownership of the vacant 31-unit apartment building at 733 N. Capitol Ave. after foreclosing on a $2.8 million loan, is working on a final round of city permit approvals that could allow construction to resume this year.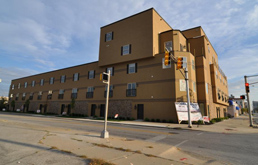 The bank that owns the Di Rimini building hopes to resume construction this year. (IBJ Photo)
The city's Department of Code Enforcement is reviewing a permit application after the bank's proposed aesthetic fixes won approval in theory from the Department of Metropolitan Development under Regional Center design guidelines, DCE spokesman Al Ensley said.
DMD would give final sign-off after code enforcement blesses the project, a move that could happen at a hearing Feb. 6. City officials in August granted a minor zoning variance involving the building's height.
A land-use attorney representing the bank, Bingham Greenebaum Doll partner Mary Solida, hung up on a reporter after saying she could not comment. A bank spokesman did not immediately return a phone call.
Stock Yards told city officials months ago that it would have to spend $1.5 million bringing the structure up to code, DMD spokesman John Bartholomew said, though that figure likely has risen.
The bank is proposing several fixes, including adding brick to first-floor facades, lighting at each first-floor entrance, glass doors and canopies for first-floor entrances, a new stair tower clad in brick, improved landscaping and changing leasing-office space to retail. It would also have to invest in major improvements to the interior, including problems with handicap accessibility, to pass code enforcement.
The city ordered construction to stop in October 2010 after code enforcement and planning department officials discovered developer Jeff Sparks was building an entirely different structure than the one for which he had sought approval.
Despite the order, the owners began moving tenants into the building, leading the state's fire marshal to issue an emergency order barring occupancy. Violations of the Indiana building code included a lack of fire walls between apartment units or a working sprinkler system.
Michael Osborne, president of Near North Development Corp., worries the city will let the bank cut too many corners out of sympathy for the money it stands to lose on the deal. His group, which first voiced concerns over Di Rimini, opposes Regional Center approval for the project.
"A huge issue is the precedent that is set by compromising standards now. It was not the bank's fault, but it was a debacle," Osborne said. "To say, 'you made it half-way to the finish line, that's good enough.' That's not the kind of precedent you want to set. This is very much about not just this project, but the standard for the community and expectation for future projects as well."
Please enable JavaScript to view this content.