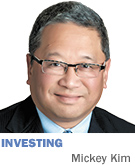 We don't waste time trying to anticipate events that are uncontrollable. Still, some highly experienced and skilled investors make unconventional predictions I think are worth noting.
While investing with the herd might be more comfortable, it is not the recipe for creating outstanding long-term performance. Thus, it's important to challenge the consensus and think "outside the box" to consider other possible outcomes that would constitute market-moving surprises.
Byron Wien of Blackstone Advisory Partners issues a list of possible "surprises" for the upcoming year. Wien defines a surprise as an event the average investor would assign only a 33-percent chance of taking place, but which Wien believes has a better than 50-percent likelihood of happening.
His 28th annual list, "Ten Surprises for 2013," can be found at blackstone.com.
1. Iran announces it has adequate enriched uranium to produce a nuclear-armed missile and the International Atomic Energy Agency confirms the claim. The world must deal with Iran as a nuclear threat rather than talk endlessly about how to prevent the nuclear capability from happening.
2. A profit-margin squeeze and limited revenue growth cause 2013 earnings for the Standard & Poor's 500 to drop below $100, disappointing investors. The S&P 500 trades below 1,300.
3. Financial stocks have a rough time, reversing 2012 gains. Intense competition in commercial and investment banking, together with low trading volumes, puts pressure on profits.
4. In a surprise reversal, the Democrats sponsor a vigorous program to make the United States independent of Middle East oil imports before 2020. The price of crude falls to $70 a barrel.
5. In a surprise reversal, the Republicans make a major effort to become leaders in immigration policy. They sponsor a bill that paves the way for illegal immigrants to apply for citizenship if they have lived in the United States for a decade, have no criminal record, have a high school education or have served in the military, and can pass an English proficiency test.
6. The new leaders in China seem determined to implement reforms to root out corruption, to keep the economy growing at 7 percent or better, and to begin to develop improved health care and retirement programs.
7. Climate change contributes to another year of crop failures, resulting in grain and livestock prices rising significantly. Demand for grains in developing economies continues to increase as the standard of living rises.
8. Although inflation remains tame, the price of gold reaches $1,900 an ounce as central bankers everywhere continue to debase their currencies and the financial markets prove treacherous.
9. The Japanese economy remains lackluster and the yen declines to 100 against the dollar. The Nikkei 225 trades above 12,000 as exports improve and investors return to the stocks of the world's third-largest economy.
10. The structural problems of Europe remain unresolved and the mild recession that began there in 2012 continues.
Don't waste time making or listening to predictions, but it's worth your effort to consider events that might surprise the herd and move markets in the upcoming year.•
__________
Kim is the chief operating officer and chief compliance officer for Kirr Marbach & Co. LLC, an investment adviser based in Columbus, Ind. He can be reached at (812) 376-9444 or mickey@kirrmar.com.
Please enable JavaScript to view this content.