Simon Property Group and Gershman Brown Crowley opened the Hamilton Town Center lifestyle mall five years ago at a sleepy interchange on Interstate 69 in Noblesville.
Dozens of new retailers, two new hospitals and more than 700 homes and apartments later, Exit 210—with Noblesville to the north and Fishers to the south—is one of the hottest growth markets in the state for retail, residential and medical development.
Strong population growth, sought-after demographics and available land have helped drive the development boom, but few would dispute the $135 million, 950,000-square-foot open-air shopping mall served as the prime catalyst.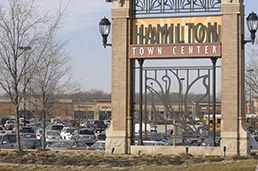 Hamilton Town Center has sparked a development boom, with much of the growth planned for the 750-acre Saxony project.(IBJ photo/Perry Reichanadter)
"We believed in it and got Simon to believe in it, and now retailers believe in it," said Gershman Brown Crowley partner Adrian Brown. "It's a good project, and whatever it is today is going to get better."
Hamilton Town Center is now 95-percent occupied, and its owners have just small outlots and a final, 15-acre parcel across Campus Parkway from the mall—behind an Olive Garden, McDonald's and CVS—left to develop.
"That will be the next development and the last phase, so we have to make sure it's the right kind of player," Brown said. "Always, the last piece of the puzzle is the most valuable."
It may be the last piece owned by Simon and Gershman, but no one expects growth to stop at Exit 210 once Hamilton Town Center hits capacity. Much of the future development demand would fall to the largest landowner in the area by a mile: Toledo-based Republic Development Corp.
The residential and medical growth at Exit 210 falls within Republic's 725-acre master-planned Saxony project, and the company has land holdings that surround Hamilton Town Center, including 80 acres to the immediate west that could theoretically accommodate a mall expansion.
Republic has not yet marketed the property or had discussions with Simon, said Sean McKinnies, senior vice president for Saxony Management Co., a Republic subsidiary.
He said he expects the property will accommodate retail, possibly with an office component.
Republic would have liked to buy the farmland the mall consumed, but ultimately Saxony's owners won't be complaining about the arrival of Hamilton Town Center, McKinnies said.
"What [Simon] brought to the area was validity to what we had been saying for years, talking about Saxony and what that interchange could be," McKinnies said.
"When you have the largest mall developer in the country and three largest hospitals in the state plant their flag at the interchange, that really backs up the story you're telling.
"Exit 210 has even better things to come," he promised. "It's an area that's just ripe for wonderful development."
Among Republic's near-term plans for the area around Hamilton Town Center: a multitenant retail building along Tegler Drive between Famous Dave's and a newly opened Panda Express; another 75 apartment units by partner J.C. Hart Co. south of Interstate 69; and the first phase of a 22-acre mixed-use component on Saxony Lake that calls for about 600 apartments and up to 50,000 square feet of restaurant and retail space.
Many restaurant or retail chains looking at multi-location deals in central Indiana now include the Hamilton Town Center vicinity as a top submarket, alongside the usual suspects Keystone at the Crossing, Greenwood and downtown, said veteran local real estate broker Abbe Hohmann.
"That's a big change," she said. "When you contrast that with Metropolis [in Plainfield], looking at demographics of both and positioning in the marketplace, it appears the Simon project has prospered to a greater degree."
Hohmann expects the growth will continue, driven by population growth, a growing employment base supported by the expansion of three hospital systems—Indiana University Health, Community Health and St. Vincent Health—and a large amount of land left for development. She expects hundreds of new apartment units in the next few years.
Restaurants in particular are seeing good numbers from locations near Hamilton Town Center, said retail broker Bill Talbot, whose clients include McAlister's Deli.
Key drivers for restaurant traffic include the mall's 16-screen movie theater, the highest-grossing location for the Midwest-focused Goodrich Quality Theaters chain, and a strong daytime population thanks to the hospitals.
The Stone Creek restaurant at Hamilton Town Center is the second-best performer of six in the chain, said Mike Cunningham, principal in Avon-based Cunningham Restaurant Group, the brand's parent.
"It's been a very good store for us," he said. "Lots of good rooftops and good incomes up there, and the potential will continue to grow."
Noblesville and Fishers each saw population gains of 3 percent in 2011, compared with 2010, according to census data. In Fishers, the median household income was $92,347, while in Noblesville it was $70,484, both well ahead of the state average of $48,393.
Residents of the two communities also tend to be big spenders: Census data show retail sales per capita exceed the state average by more than 40 percent in Noblesville and about 11 percent in Fishers.•
Please enable JavaScript to view this content.