The value of Lilly Endowment Inc.'s principal holding—Eli Lilly and Co. stock—has increased nearly $2 billion over the past two years, bolstering the private foundation's philanthropic firepower after a decade of declining or stagnant assets.

Officials won't reveal the endowment's assets at the close of 2012 until they release their annual report this spring. But even if the 10 percent of assets that weren't invested in Lilly stock at the start of the year generated a zero-percent return, the endowment's value would have swelled to $7 billion.

Over the past two years, Eli Lilly shares have returned 40 percent, a huge turnaround after a painful slide in the 2000s that began after a court stripped the company of patent protection for its blockbuster Prozac.

"Recent increases in the value of Eli Lilly and Co. stock will likely mean that the Endowment's level of grantmaking in 2013 will exceed that in 2012," N. Clay Robbins, president of Lilly Endowment, said in an e-mail to IBJ.

The tax code requires that charitable foundations give away at least 5 percent of their assets annually. The endowment calculates that value using the average monthly value over the course of the year, which blunts the immediate impact that large annual increases or decreases in the value of assets have on grantmaking.

Still, the upswing is likely to translate into many millions of dollars in awards. The endowment in 2011 handed out $215 million in grants. It doled out its largest awards, $778 million, in 2001, the year after assets peaked at $15.6 billion.

Grants go to organizations involved in one of the endowment's three main causes: community development, education and religion. Most of the giving in the first two areas is concentrated in Indiana, while the religious support is broader.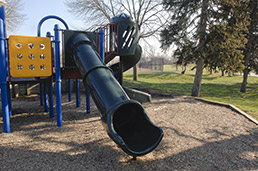 Tarkington Park, at 40th and Meridian streets, was renovated with funds Lilly Endowment awarded the Indianapolis Parks Foundation. (IBJ photo/Perry Reichanadter)
Those awards often are in the millions of dollars. The endowment recently gave the Indianapolis Parks Foundation $10 million over three years to upgrade 13 parks, for instance. And it pledged another $2 million to the Indianapolis Symphony Orchestra if it meets its goal of raising $5 million by Feb. 3.

The endowment's philanthropic firepower hinges on the performance of Eli Lilly shares, which accounted for 90 percent of its assets as of the beginning of 2012. The endowment—founded by Lilly family members in 1937—is the pharmaceutical company's largest shareholder, with more than 135 million shares, a 12-percent stake.

That stock rallied 18.7 percent, to $49.32, in 2012 as investor optimism grew that promising drugs in its R&D pipeline would offset sales declines of blockbusters going off patent.

Continued strong performance, observers say, would have a ripple effect across the state's philanthropic community.

"Of course, when the Lilly endowment's doing well, the community's doing well," said Gene Tempel, dean of Indiana University's School of Philanthropy.

Sticking with Lilly

While the recent runup in Lilly shares has given the endowment a boost, its concentration in one stock remains controversial.

After seeing the value of the endowment fall sharply in the early 2000s, endowment officials in 2006 announced a plan to sell $2 billion in Lilly shares by 2010.

By 2008, the endowment had reached 20 percent of its goal. But filings with the Securities and Exchange Commission show it hasn't sold a single share since.

An endowment spokeswoman told IBJ in 2010, when the shares were around $35, that the organization was reluctant to sell when the share price was so depressed. Another reason for holding tight, she said, was Lilly's rich dividend, which was generating an annual yield of about 5 percent—cash flow the organization used to fund grants.

But Paul Coan, managing partner at Wealth Planning and Management LLC in Indianapolis, said the endowment needs to steadily move toward diversification by selling about 2 percent of its Lilly stock each year and reinvesting elsewhere.

"This is an endowment that's been around for how many years and they're still at 90 percent?" Coan said incredulously. "The last three years makes perfect sense because the stock's been great. The last five years, no. You should have been able to diversify at some point. There are a lot of strategies out there."

Not-for-profit watchdog Daniel Borochoff, president of CharityWatch in Chicago, described the lack of diversity as "foolish."

"That does not make sense if their goal is to accomplish as much charitable goodness as they possibly can," Borochoff said.

However, Tempel, the School of Philanthropy dean, said the community benefits from the endowment's continued support of Eli Lilly, a company that is a crucial part of the city's economic foundation.

He likened the endowment's approach to that of local community foundations that opt to put their money with local banks and brokers, even though they might generate larger returns elsewhere.

"There's definitely a value to the community where those corporations are. It's more dramatic," Tempel said. "They're a major player, the corporation, in the health of the city."

Uncertain future

Of course, there's no guarantee that Lilly shares will continue to increase in value or, for that matter, hold onto recent gains.

Few anticipated Lilly's stock price would plunge when shares were trading in the low $100s before the unfavorable Prozac patent ruling. In a ranking before that ruling, the endowment was the most valuable private foundation in the country. That distinction now goes to the Bill and Melinda Gates Foundation, with nearly $29 billion in assets.

Eli Lilly's 40-percent advance over the past two years far surpassed the performance of the overall stock market, as measured by the S&P 500, which was flat in 2011 and advanced 13.4 percent in 2012.

In a conference call with investors and analysts on Jan. 4, Lilly Chief Financial Officer Derica Rice said the company projects 2013's revenue to increase "in the low single digits over 2012."

Whether the company delivers will depend on how it responds to significant patent expirations, including for its top seller, the anti-depressant Cymbalta. The drug's patent doesn't expire until December, meaning the pains from that will mostly begin in 2014.

"Like many other pharma companies, they have had to lap the patent expirations in order to return to growth. Lilly is working its way through the process," said Les Funtleyder, an analyst with New York-based private equity and hedge fund Poliwogg.

"Their revenue is more or less in line with my forecasts. They have a number of new drugs coming, most notably in oncology."

He added: "The endowment is likely to stay in solid shape for the foreseeable future."•