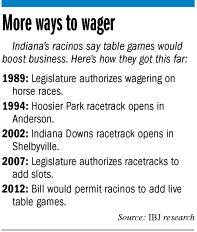 A wide-ranging gambling bill designed to protect Indiana casinos from border-state competition would allow live table games at two central Indiana venues.
There's a little something for each of Indiana's 13 casinos in a bill written by Sen. Phil Boots, R-Crawfordsville. Riverboat casinos would be allowed to build on adjacent land. Indiana would stop taxing free-play coupons. And the racetrack-casinos in Anderson and Shelbyville, currently limited to slot machines and video-based table games, could add live dealers.
"I'm not looking to try to expand gambling, or gaming," Boots said. "I want to keep our casinos and racinos competitive. This should help them."
Wagering taxes are a major source of state revenue, providing $614 million, or 4.3 percent of general fund revenue, in the fiscal year that ended June 30.
State budget forecasters expect that revenue to take a hit from new casinos in Ohio, three of which opened last year in Cleveland, Toledo and Columbus.
The latest state forecast predicts wagering-tax revenue will drop 7.5 percent this fiscal year, to $567.5 million.
Further declines are projected in future years, with collections slipping to $533 million in 2014 and $520 million in 2015. Those estimates don't account for potential new competition in Illinois and Kentucky. Illinois might add a casino in Chicago, and Kentucky Gov. Steve Beshear wants to introduce casino gambling in his state.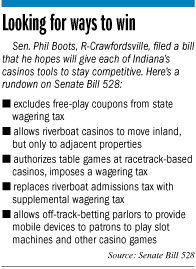 Indiana lawmakers have been bracing for the expected declines, which were first laid out in a 2009 summer study committee report. Yet this is the first session to see a comprehensive casino bill filed, and Boots' measure isn't the only one on the topic.
Rep. Sean Eberhart, R-Shelbyville, has filed a companion to Boots' bill, though he said he won't push his as long as the Senate bill receives a hearing.
Other lawmakers are working on more narrowly focused measures. A bill from Rep. Tom Dermody, R-LaPorte, would address two of the casino industry's tax beefs, and Sen. Ed Charbonneau, R-Valparaiso, has a bill that would allow a Gary riverboat casino to move inland.

Eberhart
Ed Feigenbaum, publisher of the Indiana Gaming Insight newsletter, said it's too soon to tell which components of the various bills will survive to the end of the long budget-writing session.
He predicted any elements that do survive will end up being written into the budget, which would shield them from the risk of a veto by Gov. Mike Pence, whom Feigenbaum said is not especially fond of gambling.
Boots said he's "certain there are still people opposed to gaming and probably distraught over the fact Indiana relies so heavily on gaming revenue."

Boots
Even so, he thinks his bill, or some version of it, has a chance this session because wagering tax revenue will have such a big impact on future budgets.
"We're talking about our revenues," said Boots, who chairs the Senate Pensions and Labor Committee and is also appointed to the Appropriations Committee. "This is the right time to discuss this."
Stabilizing tax revenue
Lawmakers do not think anything they do will return gambling revenue to its old steep, upward trajectory. Just five years ago, the state collected more than $800 million in wagering taxes.
But "if we can just stabilize what we have now, I think it'd be a win for us," Eberhart said.
Rep. Ed Clere, R-New Albany, noted that the fourth Ohio casino, the $400 million Horseshoe Casino, is scheduled to open in Cincinnati in March, creating direct competition for three riverboat casinos drawing from the same market.
Clere said he hopes the debate doesn't get bogged down in regional or casino-specific interests.
"We need to make sure anything we're doing is intended to position Indiana for the long term," he said.
The lack of agreement among Indiana's casino owners, who compete in overlapping territories, makes crafting measures to help the industry difficult.
Casinos on the Ohio River in southeastern Indiana would probably object to live table games at the central Indiana racinos, said Mike Smith, president of the Casino Association of Indiana.
Allowing riverboat-based casinos to move onto land could open yet another controversy because some owners have spent millions of dollars upgrading their dry-docked facilities, Smith said.
The casino association will lobby only on tax-related issues, Smith said.
"The tax issues, which would be the big help, is something that everybody agrees on," he said.
The casinos want Indiana to stop taxing free-play coupons, a promotional tool that becomes even more important in cross-border competition.
Issuing those coupons is more costly to Indiana casinos because the entire value is subject to the wagering tax, which ranges from 15 percent to 40 percent for casinos, Smith said. Ohio casinos pay no taxes on free play, he said.
Boots' bill also would eliminate the admissions tax, $3 per person, paid by the riverboats and French Lick casino. Some of that revenue would be replaced by a 2.5-percentage-point increase on the tiered wagering tax. Local communities that get a cut of the admission tax for hosting casinos would continue to receive their current share, Smith said.
Casino tax breaks would cut into the state's bottom line, but it's not clear by how much. The Legislative Services Agency has not yet finished its fiscal-impact statement on Boots' bill.
Casinos argue there's a long-term benefit to the tax breaks.
"I would argue it wouldn't be a dollar-for-dollar loss," said John Keeler, general counsel of Centaur Holdings, the Indianapolis-based company that owns Hoosier Park in Anderson and is in the process of buying Indiana Grand in Shelbyville out of bankruptcy.
"Hopefully, the racinos and casinos could use that money to get more customers in the door," Keeler said.
The case for table games
Centaur argues that adding table games would boost gambling revenue and create jobs in central Indiana, as many as 650 full-time equivalents between Hoosier Park and Indiana Grand, Keeler said.
"It would allow us to attract more customers and a different type of customer," he said. "We don't think it would cannibalize from our slot business at all."
Racino patrons can already play video versions of poker and other games, but there's a certain type of clientele who prefers playing in person with a dealer, Keeler said.
Hoosier Park would have to expand its building to accommodate traditional games, while there's plenty of room for more games inside Indiana Grand, he said.
There's been a lot of discussion about hotels at the racinos, Keeler added. "There's no doubt table games at those properties would certainly move the economics forward, toward justifying the construction of a hotel."
Centaur hopes to take control of its former rival, Indiana Grand, by March 1 and has already received approval from the Indiana Horse Racing Commission and Indiana Gaming Commission. The firm still has to clear the Federal Trade Commission.
Centaur's business plan for the two properties does not hinge on adding table games, Keeler said.
It's easy to see, however, why casino operators would expect gambling regulations to loosen over time.
When Indiana first permitted casinos in 1993, the riverboats were required to cruise. By 2002, the riverboats were dry-docked in a fixed location. The two racetracks in 2007 won the right to add slots.
"You progress," said Jim Brown, Centaur chief operating officer and a veteran of Indiana's casino industry.
Centaur executives think they can achieve cost savings and increase revenue at both properties, despite the impending competition.
Brown argued before the four-member gambling commission this month that Centaur's revenue projections, which have not been publicly disclosed, are not unduly optimistic.
He noted that the new casino in Toledo, which opened in May and draws Hoosier Park's Fort Wayne-area customers, doesn't allow smoking.
"Our customers like to smoke," he said.
Indiana Grand draws the majority of its customers from within 50 miles, Brown said. Most of the Shelbyville casino's machines date to the 2008 opening, he said, and there are lines on weekends for the most popular games. Centaur plans to eventually replace or add 200 machines.•
Please enable JavaScript to view this content.