Acquisition targets didn't take Hillenbrand Inc. seriously when the Batesville-based casket maker first went a-courtin'.

Perhaps they should have. Hillenbrand was sitting on a pile of cash, and its managers, seeing a long-term decline in the burial business, were determined to take the company in new directions.



Hillenbrand picked up one manufacturing-equipment maker in 2010 and a smaller, complementary firm in 2011. Then from a new vantage point inside the industry, Hillenbrand scouted a major player, Coperion Capital GmbH of Stuttgart, Germany, closing in December on the $545 million acquisition and bringing the total outlay over three years to $1.2 billion.

"At first, we were kind of like the kid that couldn't get a date to the prom," Hillenbrand CEO Ken Camp said. "Now we get lots of calls."

Hillenbrand is the publicly traded parent of Batesville Casket Co., the North American death-industry leader. For the past five years, Hillenbrand has pursued a diversification strategy to make up for Batesville Casket's long-term decline, brought on by the rising popularity of cremation.

Coperion finally brought the turning point Hillenbrand sought, as it transformed the company on several fronts. Camp expects revenue to jump from $983 million in the last fiscal year to $1.6 billion in 2013. Head count went from 3,900, mostly in North America, to 6,000 worldwide. The company's geographic footprint expanded in similar fashion to Asia and Europe.

Most important, the deal changed the nature of Hillenbrand's business. Coperion makes the process-equipment group—which supplies feeders, separators and extruders to food, pharmaceutical and plastics plants—Hillenbrand's largest division, bringing in more than 60 percent of revenue.

Camp believes process equipment is a platform for growth.

"We see from our vantage point a real manufacturing renaissance," he said.

Hillenbrand isn't finished with the diversification plan it laid out in 2007, before spinning off hospital-bed maker Hill-Rom. Not only do Hillenbrand executives expect to add more firms to the process-equipment group, but Camp's team also is trying to identify a third business platform.

Hillenbrand's merger-and-acquisition accomplishments have attracted plenty of attention.

The Coperion deal announcement on Oct. 16 sent Hillenbrand's stock price up 12 percent over the previous day, to $20.94. It's continued to climb. The shares, traded on the New York Stock Exchange, gained 30 percent through Jan. 22.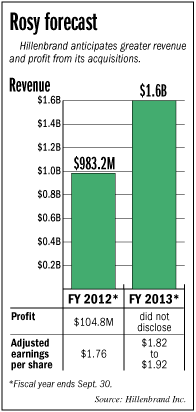 Daniel Moore, an analyst at White Plains, N.Y.-based CJS Securities, immediately pegged Hillenbrand as a market outperformer. (CJS has provided investment-banking services to Hillenbrand.)

Louisville-based Hilliard Lyons rates the company as a buy. Analyst Stephen O'Neil pointed out in his December research note that going heavily into the process-equipment business means Hillenbrand will be at the mercy of economic cycles.

"We have not adjusted our price target at this time, but we believe the acquisition has the potential to add to HI's value," he wrote.

Doug Conner, managing director at Periculum Capital in Carmel, called the Coperion deal the most interesting he'd seen in 2012 because of its impact on Hillenbrand, a 106-year-old company. Conner's firm was not involved in the transaction.

"From my chair, I'm very impressed with what they've done," Conner said.

Unlisted property

Coperion was not even on the market when Camp made his first overture.

Camp met CEO Guenter Bachmann at a trade show in Dusseldorf in spring of 2010 and realized they were on similar paths, trying to expand their industrial-equipment offerings through acquisitions.

Later, the two exchanged e-mails and Bachmann broached the subject of a merger with his private-equity owners, Deutsche Beitiligungs AG.

"They weren't terribly eager to sell at that point," Camp said. "We continued to make the case about how it would be strategically very sound for both of us to do."

The companies got serious last summer, when other European deals were grinding to a halt against a backdrop of the European debt crisis, Hillenbrand Chief Financial Officer Cindy Lucchese said.

"The advantage we had is, we had a very strong balance sheet; we had a pretty decent pile of cash," Camp said. "We also could buy something without having to worry about having a bunch of partners who wanted to get a return in four or five years."

Batesville Casket isn't growing, but it still throws off $100 million a year in cash, which gives Hillenbrand access to plenty of capital, Lucchese said.

The $545 million price, which includes assuming $113 million in debt and $130 million in pension liability, represents about nine times Coperion's earnings before interest, taxes, deprecation and amortization, or EBIDTA.

Hillenbrand financed Coperion through a $900 million credit package, on which Lucchese said $400 million is still available.

Conner said the multiple on the purchase, nine times EBITDA, seemed reasonable.

"If they execute on their plan, it should generate value for their shareholders," he said.

Hillenbrand's strategy is long term, though there are also immediate benefits to the deal. Its previous acquisitions, New Jersey-based K-Tron International Inc. and Cincinnati-based Rotex Global LLC, have struggled to break into Asia, but now they'll have instant access to that market and others through Coperion's 29 parts and service facilities around the world.

Camp also likes the direction of some big-picture trends that could benefit Coperion as a major player in the plastics industry.

"Nobody builds a plastics plant without at least talking to Coperion," Camp said. "As the middle class increases, plastics go into so many things from containers for processed food to parts on a baby carriage. We thought the underlying demographic trends really favored opportunities there."

Hillenbrand is not alone in its long-term outlook. Deal-making in the manufacturing sector accelerated in the third quarter of 2012, according to a PricewaterhouseCoopers report. Strong corporate balance sheets and growth in certain niche markets, especially energy and green technology, overcame the discouraging global economic outlook, wrote Bobby Bono, U.S. Industrial manufacturing leader at PWC.

"The resilience of the U.S. manufacturing sector ... proved attractive for strategic, long-term investors," Bono said.

Savvy buyer

The history of Batesville Casket Co. shaped Hillenbrand's approach to the M&A game.

Batesville Casket is the North American leader, but its name is best known within its distribution network of funeral-home operators. So Hillenbrand built its diversifcation plan around business-to-business rather than consumer-focused industries.

"We're masters of the mundane," Camp said. "We don't want to bump up against Siemens or GE or Apple."

Executives embarked on their search from a pool of about 400 companies, each team member taking a stack of reports home every weekend, Camp said. (Hillenbrand also employed the usual team of consultants and investment bankers and in 2011 lured its lead banker, Scott George of P&M Corporate Finance, from Chicago to tiny Batesville to run a new business-development division.)

Half the daunting stack of 400 could be thrown out at first glance because the Hillenbrand team also knew they didn't want anything to do with the automotive sector, which squeezes profit margins, or companies depending on government reimbursement, which can be influenced by politics, Camp said.

Even after the field was narrowed to two dozen firms, Hillenbrand wouldn't approach the most promising ones until it scoped out their customers. That seemed like a natural step to Camp, who began his career at Batesville, which has been selling caskets to some customers for five generations.

"You want to know the company you might have interest in is highly regarded by customers," he said. "If not, it's a tough hill to climb."

Like-minded corporate culture is another must. Camp said Hillenbrand walked away from one promising-sounding Michigan firm after touring its plant.

"It was a toxic culture," he said. "The workers didn't like or trust management."

Hillenbrand finally zeroed in on K-Tron, and Camp sent a letter of interest to its chief executive, Ed Cloues. A publicly traded company, K-Tron was not on the market.

"He took the letter out to his secretary, and they both laughed over it," Camp said. "'A casket company wants to buy us.'

"Ed's now on our board," Camp noted. "Every once in a while, he and I laugh about that."•