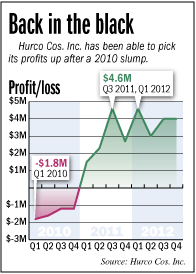 Hurco Cos. Inc. is poised to boost sales in the United States after rolling out several new products and posting a 41-percent profit surge in fiscal 2012—driven by strong results in the tough European market.
The company, which develops computer-controlled equipment for cutting and forming metal, has gone so far as to reel a handful of its foreign jobs back to this country. The shift is aimed at simplifying research and development and reducing distribution costs as Hurco focuses on customers closer to its Indianapolis home.
Hurco, headquartered near West 71st Street and Georgetown Road, earned $15.6 million on $203 million in revenue in the 2012 fiscal year, which ended Oct. 31.
The company continued to make headway toward restoring profitability to pre-recession levels. It posted profit of $22.5 million in fiscal 2008, before tumbling to a $5.7 million loss in 2010.
The fiscal fourth quarter was especially strong, with a 54-percent profit increase driven largely by the unveiling of five new types of machinery at a September trade show.
The company's stock has picked up since the Jan. 11 year-end earnings report. Shares closed the day before at $24.05. By Jan. 24, they were trading at nearly $29.
It's been a wild ride for investors longer term. Hurco stock spiked to more than $28 in April 2011, only to slide below $20 the following June.
Greg Volovic, Hurco's executive vice president of operations, technology and North American sales, said he expects growth in fiscal 2013 but would not discuss specific forecasts.
He said the product launch, which happened at the International Manufacturing Technology Show in Chicago, will drive earnings.
"The rebranding strategy was taking a 40-year-old brand and trying to show an industry that we are at the forefront of what our products provide," Volovic said. "We wanted to refresh it and create an awareness."
Hurco hopes that higher awareness extends into the United States.
North America accounted for just 30 percent of 2012 sales while Europe was responsible for 59 percent. Asia and the Pacific made up the remaining 11 percent.
European sales grew 7 percent from the previous year despite the continent's well-publicized economic troubles.
Volovic said the improvement was possible because most of Hurco's European customers are in Germany and the United Kingdom, which have weathered the financial troubles better than their neighbors.
Overseas companies also are benefiting from a glut in demand after manufacturers held off on investing in equipment upgrades for several years, said Tom Brush, a professor of management at Purdue University's Krannert School of Management.
"They haven't had any investments in five, six, seven years, and [Hurco's] recovering the sales that they were getting pre-downturn," Brush said.
With sales stabilizing in the key market of Europe, Hurco is turning much of its attention to boosting itself in the U.S market, which generated $60.5 million in revenue last year.
"In the past, we've focused so much on global growth that we haven't focused on our own back yard," Volovic said.
More U.S. customers could mean adding jobs to the existing 100 positions in Indianapolis. Most of those jobs are administrative or in R&D.
Brush said on-shoring reduces delays between products' R&D and when they can hit the market because labs and factories are closer together. It also cuts back the risk of communication errors.
"There's a general argument that some people make that certain nodes of the network can be brought back, he said, and it has to do with more than just costs."•
Please enable JavaScript to view this content.