Two years ago, executives at AIT Laboratories "took their eye off the ball," and watched the company's business plummet 29 percent in value.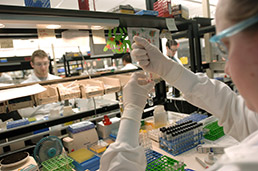 Technicians at AIT Laboratories test urine for the presence of painkillers and other drugs. (IBJ photo/Perry Reichanadter)
Now, after two years of turmoil, the drug-testing lab says it's poised to return to the double-digit rates of growth that made it a local star.

The company has trimmed roughly 30 full-time-equivalent positions, including jettisoning 12 managers in December, leaving employment at more than 350. But this year, AIT plans to hire 35 salespeople and 17 support staff members to reignite growth.

AIT, founded in 1990 by Indiana University School of Medicine professor Michael Evans, caught fire about 10 years ago when it became the nation's pioneer in urine drug tests to help doctors monitor patients taking narcotics for chronic pain.

The company landed on Inc. magazine's list of 5,000 fastest-growing private companies five years in a row.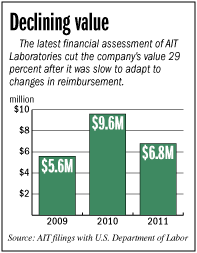 But after 20-percent declines in revenue and staff, AIT is now in turnaround mode. Evans returned as CEO in September, pushing aside his hand-picked replacement because a rebound wasn't happening fast enough.

At the same time, Evans brought on an outside board for the first time to help the company navigate the choppy and scandal-ridden waters of the drug-lab industry.

Evans, 69, and his newly hired deputy, Bob Bosar, think they can return to growth by stepping up the service aspects of AIT that help family doctors prescribe narcotic painkillers without letting their patients abuse them.

In addition, AIT is starting to offer new kinds of tests for biomarkers that will help physicians gauge the effectiveness of their pain-management therapies. Evans also said he plans to move AIT into molecular testing, which examines patients' genetic material.

"We're moving quickly," Evans said, adding, "We need to focus on our core business, which is talking to the doctors."

Evans
AIT expects to grow revenue 20 percent this year, from roughly $55 million last year to $65 million.

Slow to respond

As it tries to turn around, AIT will still be swimming upstream against lowered reimbursement rates from public and private health plans, which are set to be cut again this year.

On Jan. 1, 2011, the federal Medicare program cut reimbursement 47 percent for basic drug screening tests. Over the following year, most private health insurance plans followed with similarly drastic cuts.

Those cuts are affecting the urine-drug-analysis tests that make up 90 percent of AIT's revenue. Doctors use such tests to make sure patients suffering from chronic pain are taking the narcotic painkillers at the prescribed dose—not taking too much of them and not diverting them to friends or for sale on the black market.

AIT's competitors responded in various ways to try to boost the volume of drug tests, which has gotten them in trouble.

For example, Massachusetts-based Calloway Laboratories agreed to pay $20 million last year to the state for excessively testing drug addicts living in halfway houses and then billing Massachusetts' Medicaid plan for the procedures.

And Maryland-based Ameritox Ltd. sued one of its competitors, California-based Millennium Laboratories, claiming that Millennium encouraged doctors to order all possible "confirmation" tests for the presence of specific drugs, whether the initial drug-screening test suggested the additional tests were necessary or not.

Millennium is now the subject of an investigation by the U.S. Department of Justice for health care fraud and for intimidating former employees.

But Millennium also has sued Ameritox, claiming it gave illegal kickbacks to doctors by providing free drug-testing kits and encouraged them to order as many tests as a patient's insurance plan would cover.

The federal Medicare program has taken note of these claims, and in 2013 it will cut reimbursement for the confirmation tests, throwing another hurdle in front of lab companies like AIT.

AIT largely avoided the scandals of its competitors. Federal court records show it was named in just one lawsuit against lab companies, which was filed by a competing lab in Rhode Island and was later dismissed.

Instead, AIT's problem was that it didn't respond at all. The company did not prepare for the Medicare cuts before they took effect. And by the time they did, Evans had fallen ill and was away from the company for the first six months of 2011.

By the time he returned, AIT's profits were in free fall. The company was seeing the same level of demand for its tests, but was getting paid less and less for them.

"It took us a while to realize it," said Evans, sitting in his office in AIT's headquarters along Interstate 465 and West 79th Street. "We thought it would change around. It didn't turn around."

AIT lost $9 million in 2011. That forced it to renegotiate its bank debt with M&I Bank, which is now owned by BMO Harris Bank, to reduce its interest payments.

Evans—who became AIT's second-largest debtholder when he sold the company to employees for $90 million in 2009—was forced to accept only interest payments on the tens of millions AIT owes him.

That decision has stretched Evans' own finances, forcing him to alert Marian University that he likely will have to delay payments on his $48 million pledge to the Catholic college in Indianapolis. Marian is using Evans' donation to fund the startup of a medical school, which is set to open this fall.

"The business downturn will possibly, almost certainly, slow down his payments, but not his commitment," said Dan Elsener, president of Marian, about Evans. "We have full confidence it'll all be paid, just at a different rate."

Evans leaves, then returns

In early 2012, AIT started trying to get its costs under control. It laid off the equivalent of about 15 full-time employees—the first such cuts in its history.

Meanwhile, Evans stepped aside as CEO in place of Ron Thieme, who had been the company's vice president of information technology. But Evans remained chairman and worked on a rebound plan with Thieme.

But by late summer, the rebound plan "wasn't working out," Evans said, adding that AIT's attempts to expand into new kinds of testing "didn't go well."

So Evans constituted a board and came back as CEO. Thieme resigned.

Evans also brought in Bosar, who ran his own firm doing interim management for organizations trying to turn around their operations. Bosar is now AIT's chief operating officer.

"Now we know we've stabilized. All the changes have taken place," said Bosar, adding that, while AIT hasn't closed its books on 2012, it appears it turned an operating profit for the year.

Filings with the U.S. Department of Labor show the employee stock ownership plan borrowed the $90 million used to acquire AIT. After subtracting out debt, AIT now is valued at $6.8 million. That total is down 29 percent from the end of 2010, but still represents an increase from the $5.6 million assigned to AIT at the end of 2009.

George Cassiere, president of Pace Financial Group, said it's somewhat common to see the value of employee-owned companies swing dramatically. Cassiere values about 40 employee-owned companies each year, but does not do the valuation of AIT.

"Given what I have heard about the stress that AIT has been under, the fact that the stock price went down is not surprising," Cassiere said. "It is not uncommon at all to see significant swings in stock price, because it is an equity. That is the same as in the public markets."

Evans thinks AIT will see its business bounce back. He's particularly excited by the four outside board members the company added last year, who he thinks will help the company avoid future mistakes.

"I wish I had this board two years ago," Evans said.

The new outside directors are Dr. Ben Park, CEO of the Indianapolis-based physician group American Health Network; Carrie Bates, managing partner of Cincinnati-based Triathlon Medical Ventures; David Mann, managing partner of Carmel-based Spring Mill Venture Partners; and Matt Neff, CEO of Indianapolis-based CHV Capital, the venture capital arm of the Indiana University Health hospital system.

Park acknowledged that AIT has made mistakes, but he said he thinks the company's plans to have new tests, well-developed protocols and service personnel to help doctors monitor chronic-pain patients will return the company to its former glory.

"Fundamentally, they took their eye off the ball," Park said. But, he added, "We think that AIT is a real local nugget of gold, and we want to see it shine again."•