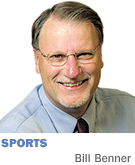 I must admit feeling a little wistful as I watched the run-up to Super Bowl XLVII in New Orleans.
I wanted it to be our time all over again.
I wanted to again see those amazing crowds in the Super Bowl Village on Georgia Street, dancing to the beat of local bands and national acts; to hear that distinctive whir of the zip line and the shouts of delight from its riders above Capitol Avenue; to see the ESPN stage on Pan Am Plaza.
I wanted to gaze upon that massive Lombardi Trophy pasted on the side of the JW Marriott; to see the kids throwing and kicking footballs inside the NFL Experience; to witness the Indianapolis Motor Speedway bathed in lights, as it was for the media party.
I wanted to see Jimmy Fallon on the stage of the Hilbert Circle Theatre; to read all the comments from the print and electronic media, praising Indy for presenting a Super Bowl better than any before it.
I wanted to see those 33 race cars adorned in franchise and NFL designs placed in front of the giant XLVI on Monument Circle; to re-read some of those charming letters Hoosier schoolchildren wrote to our guests; to see those Super Scarves wrapped around the necks of those 10,000 volunteers who blew the NFL honchos away with their devotion to duty.
I wanted to feel all that energy, that sense of our city being so vibrant and alive.
It's not that we hadn't had those moments before—Pan Am Games, Final Fours or any 500-Mile Race weekend, just to name a few—or that we won't create them again.
But there's nothing like the first time.
Perhaps that was the feeling in New Orleans, too, even though the Crescent City was hosting its 10th Super Bowl. But it was the first post-Katrina Super Bowl and, in many respects, organizers there had to feel they were starting all over again.
Without a doubt, New Orleans has returned to its status as a big-event city. It staged the Final Four and the BCS national championship game last year. Its hotel inventory is huge. And, of course, there is the built-in party zone known as the French Quarter, along with so many amazing culinary options.
Indeed, political operative and NOLA Super Bowl Host Committee Co-chairman James Carville took a little swipe at previous Super Bowl hosts Indianapolis (and Dallas-Fort Worth) last week when he said, "The truth of the matter is, we don't have to create anything in New Orleans. It's here. It's a culture."
Carville also said New Orleans would put forward a bid for the 2018 Super Bowl, to coincide with the city's 300th anniversary.
If 2018 rings a bell, that's the game Indy also hopes to pursue. New Orleans will be stiff competition. So will other potential cities, including Minneapolis and the San Francisco/Bay Area with new stadiums.
And as incredibly positive as the Indianapolis feedback was, Super Bowl Committee CEO Allison Melangton—now president of the Indiana Sports Corp.— has said Indy would be wise to not try to replicate what it did last year, but to cook up a new kind of secret sauce for the 2018 bid.
That will require new energy. New creativity. New leadership. Most important, members of our corporate community—always so willing to invest in events beneficial to the city—will be asked to open their bank accounts again.
There's also the matter of constructing additional hotel inventory, which is an investment/risk of another dimension.
So, a year later, can we say our city has been dramatically transformed by hosting the Super Bowl? To look at the near-east side, the 10th Street Corridor, and the ongoing success of the Chase Legacy Center on the Arsenal Tech High School campus, you could answer with a resounding yes. The same goes for a renewed volunteer spirit and the recruitment of the next generation into that pipeline. Without question, the city's reputation as an event host was taken to a higher level.
But to look at the site of the Super Bowl Village, Georgia Street—its long-term benefit still to be fleshed out—the answer would be, well, maybe. And overall, we (like every other city in America) still grapple with the fundamental issues of safety, infrastructure and neighborhoods. Super Bowls don't make those go away.
Still, it's gratifying to look back at the accomplishments and look ahead to the possibilities. In the meantime, have a Super Day.•
__________
Benner is senior associate commissioner for external affairs for the Horizon League college athletic conference and a former sports columnist for The Indianapolis Star. His column appears weekly. He can be reached at bbenner@ibj.com. He also has a blog, www.indyinsights.com.
Please enable JavaScript to view this content.