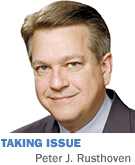 Washington Post columnist Michael Gerson recently observed that our "best Democratic politician" would be sworn in again as president of the United States as our "best Republican politician" was becoming president of Purdue University.
The latter, of course, is former Gov. Mitch Daniels, whom Gerson (thinking of the 2012 election) calls "the one who got away." That was sad for my party and our country. But it's made possible great things for Purdue, and other universities that will come to follow Daniels' lead.
Daniels began by posting on the university's website "An Open Letter to the People of Purdue." It's a remarkable document, detailing his approach and priorities with the candor and insight we learned to expect from him as governor. Just two examples (all there's room for here) illustrate his understanding of the challenges facing American higher education.
One is cost. Daniels aptly summarizes this criticism: "College costs too much and delivers too little. Students are leaving, when they graduate at all, with loads of debt but without evidence that they grew much in either knowledge or critical thinking." Now, "student debt has soared past a trillion dollars, amounting to far more than total credit card debt."
Increases in higher education costs have been astronomical. In 1990, a year at Harvard College cost $13,085 ($23,000 in today's dollars). This year, it's $57,950—an increase of 250 percent. Harvard likes to think of itself as special (trust me), but here it is merely typical.
Daniels knows this is unjustifiable and unsustainable. Unlike many on the administrative side of academia, he has the courage and ability to take this on.
Daniels' summary of a second key criticism is also on the mark: "Diversity is prized except in the most important realm of all, diversity of thought." Universities that "once enshrined freedom of opinion and inquiry [are] now frequently [the] home to the narrowest sort of closed-mindedness and the worst repression of dissident ideas."
Illustrations are abundant, as a host of university "speech codes" shows. Auburn University at Montgomery prohibits "emotional and psychological abuse" that includes "exerting values of power" [?] that create "feelings of powerlessness" or "being made to feel insignificant." Also barred are "excessive demands of perfection," along with "talking down to another, making judgments and setting up situations for failure."
So much for professors who insist on high standards, display greater command of their field than their students, and believe in grading and tough exams.
The University of North Dakota bans "subtle behavior such as ignoring an individual at work or study," and conduct that "appears or feels offensive." Tufts University punished a student newspaper for "harassment" for distributing a flier with accurate quotes from the Koran and data on treatment of women in Arab countries. A California Polytechnic State University branch found a student guilty of "disruption" for putting up a flier advertising a black conservative speaker.
Don't expect this at Purdue under Daniels, who believes "a university violates its special mission if it fails to protect free and open debate. One can hope for a climate of courtesy and civility, and 'speech' that attempts to silence or intimidate others must be confronted strongly, but the ensuring of free expression is paramount."
These were once baseline cultural values at American universities. It's a shame one now needs to say such things—but a good thing Daniels is saying them.
Get on Purdue's website and read the new president's letter. You'll enjoy seeing that a grown-up is in charge on campus.•
__________
Rusthoven, an Indianapolis attorney and graduate of Harvard College and Harvard Law School, was associate counsel to President Reagan. Send comments on this column to ibjedit@ibj.com.
Please enable JavaScript to view this content.