Local boosters have touted Indianapolis as an affordable travel option for so many years that the claim has worked its way into convention and meeting promotional material.

Now, though, that identity is under pressure.

A glut of convention center construction in other cities in recent years has given Indianapolis less wiggle room to raise prices.

Then this year, Indianapolis politicians voted to raise travel taxes, edging overall costs for staging an event high enough that some boosters publicly fretted that one of their competitive advantages had begun to erode.


"I don't think any of our taxes at their current levels affect our convention and leisure travel business," said Visit Indy CEO Leonard Hoops. "But we're getting awfully close to the elastic point where it does have an impact."

Comparing travel costs is notoriously difficult. Cities guard the information from

competitors to the extent that Visit Indy doesn't always release pricing information for the Indiana Convention Center.

A spot check of some peer cities and a couple of the largest convention destinations suggests that, while Indianapolis isn't expensive, neither is it cheap. For example:

• Indianapolis' travel tax is eighth-highest in the nation.

• Hotel rooms are more expensive than in the convention mecca of Orlando.

• Cars are more expensive to rent than in Chicago.

"When the economy was rolling prior to 2008, cost was important, but it was maybe further down on the list of a meeting planner's priorities," said Dirk Ebener, CEO of Atlanta-based Nuernberg Messe North America, which represents more than 100 trade shows globally.

"Now I'd say it's one of the top three most important factors for most, if not all, meetings."

Tax wakeup

Travel costs are front of mind for hotel managers, restaurant operators and others in the hospitality industry following a recent compromise between Mayor Greg Ballard and the City-County Council to raise certain taxes to avoid cutting Marion County services.
The tax on admission to Lucas Oil Stadium, Bankers Life Fieldhouse, Victory Field and the Indiana Convention Center rises from 6 percent to 10 percent March 1.

The county tax on rental cars rises from 4 percent to 6 percent. Combined with state and sales taxes, the total tax on rental cars climbed to 17 percent.

Together, the increases are expected to generate $6.7 million.

John Bates, vice president of research at Alexandria, Va.–based Global Business Travel Association, calculated that travelers to Indianapolis will pay $34.19 in daily taxes. Association officials haven't calculated how the rental car tax increase would affect Indianapolis' travel tax rate, but said the tax likely would add $1 a day, making the travel tax third-highest in the nation.

Chicago, one of Indianapolis' main competitors for conventions, has the nation's highest daily tax for travelers, at $40.31.

However, Indianapolis taxes travelers more than key competitors, including Atlanta; Denver; St. Louis; Orlando; Louisville; Las Vegas; and Columbus, Ohio.

Indianapolis isn't alone in ratcheting up the taxes in an era when cities are scrambling for revenue, Bates said, but cities risk bogging down their economies.

"Overly burdensome taxes on business travel can often do more harm than good, especially when those taxes unfairly target visitors," he said. "It can have an effect on where businesses decide to meet, hold events and spend their travel dollars."

Hoops, while no fan of the tax increases, still views the Circle City as competitive in price and value of such basic costs as convention center rental, hotel rooms, transportation, and food and beverages.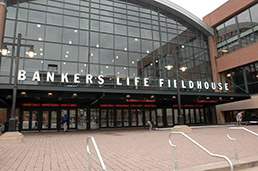 An increase in the admission tax to Bankers Life Fieldhouse, Lucas Oil Stadium and other downtown venues has sparked worries among convention promoters.(IBJ Photo/ Perry Reichanadter)
"If our tax rate and our base rate were eighth-highest, that would be a concern," Hoops said. "That's simply not the case."

Side by side

Conventions are often the top revenue stream for groups and associations, and the cost of a convention can dramatically influence attendance, said Jonathan Day, a Purdue University tourism and hospitality professor.

Whether Indianapolis is verging on pricing itself out of desirable conventions might only be answered by the evidence of contracts signed or spurned.

While tax rates are relatively easy to compare, costs ranging from car rental to sit-down meals and convention center rental are considerably murkier.

Even convention planners admit there's no definitive source to help determine which locations are the most cost-effective for a business gathering.

"A lot of the cost information is purely anecdotal," said Debbie Locklear, president and owner of locally based Meeting Services Unlimited Inc., which handles several large national trade shows. "Oftentimes, it comes down to what's important to the group holding the meeting."

A spot check of major travel expenses suggests that Indianapolis is still modestly priced.

The average cost of a hotel in Indianapolis in September was $123 per night, data from Hotels.com and Smith Travel Research shows. That was less than half the price of a room in Chicago and $15 less than in St. Louis, but more expensive than in Louisville, Orlando and Columbus.

Average roundtrip air fare into and out of Indianapolis during the second quarter last year was within about $25 of most of the city's major competitors, with the exception of cities like Las Vegas and Orlando, where high volumes of air travel drive down prices.

Renting a car at Indianapolis International Airport is more expensive than at competing airports in St. Louis; Columbus, Ohio; Chicago; Louisville; Orlando; and Las Vegas.

Indianapolis has a competitive advantage in sit-down meals, recent studies by market research firms Zagat and Bundle show.

The average meal out in Indianapolis costs $30.04; that's $6.60 cheaper than in Chicago and $9.56 less than in Las Vegas. Multiplied across numerous convention attendees over multiple days, that's a big savings, convention planners said, adding that those types of savings extend to catered events.

Indianapolis has another advantage few cities can match. Its compact downtown means convention-goers don't have to use shuttles—a major expense for a meeting planner. Indianapolis has 7,100 downtown hotel rooms, with 4,700 of those connected by indoor walks to the convention center. That set-up also eliminates much of the need for rental cars and taxicab rides.

Tough competition

Most associations and meeting planners narrow the choice for a convention or business meeting to a handful of locations—primarily based on availability of needed amenities on a certain date—then ask for requests for proposals. Pulling together hoteliers, food service providers, transportation companies and other service providers to offer an enticing package is where Indianapolis excels, Locklear said.

"Looking at the raw data is one thing, but when you put out a [request for proposals], that's where you get the best handle on cost," Locklear said. "I've seen Indianapolis do some amazingly creative things to win a convention."

For instance, a hotel or block of hotels might offer discounted room and meal rates or might throw in audio-visual services or free meeting space as part of a city-wide bid package. Visit Indy and its partners have also been known to offer free convention signage at the airport, hotels and even along the enclosed sky bridges attaching the convention center to hotels and Circle Centre mall.

"Few put together a package like Indianapolis," Locklear said. "They really know how to roll out the red carpet. In this competitive environment, that can go a long way."

Higher stakes

It's good for Indianapolis to know how to write an attractive proposal, because it isn't the only city scratching for travel revenue.

Cincinnati, Phoenix and Philadelphia are only some of the cities that expanded convention center space in recent years—and are looking to make it pay off with more and larger conventions.

Total convention space grew from 40.4 million square feet in 1990 to more than 73 million square feet in 2011, according to Tradeshow Week. As a result, more convention centers have resorted to giving space away and offering cost-conscious convention packages.

"The rationale is that visitor spending and taxes generated from things like hotels and meals will more than make up for the cost of the convention center space," said Heywood Sanders, a University of Texas at San Antonio professor and author of several books on convention operations.

"All this puts pressure on everyone in the hospitality industry," Sanders added. "It's an environment where everyone is asking, 'How low can you go?' As margins decrease and competition increases, it's more and more difficult to make it solely as a low-cost provider and sustain the local hospitality industry."

Ebener, the trade show representative, said Indianapolis now will have to prove its inexpensive marketing pitch with every single bid.

One thing is certain, local hospitality leaders say. Without mountains, an ocean or a year-round warm climate, the cost of doing convention business is more important for Indianapolis than many cities.•