Republican Mayor Greg Ballard's counsel, Joe Loftus, found himself in the unusual position of opposing legislation offered by a member of the party's Marion County delegation.
Loftus appeared before the Indiana Senate's Tax and Fiscal Policy Committee on Feb. 5 to testify against Senate Bill 90, which would put an end to recent car-rental and ticket-tax hikes in 2023.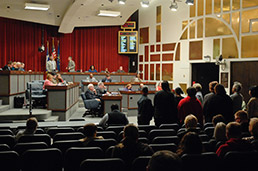 Legislation would end the Marion County 2009 tax increases in 2023. (IBJ File Photo)
Sen. Mike Young, R-Indianapolis, introduced the bill because he says the tax hikes, promoted by Ballard and approved last month in a bipartisan vote of the City-County Council, are not going toward the purpose intended in the 2009 legislation that enabled them.
Some of the new excise and ticket revenue will go to the city's general fund for public safety. Young said the intent of the 2009 legislation was to ensure the Capital Improvement Board could repay the $18 million it borrowed from the state that year.
Loftus told the committee CIB would go in the red within two years of the sunset date if it's adopted.
His plea prompted a harsh response from committee member Luke Kenley, R-Noblesville.
"This is a concession on Sen. Young's part to give you some life on this," he said. "I can't understand why you're all exercised about what Sen. Young's trying to do to protect the taxpayers."
CIB intends to repay the money it owes within five years, and Young acknowledged that it's hard to say the new tax money isn't being used to pay back the 2009 loans.
"All the money goes in the same pot," he said.
Young still feels the tax hikes go against the spirit of the deal he cut with the mayor's office in 2009, which required him to line up support from fellow Republicans for tax increases.
"Our city and our community's going to need things in the future," Young said. "I don't want other legislators outside Marion County to say, 'We've heard this story before.'"
Please enable JavaScript to view this content.