Mandy Selke and Carly Swift are spreading joy, one kernel at a time.
As children, the sisters spent blissful hours at their grandfather's side while he popped corn. Now their creative energy powers one of Indianapolis' hottest small businesses: 10-year-old gourmet popcorn purveyor Just Pop In!
"Popcorn is nostalgic to us," said Swift, the younger of the 38-year-old identical twins. "We have warm, happy memories of our grandfather at the stove. It was always a show."
Sisters Mandy Selke, left, and Carly Swift are the creative forces behind Just Pop In! (IBJ photo/Eric Learned)
These days, their popcorn has the starring role. (And Grandpa is a bit befuddled by their modern take on the classic treat.) While traditional flavors like caramel and cheddar—and an "Indy Style" mixture of the two—remain popular, a dizzying array of more imaginative concoctions sets Just Pop In! apart.
The firm's Pop Life collection features options like green apple, cinnamon, blueberry and pina colada. (Yes, popcorn.) The Spice of Life lineup offers savory flavors such as beer cheese and buffalo/ranch. And an assortment of chocolate-coated varieties satisfies the sophisticated sweet tooth.
Then there are the newest flavors, developed in collaboration with local businesses including Sun King Brewing and Smoking Goose Meatery. The newest flavor is set to debut March 1: Ball & Biscuit Sazerac was inspired by a New Orleans rye whiskey cocktail served at the Mass Ave bar.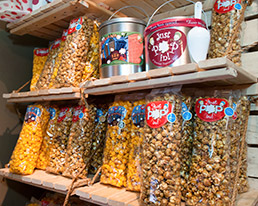 Just Pop In! produces traditional treats as well as innovative flavors. (IBJ photo/Eric Learned)
The partnerships are productive for both sides. Smoking Goose Porkorn, for example, uses caramelized bacon from the Dorman Street smokehouse. Smoking Goose, in turn, buys the finished product to sell in its store and sister shop Goose the Market.
The two locations order as many as 30 cases of the popcorn each month, said Goose founder Chris Eley, and some of Smoking Goose's retail customers also are interested in carrying it.
Eley worked with the Just Pop In! crew—Selke is the cook, Swift the taste-tester—for months to perfect the recipe. The biggest issue, he said, was figuring out how to prevent the fat in the bacon from making the popcorn soggy.
"They were great to work with, great collaborators," he said. "They were open to any suggestions or feedback we had. Once we figured everything out, they dialed it in pretty quick."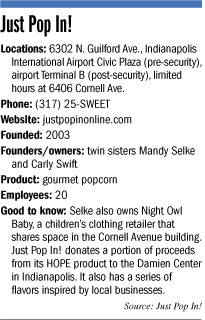 The sisters are fast learners, a quality that served them well when they left full-time sales jobs at ADP in 2003 to follow their dreams. Although they had no entrepreneurial experience themselves, they were inspired by the emerging businesses they worked with at the HR outsourcing firm.
"It was so interesting. We learned so much from them," Selke said.
Which isn't to say everything went smoothly. They quit their jobs—Selke first, then Swift—after finding a downtown location for the popcorn shop they envisioned, only to lose the lease when the landlord had a change of heart.
"It wasn't meant to be," Selke said.
"Fortunately," Swift chimed in.
They ended up on Guilford Avenue in Broad Ripple, near where they already lived. Rent was cheaper there, they said, and the neighborhood had more of the charm they were seeking.
"It was serendipitous. We could have had a very different experience," Swift said. "We don't know if we would have made it through our growing pains downtown."
The partners declined to disclose financial results, but said they floundered a bit at first as they tried to do too much at once. Plans for elaborate gift baskets never panned out, for example, and a bad experience with a website contractor delayed the launch of online sales.
But they covered startup costs themselves and over time fine-tuned the operation. In November 2008—five years to the day after the original shop opened—Just Pop In! added a second location at Indianapolis International Airport.
Less than a year later, the partners bought a Queen Anne home on Cornell Avenue to accommodate their growing company. That location houses the firm's wholesale kitchen.
Several flavors are produced daily in the retail shops on Guilford and in the airport's Terminal B. So-called "popcorn concierges" use a movie-theater-like kettle for popping and a barrel-like "carmelizer" to coat the corn before packaging it to order.
Retail and online operations represent about 45 percent of Just Pop In! sales, the sisters said. The rest falls under what they call their "hospitality" business: providing hotel amenities, supplying special events and corporate sales.
"Everything happened authentically, organically," Swift said. "We found our niche."
Participating in the NFL's Emerging Business program during last year's Super Bowl in Indianapolis also gave the firm a boost. The business-development initiative resulted in a handful of events and a world of exposure for Just Pop In!, Swift said.
Looking ahead, the partners see the greatest opportunity in growing the hospitality portion of the business—a shift from the sisters' early expectations that they would open a shop and grow through franchising.
That's not out of the question, they said, but it's not at the top of their to-do list.
"Going into our 10th year, we really need to evaluate—take a step back and dissect—what we do," Selke said. "We need to develop internally. We still have a whole lot of love to give ourselves."
"We're growing from the inside out," Swift said.
Just Pop In! counts on word of mouth to attract customers, but it's also working on a deal with a large manufacturer's representative that specializes in the gift industry. Finalizing a distribution agreement could get the company's products into as many as 10,000 more stores, the sisters said.
Success isn't just about money in the bank. The partners also are committed to supporting causes that are important to them. Just Pop In! has a long-standing relationship with the Damien Center in Indianapolis, for instance, and sponsors the Heartland Film Festival and Indy Film Festival—fitting causes given the connection between movies and popcorn.
The sisters also are enthusiastic about the local business partnerships they're building. The co-branded popcorn they've produced so far is a testament to the collaborative nature of area entrepreneurs, they said.
"It feels so good to be in a city where so many entrepreneurs want to lift each other up," Swift said. "Indianapolis has so much cool stuff happening, and we want everyone to know about it."
"Let's do this together," Selke said.
That philosophy even carries through in the firm's relationships with businesses that could be considered competitors. Take Best Chocolate in Town, which also targets hotels as a client but nevertheless handles all of Just Pop In!'s chocolate-covered popcorn.
"There are a lot of great little small businesses working together, creating interesting products," said Best Chocolate founder Elizabeth Garber. "The girls are great to work with—they're creative and fun."
As their business has grown, the sisters have been able to delegate many day-to-day duties so they can concentrate on bigger-picture issues.
They also protect family time, making their children a priority. Swift has a 7-year-old son, Hutton, and Selke has two children: 6-year-old son Jett and 5-year-old daughter Meta.
"Raising our babies is the most heart-swelling and fulfilling gift ever," Selke said. "It's a dream come true to get the pleasure of nurturing our kids while continuing to build our business. Our business is also our baby—our oldest one, at that."•
Please enable JavaScript to view this content.