Voxx International Corp.'s $166 million buyout of Indianapolis-based speaker maker Klipsch Group two years ago so far hasn't generated the excitement on Wall Street that Voxx wants.

Hauppage, N.Y.-based Voxx made the acquisition as part of its strategy to shift from commodity electronics into higher-margin businesses.

Voxx's stock price is up from $8.12 to about $9.75 since the deal closed in March 2011. But company executives hoped for an even bigger pop in the stock price, given Klipsch's strong performance.

"We think our stock is highly undervalued," Voxx President Pat Lavelle said. "When you look at our performance, we've generated good income, good free cash flow."

Sales at 260-employee Klipsch are expected to reach $180 million in the 2013 fiscal year, which ends Feb. 28, Klipsch CEO Paul Jacobs said. That's 11 percent higher than in fiscal 2010 but 20 percent below its peak before the recession.

Voxx's stock rose as high as $14.56 a share in February 2012 before a costly lawsuit settlement and expenses from another acquisition turned investors skittish, said Scott Tilghman, a senior analyst in B. Riley & Co.'s Boston office.

"On top of that, since this company is not very visible in the marketplace, their communication strategy isn't quite as refined," Tilghman said.

Tilghman is one of just two analysts following Voxx. But that's a step up from the zero it had when it bought Klipsch.

Voxx has a market value of just $216 million, making it small by public company standards. Because of the lack of attention from Wall Street, investors took several months to jump on board after the Klipsch purchase was announced in January 2011.

"Even though the Klipsch deal looked to have been attractive, it wasn't something a lot of people were playing," Tilghman said. "It was a classic case of a low-cap stock flying under the radar."

Shares hovered in the $7 and $8 range for most of 2011 before marching higher in early 2012.

Then, Voxx in May 2012 finished its first quarter with a $4.7 million loss.

During the previous quarter, Voxx had paid out $8.4 million to settle a patent lawsuit and recorded $2.7 million in expenses related to the acquisition of German automotive communications company Hirschmann.

That was a big hit for Voxx, which had earned $25.6 million in its previous fiscal year.

Tilghman said the setbacks came at a time investors already were fretting about the growing financial crisis in Europe and the looming "fiscal cliff" in the United States.

Voxx's share price tumbled through 2012 before bottoming out below $6 in November.

The company is expected to report almost $850 million in sales for its 2013 fiscal year, up 20 percent from last year's $707 million, Lavelle said.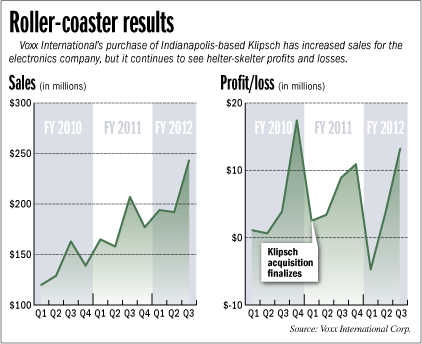 Klipsch has helped Voxx widen its gross margins to 29 percent, a huge improvement from a few years ago, when they were as small as 8 percent.

'Retool and reinvent'

Voxx found Klipsch's low-volume, high-margin speaker business an alluring acquisition target as it sought to shift away from low-margin commodity products.

After deciding it was too small to compete in the booming cell-phone manufacturing business, Voxx in 2005 dissolved a partnership with Toshiba and shed its mobile technology business.

"We had to retool and reinvent the company," Lavelle said.

So Voxx, then known as Audiovox, began acquiring companies, primarily those in the home theater industry.

That led to acquisitions from two Indianapolis-area companies, Thomson Consumer Electronics and Technuity, in 2007. Thomson's accessories and audio-visual businesses, purchased in separate transactions for a total of $69 million, gave Voxx the RCA brand in everything except televisions. Technuity, for which Voxx paid $20 million, added Energizer rechargeable batteries.

"When it became apparent to us that Klipsch was for sale, we knew it would be a target company that would fit the criteria that we were looking for," Lavelle said.

Voxx agreed to pay nearly $50 a share for the 3.36 million shares held by the company's 22 owners.

Retaining management

The Klipsch management team has remained intact, except for the departure of CEO Fred Klipsch, 71, who owned 13 percent of the company before the sale.

Klipsch, who bought the company in 1989 from cousin and founder Paul Klipsch, stepped down three months after the deal closed. Jacobs, then the president and chief operating officer, succeeded him. Fred Klipsch is now a director for Voxx.

Klipsch, who could not be reached for comment, previously told IBJ he decided to sell to Voxx because he knew it would keep Indianapolis operations intact.

Lavelle said Voxx didn't want to get in the way of the company's talented managers.

"We give them a lot of room to operate based on what they believe their market needs are, their customer needs are, because they've done a good job in building that company," Lavelle said. "Part of the criteria was management came with that acquisition. We wanted to maintain that special sauce."

Klipsch has not been free of changes, however. The company closed three of its four offices in Europe, and shifted more than 40 of its European employees to the United States.

Overall Klipsch employment has increased from 220 to 260, with about 140 in the Indianapolis area.

Brand adjustment

The Indianapolis manufacturer began examining its brands—Klipsch, Energy, Mirage and Jamo—once acquisition discussions heated up.

"One of the things that really drove the acquisition was how we would change these brands to evolve in the global marketplace," Jacobs said.

The company nixed Mirage and integrated some of the technology into Energy and Jamo.

Jamo went through its own reconfiguration as Klipsch ditched the Danish brand's underperforming electronic equipment, chiefly DVD players.

Like Klipsch, Jamo now focuses on high-end loudspeakers. But they are tailored to the more subtle product demands of the European market.

Audio engineer Paul Klipsch founded the company in 1946 with a focus on high-end sound equipment. More recently, the company has tapped the growing mobile music market by selling high-end earphones.

Critics' rankings of Klipsch products are a mixed bag.

Consumer Reports found Klipsch and Energy home theater products to be "fair" or "good," on par with many of Voxx's other brands.

Klipsch stacked up better in the fast-growing earbud category. Consumer Reports rated all its earbuds as "very good," with one pair, the $350 Klipsch Image X10i, receiving the highest rating in its category.•