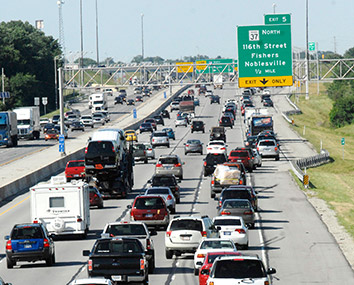 House Republicans tossed out Gov. Mike Pence's call for a tax cut Friday, unveiling a $30 billion biennial budget that instead relies on Indiana's roughly $500 million annual surplus to restore education cuts and pay for road and bridge repairs.
"We're continuing fiscal integrity, we will have a balanced budget, we're making priority investments in education and priority investments in transportation," said House Ways and Means Chairman Tim Brown, R-Crawfordsville.
The House plan does not include the roughly $770 million Pence had budgeted to phase in a 10-percent personal income tax cut over the next two years, but Brown argued that doesn't mean House Republicans have ruled it out.
"We've not eliminated it, we're continuing to talk about priorities as we go forward and have more information and more debate," he said.
Pence responded to the budget proposal in a statement Friday, saying he was "very disappointed."
"Despite having the largest budget surplus in history, this House budget increases spending without giving hardworking Hoosiers one cent of new tax relief. As our administration's budget clearly showed, we can afford to do both," he wrote.
Education funding was boosted by $130 million in the first year and $195 million in the second — almost $200 million more than Pence sought in traditional school funding. They ran with his plan to pay high-performing schools more money, but cut much of the $64 million he had sought for it.
Budget writers also added $250 million a year to the state's transportation fund, ensuring the state's gas tax is used to pay for maintaining roads. The tax is used in part now to fund the Indiana State Police, the Bureau of Motor Vehicles and the Department of Natural Resources.
The governor's office was closed Friday. Pence spokeswoman Christy Denault said Pence, Lt. Gov. Sue Ellspermann and their staff members were at an "off-site" planning session.
But Pence had an unusual ally Friday in House Minority Leader Scott Pelath, D-Michigan City, who called for the House Republicans to allow a vote on Pence's tax cut.
"The House of Representatives is going to have an up-or-down vote on Gov. Pence's tax proposal," Pelath said. "And we're going to ensure that's going to happen, and some Democrats are going to support it."
Pelath called the request a genuine effort to debate the cut, even though it would also back Republican House members into a corner where they would be forced to vote against either their speaker or their governor.
The House plan includes $7 million a year for a preschool voucher program sought by House Speaker Brian Bosma, R-Indianapolis, and also adds $42.2 million for higher education. It includes $104 million to pay off bonds used to build the Indiana State Museum and the state Forensic Sciences Laboratory.
The proposal now advances to the full House of Representatives for consideration before being sent to the Senate. It is unclear when the House vote will take place. Lawmakers must approve the state's biennial budget before leaving Indianapolis at the end of April.
Please enable JavaScript to view this content.