Here's what we know: Bus service provider IndyGo and an international superstar architect will create a $17 million transportation hub on a half-block site in the heart of downtown, reshaping the transit system and helping transform the southeast quadrant of the Mile Square.
Here's what we don't know: what it will look like, what amenities users can expect, and how it will link to rapid-transit lines still in the planning stages.
At the moment, the 1.9-acre parcel is a city-owned parking lot, situated on the south side of Washington Street between Delaware and Alabama streets. But architecture, urban planning and mass transit fans imagine it as an empty canvas, with the potential to showcase a signature structure that triggers more development nearby.
Those are some pretty hefty expectations for something that might appear to the untrained eye as simply a bus station.
"The basic purpose is to facilitate improved transfers for our downtown bus routes," said Michael Terry, president and CEO of IndyGo. "What I think we are looking for is something that can be transformational and iconic. … And we want something that will complement or be a catalyst for development in that area."
At this point in the planning process, IndyGo officials can let their imaginations hit the gas, brainstorm a bit and ask interested parties to weigh in.
Beyond providing a focal point for bus transfers, what else can the transit hub offer? What kind of design would be appropriate for Indianapolis? What can it learn from similar transit hubs in the United States and around the globe?
"It has to be a functioning facility to get people from point A to point B," said Brad Beaubien, director of the Ball State University College of Architecture and Planning Indianapolis Center. "But it can be a much more inspirational piece with amenities that support a transit lifestyle, and not just be a piece of infrastructure."
Such amenities could include passenger-friendly retail options such as coffee shops, newsstands and convenience stores, Beaubien said. Terry went as far as envisioning office and gallery space, in addition to the essentials—a waiting area, transit information station and rest rooms.
IndyGo isn't hiring top-shelf contemporary architect Daniel Libeskind to plop the equivalent of a strip center on a piece of downtown real estate. Finding the middle ground between bottom-line functionality and a stellar design appears to be the project's big challenge.
"If you don't get the functionality right, the architecture doesn't matter," said Aaron Renn, an urban policy analyst who writes the Urbanophile blog. "But that said, design does matter."
2015 opening
As of last week, IndyGo was finalizing a contract for architectural and engineering services with London-based firm Arup, which will serve as primary contractor on the project. Studio Daniel Libeskind Architect LLC—which maintains offices in New York City; Zurich, Switzerland; and Milan, Italy—will work as a subcontractor on the design end.
Federal transportation grants will cover $11.5 million of the approximately $17 million project cost. IndyGo will pick up the balance, using grant matching money already set aside in its cumulative capital fund. According to IndyGo's Terry, the fee for architectural and engineering services will not exceed 11 percent of the total project budget, or about $1.9 million.
Known at this stage as the Indianapolis Downtown Transit Center, the hub is expected to open in the third quarter of 2015. Over this next year, IndyGo and the development team will flesh out a comprehensive plan for construction. That will include studies of land use and environmental impact, project feasibility, and an examination of traffic patterns and how buses will access and use the site.
The creative team will draw up preliminary designs for the center, and IndyGo will invite public comment on the plans in open forums. Construction is expected to begin in 2014, after designs are finalized.
Form and function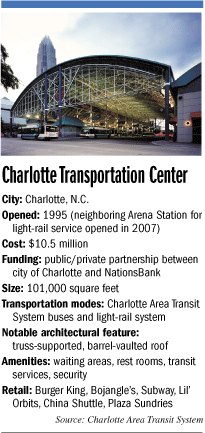 Libeskind is known for his often graceful and sculptural approach to civic structures. His U.S. work includes a recent expansion of the Denver Art Museum, the Crystals at CityCenter retail and entertainment facility in Las Vegas, and plans for the redevelopment of the World Trade Center site in New York City.
While Libeskind projects draw on a fairly wide design palette, the overall effect of his portfolio is unmistakably modern, and even futuristic. His surfaces are sleek, his shapes asymmetrical and his lines jagged. Libeskind himself has described some of his work as "radical."
While excited about corraling a so-called "star-chitect" for downtown's transit hub, Beaubien had some concerns about sacrificing utility for artistic expression.
"Some 'starchitecture' out there is not very friendly at [street] level, although it looks great on a postcard," he said. "You want to make sure that the piece still functions as a day-to-day piece of the urban environment."
Renn seconded the notion, saying, "Artistic flourishes at the expense of functionality are not a good idea." He referred to Libeskind's design for the Frederic C. Hamilton Building at the Denver Art Museum as "not very functional."
Christopher Hawthorne, architecture critic for the Los Angeles Times, told National Public Radio in 2008 that Libeskind's contribution to the museum was "really a stunning piece of architectural sculpture, but the aggressive forms make it a pretty terrible place for showing and looking at art."
Blair Kamin of the Chicago Tribune praised the building's complex exterior forms and edgy gestures for capturing Denver's youthful energy and reflecting the area's mountainous landscape. However, he wrote, "All too often in this building, the art is forced to accommodate the architecture rather than the other way around."
'Unique and exciting'
Terry assured that the planning process for the Indianapolis hub would create an appropriate structure that fills the city's needs. But in seizing Arup's proposal for the project, IndyGo wanted to take the opportunity to "develop something that is unique and exciting for Indianapolis.
"The process will embrace what Indianapolis is looking for. But that's not to say that there won't be something that we're not used to. There could be elements that are edgy."
In preparing for the project, IndyGo officials looked at many existing transit centers. While none served as a direct inspiration for the Indianapolis project, Terry said they were able to serve as "case studies," in a sense, for how various elements can come together in a successful project.
Detroit, Charlotte
Among the hubs examined in the United States were the Rosa Parks Transit Center in Detroit and the Charlotte Transportation Center in North Carolina (see photos and information on page 16).
Opened in 2007, the $22.5 million Detroit facility cuts a contemporary silhouette, with a seven-peaked canopy atop the station and large banks of windows subdivided in grids vaguely reminiscent of Piet Mondrian. Renn of the Urbanophile blog noted, however, that the interior design was "very spartan" and "antiseptic."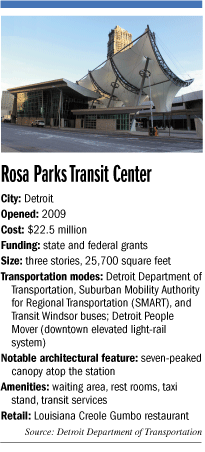 "[The center] is not awful. It's just very basic," he said. "I wouldn't say, 'Wow, I need one of those in my city.'"
Renn suggested that the comfort of riders should be a top priority for the Indianapolis hub, recommending a security presence, free high-speed Internet and real-time scheduling displays that can show the actual locations of buses en route to the center.
Incorporating retail amenities such as a coffee stand, doughnut shop and a newsstand "would give you real things to do there," he said. "If people are waiting around, you don't want to be in a giant open area with an information booth, some benches and a vending machine."
Open since 1995, the $10.5 million Charlotte Transportation Center has been aggressive in recruiting retail tenants, with five eateries on the premises and one sundries shop.
Retail options are important to give outsiders a sense of variety, "so that people walking past this 'bus thing' aren't going to feel like they're walking past a block-long parking garage," Renn said.
"The other thing you want to do is avoid a gigantic footprint taken up by bus parking," he said. "You want to be conscious of making a massive concrete apron filled with idling buses that people have to walk by and see. … I think you want it to be small, compact and connected to the city."
IndyGo roots
Connection is perhaps the main purpose of the hub. Currently, 27 of IndyGo's routes have downtown components, and it's likely that most, if not all, would intersect with the hub, according to IndyGo spokesman Bryan Luellen. Passengers would use the center for transfers.
The facility also could serve as a junction for several rapid-transit lines currently in the planning process under the umbrella of Indy Connect. The initiative is a partnership of IndyGo, the Indianapolis Metropolitan Planning Organization and Central Indiana Regional Transportation Authority.
The group has proposed a $1.3 million expansion of the central Indiana transit system. Among the spokes of its plan are five rapid-transit lines criss-crossing Marion County, including some that would reach into Hamilton and Hancock counties.
Indy Connect scored a big, if still early, victory Jan. 30 when a state legislative committee approved a bill that would let local voters decide whether to fund the expansion. The initiative is now hosting public forums to help flesh out details of the routes, including station locations and the actual mode of transportation.
Whether the lines would be populated by buses or light rail—or a combination of both—is up in the air, as are their exact routes. But the transit hub will be designed in such a way as to allow connection to those routes, if final planning brings them to the center.
"The hub supports the plans for the [IndyGo] transit system today, and it supports the long-term Indy Connect plan," said Ehren Bingaman, executive director of CIRTA.
Strong statement
Whether or not the Indy Connect plan eventually comes to light, the hub project makes a strong statement about the need for public transit, Bingaman said.
"It demonstrates the growing acknowledgement of the importance of IndyGo to the region's economy," he said. "They take people to work. They're getting people to school. They're getting people to health care."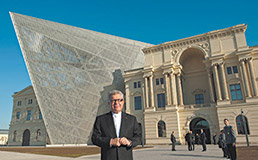 The redesign of the Dresden Military Museum by Daniel Libeskind showcases the architect's inclination toward bold, asymmetrical shapes. (IBJ Photo/ Perry Reichanadter)
Bingaman also praised the central location of the hub, which is across Washington Street from a section of the Cultural Trail and within a tee shot of the Indy Bike Hub at City Market.
"The site has good proximity to an employment center, and good proximity to other modes of transportation," Bingaman said. "It will become an epicenter [of transit]."
The site also is adjacent to a stretch of some of the last undeveloped—or under-developed—land in the Mile Square. For example, cattycorner to the parcel to the northeast are surface parking lots that housed the long-defunct Market Square Arena. City officials have been eager to find new uses for the lots, located across Alabama Street from the City-County Building.
The transit hub could trigger further development in the area, Terry said. That's another reason why its design is important.
"It's an opportunity to not just throw in a brick façade and a metal building that looks like a garage," he said. "That's not going to be an enhancement and an attraction for others to develop around you."
The project might have a positive effect on adjacent public property, as well.
Terry noted that the city has received a promise of design assistance from the Environmental Protection Agency's Greening America's Capitals program, aimed specifically at the area in and around the Market Square Redevelopment Area. That would include the largely empty plaza directly south of the City-County Building and across Washington Street from the hub.
"We can take a hard look at how that can transform into a public gathering space that would complement the transit center, or how they would each complement each other," Terry said.•
Please enable JavaScript to view this content.