The family holding company LDI Ltd. LLC is adding to its executive team, following the appointment of J.A. Lacy as CEO.

Lacy, son of Chairman Andre Lacy, had been president and chief operating officer until Jan. 1, when he took over from longtime executive David Shane, who retired.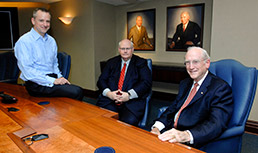 J.A. Lacy, left, took over LDI Ltd. leadership from David Shane, center. Andre Lacy, right, remains chairman. (IBJ File Photo)
Former WellPoint Inc. executive Bill Himebrook became LDI's chief financial officer earlier this month, and Emily Krueger, a former adviser to U.S. Sen. Dick Lugar, joined as chief of staff.

Lacy said he hopes to add to LDI's portfolio this year, possibly with another distribution and logistics or manufacturing firm. LDI currently owns OIA Global Logistics and Tucker Rocky, which sells motorcycle, dirt bike and ATV products.

Himebrook, who at WellPoint was responsible for leading post-acquisition activities, will help LDI identify suitable targets and ensure a smooth transition, Lacy said.

The chief-of-staff position is becoming common outside government and politics, Lacy said. Former WellPoint CEO Angela Braly had a chief of staff, and though LDI employs just 20 people at its Monument Circle headquarters, Lacy said the job is needed.

"Emily is going to be a facilitator, keep the team connected, make sure we communicate and keep an eye on things that are important, not just urgent," he said.