They had me at "butter of the day."

Until our server uttered those magic words, my first visit to Carmel newcomer Mo's A Place for Steaks was just OK.

Tucked away down a side "street" at the Clay Terrace outdoor mall, the low-profile steakhouse (14300 Clay Terrace Blvd, Suite 155; 660-0720) exudes the kind of upscale vibe that typically makes me feel underdressed and outclassed.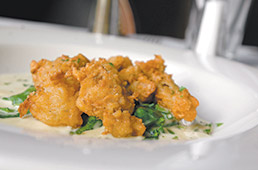 Starters at Mo's include Moysters­—spiced oysters. (IBJ Photo/ Perry Reichanadter)
Our server's borderline-condescending "guided tour" of the simple menu probably didn't help. And a word to the wise: If you promise diners a tag-team "SWAT" approach to service, someone might want to at least make eye contact during the 10-plus minutes you spend attending to other tables.

So, yeah, I was a little grumpy. But my outlook began to change when our food arrived.

We started with the Moysters ($14), a half-dozen delicately battered, Cajun-spiced oysters pan-fried and served over spinach in a bleu cheese sauce. The breading somehow kept its crunch, providing textural balance for the melt-in-your mouth oysters and creamy cheese. Our only quibble was that the fresh-baked bread wasn't delivered in time to sop up the dregs of the Alfredo-like sauce.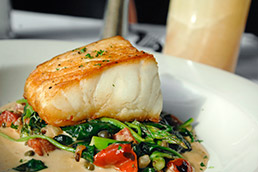 Seafood supplements the steaks at Mo's. Dishes include Chilean Sea Bass. (IBJ Photo/ Perry Reichanadter)
But the trio of still-warm, made-for-Mo's breads—Italian, pretzel and Ciabatta during our visit—came with a welcome consolation prize: the butter of the day. Ours was a stone-ground mustard butter, a subtle flavor that complemented the pretzel bread particularly well. That set the stage for our induction into the clean-plate club.

We debated whether to have steak, figuring it to be a gimme dish for a steakhouse, but ultimately gave in to the beckoning call of a well-prepared piece of meat. Hubby opted for a 12-ounce Filet Mignon ($45) and a bowl of French Onion Soup ($8) and raved about both.

The lean beef was grilled to perfection, its crisp exterior giving way with every tender, juicy bite. The soup likewise was full of flavor—along with an abundance of thick-sliced onions, crunchy croutons and melted cheese. (A note for the frugal: Entrees come with a choice of the house salad or soup of the day, but upgrades like the French Onion come at full price.)

I chose the Chilean Sea Bass ($34 solo or $38 on a bed of veggies), making do with a decidedly uninspiring house salad and splurging on the sauce-soaked spinach and asparagus. I would have gladly skipped the salad altogether for more of the other vegetables—especially if I would have thought to ask for them without the buttery sauce. They were an ideal accompaniment for the flaky, mild fish.

In typical eyes-bigger-than-our-stomachs fashion, we also ordered a side of Lobster Mac N' Cheese ($16), but managed to take only a few bites before relegating it to leftover status. (Hubby reports it makes a decadently delicious lunch.)

Still, we somehow found room for dessert: a house-made macadamia nut brownie ($7) served a la mode with drizzles of chocolate and caramel sauce. The thin, nut-packed brownie and scoop of vanilla ice cream was just enough to satisfy our post-meal sweet tooth without making us miserable.

Then we saw the bill. The white-tablecloth treatment isn't cheap, and we probably won't be back for another Monday night meal on our own dime, but Mo's will definitely make the short list of special-occasion restaurant options.

Our 20th anniversary is coming up in a few months. I wonder what the butter of the day will be.•

–Andrea Muirragui Davis
Fourth in a series of "possessive men" restaurant reviews.