Prohibition wiped out the Home Brewing Co., an Indianapolis brewery founded by German immigrants in 1891 that at its peak shipped more than 50,000 barrels annually and employed a fleet of 25 horse-drawn wagons for delivery.

The "near beer" it started making in 1918 at the onset of Prohibition in Indiana didn't sell as well as the real stuff, and Home Brewing disappeared from city directories after 1919. Only one building remains of the brick structures that made up the Home Brewing campus at Shelby and Washington streets: the 1904 Bottling House.
Indiana City Brewing Co. President Ray Kamstra, right, and partner Dustin Dahl plan to open their brewery in a historic structure this spring. (IBJ photo/Perry Reichanadter)
Late last year, the vacant and boarded building—which over the years served as a warehouse for a lumber company, a plumbing supply house and a boxing gym—caught the eye of Ray Kamstra and his wife, Leslie. They were looking for a place to launch Indiana City Brewing Co., their own foray into the thriving Indiana microbrewery market.

Kamstra, 33, called the owner to ask whether the space was available for lease. That's when he found out about the two-story building's history. It cinched the deal.

"The charm of the building convinced us it was worth the extra effort to make it work," Kamstra said. "We feel honored to be brewing beer in this old building, and we haven't even started yet."

The renovation to prepare the brewery for a late-spring debut includes the painstaking restoration of original windows and several days of power washing black-painted wood ceilings to reveal the yellow pine beneath. The brewery paid for new plumbing and electrical systems, and the landlord has agreed to repair the brick exterior and pave a gravel parking lot.

A few of the arched openings where Kamstra believes Home Brewing Co. loaded beer barrels onto wagons will open onto an outdoor deck for beer tasting. An indoor tasting room will include wall murals and a local art gallery.

The brewery is generating excitement at the Angie's List campus across the street: The newly profitable company plans to host staff meetings at the tasting room.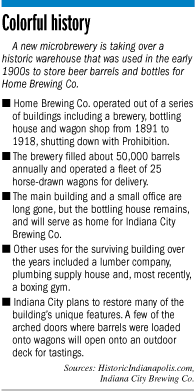 Kamstra, an Indianapolis native who moved back from Chicago to turn his home-brewing hobby into a business, put a career in graphic and Web design on hold. He spent three months developing a business plan, raised more than $35,000 on the crowd-funding website Kickstarter, and signed up other private investors. The total startup cost is "a few hundred thousand dollars."

He met one of his partners, Dustin Dahl, at the Three Floyd's table at the Broad Ripple Beer Festival. Dahl, also a home-brewer, was looking to branch out from his day job as an engineer. Dahl's expertise at remodeling homes has come in handy with the brewery building.

The original plan was to start larger, but Indiana City will launch as a four-barrel brewhouse. The brewery will produce limited release 22-ounce bottles and distribute kegs for local craft-beer bars. It will offer growler fills at its tasting room. Its lineup of year-round beers will include Beyond the Pale, made with Belgian grains and American hops.

Indiana City is leasing about 3,000 square feet on the first floor and hopes to eventually remodel the second floor to accommodate large groups or events. The second-floor space includes a door where Home Brewing lowered crates of bottled beer for delivery. The brick alley used by the delivery wagons remains, running between the former bottling house and a Hardee's restaurant.

The building's history is of particular interest to Joan Hostetler, a historian who operates Heritage Photo & Research Services and contributes to the blog HistoricIndianapolis.com.

Hostetler scoured city directories and newspaper archives to piece together some of the historical details about Home Brewing Co. that appear in this story. She said one of the founders of the brewery was August Hook, though she could not be certain whether he's related to the founders of the former Hook's Drug Store chain (now part of CVS).

Home Brewing bottles often appear on eBay, selling for $3 to $10 apiece. She bought an old lantern slide showing the brewery campus from an antiques dealer. (The image appears here.)

"It's always been on my radar," Hostetler said of the bottling building. "I thought it was really cool that a brewery was going into an old brewery building."

A small Home Brewing office building was razed by the 1950s, but the main brewery building served Indianapolis Power and Light and survived until the 1970s, she said.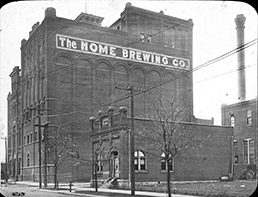 From 1891 to 1918, Home Brewing Co. was a thriving east-side operation, as seen in this circa 1911-1915 lantern slide. Only one building remains of the campus: the Bottling House, part of which is visible at far right. (Photo courtesy of Indiana Album, heritagephotoresearch.com)
Hostetler said she'd be happy to share her research and photos with Indiana City Brewing Co. She'd even accept payment in the form of beer.

The building's owner is a trust controlled by Boone County Commissioner Marc Applegate (an owner of Amco Elevators Inc.) that also owns several other properties in the area, including an attached building with about 8,000 square feet where the brewery could expand.

"He's been waiting to put money into the building but just needed a reason," Kamstra said.

The rest of the former bottling house is slated to house another unique local tenant: Reclaimed Vintage Industrial, a concept created by Sandra Jarvis, a commercial real estate broker and a partner in the vintage and antique store IndySwag. The shop is scheduled to open in the spring.

Kamstra isn't worried about the increasingly crowded microbrewery space. The market share for microbrews is microscopic, leaving plenty of room for new offerings in an emerging downtown "beer district."

Indiana City is only a short drive from several contenders—including Sun King, Flat 12 and Fountain Square Brewing Co.—and expects to join the roster of breweries served by the popular Indy Brew Bus.

"We all see ourselves as on the same team," Kamstra said. "We're all expanding."•