Need some incentives to travel in-state for your next getaway? Looking for something new? Here's a rundown of some of what's been added — or improved — on Indiana's destinations menu.
Aurora: At Great Crescent Brewery you can now enroll in Great Crescent Brewery University, a monthly series for amateur brewers in such subjects as Food and Beer Pairing and Comprehensive Beer Styles.
Lawrenceburg: Renovations are schedule to be complete in May for the $4.9 million refurbishment of the Hollywood Casino, including upgrades for the casino's hotel rooms, suites and lobby.
Big Woods Brewery
Nashville: Brown County Playhouse adds the Big Woods Homegrown Concert Series to its entertainment offerings. Big Woods Brewery itself is expanding to a new facility at State Road 135 N. There's also new zip lines at Explore Brown County, including one over a 60-foot wooded ravine.
Elkhart County: Quilt Gardens tour expands to 19 gardens and 20 murals. It also adds an October event featuring Fall Flower Carpets—block-long arrangements that can be photographed from a viewing platform.
Bloomington: Downtown-square businesses have some new neighbors, including an Oliver Winery tasting room (with wine available by the bottle or glass) and The Tap, a pub specializing in imported beer.
Lafayette/West Lafayette: The Columbian Park Zoo adds the Bill and Donna DeFouw Education Center. Meanwhile, inside Prophetstown State Park, visitors will soon find a $6 million aquatic recreation center including a 30-foot tube slide and lazy river.
French Lick: In September, female golfers—and legions of fans—will converge on French Lick Resort for The Legends Championship, a leading event on the LPGA tour.
Huntingburg: April's Garden Gate Days, an annual downtown celebration, expands this year to include Garden Gate Jazz, Arts, Wine, & Craft Beer Festival.
Coveleski Stadium
South Bend: Coveleski Stadium, home of Sound Bend's minor league ball team, the South Bend Silver Hawks, now includes a Fun Zone play area, new picnic area and new grand entrance.
Corydon: Indiana Caverns, scheduled to open this year, boasts of being the 11th longest cave in the U.S. The site, which includes a nearly four-story waterfall, boat ride and visitor's center, is being overseen by Gary Roberson, who helped develop Squire Boone Caverns and Marengo Cave.
Lake County: Two new family entertainment centers, JAK's Warehouse and 7 Peaks Waterpark, are set to open this year while the lakefront Marquette Park gets a $28 million renovation.
Romney: For a different kind of aquatic activity, you can tour the Tippco Fish tilapia farm.
 
Lake Rudolph Campground & RV Resort's new inflatable slide
Santa Claus: Lake Rudolph Campground & RV Resort will introduce three water slides—including an inflatable one that can be used as a dry slide in fall and winter. Always upgrading, HolidayWorld across the street adds Hyena Falls, a set of in-the-dark water slides, and Kitty's Tea Party, a ride for the younger ones. It's also expanding Happy Halloween Weekends to six weekends.
Ferdinand: From DC Multisport comes the first Ferdinand Folk Fest Fondo. What's a Fondo? It's a rural bike ride that culminates, in this case, in a music festival. Four routes are available over the weekend for riders at every level.
Fair Oaks: Fair Oaks Farms expands its farming educational/entertainment options with a Pig Adventure, including a look into a 2,700-sow gestation and farrowing facility. It has also added an online store to meet your cheese needs.
Lincoln City: Lincoln Amphitheatre adds a September production of "Macbeth"—said to be Abe Lincoln's favorite play—to the entertainment lineup. The musical "Godspell" and the biographical play "A. Lincoln: A Pioneer Tale" fill out the summer schedule.
And trailing the rest…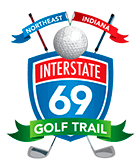 While the ingredients aren't necessarily new, the marketing recipe is. All over the state, "trails" are being created to guide those with an interest in, well, a lot of things.
For starters, there's the Interstate 69 Golf Trail, linking together courses from Grant County's Walnut Creek to Fort Wayne's Bridgewater West. Sports fans can explore existing attractions in new ways thanks to the Heartland Historic Baseball Trail, which includes Gil Hodges Field in Princeton, the Indiana Baseball Hall of Fame in Jasper, and League Stadium in Huntingburg. There's also the Trail of Faith, which includes some of the oldest churches in and around Dubois County, the South Shore Civil War Memorial Trail, the Indiana Cave Trail, and the new Northern Indiana Foodie Trail, selected by the editors of Midwest Living and featuring 28 dining destinations. 
Please enable JavaScript to view this content.