The state of Indiana will have a new brand, under a campaign the Indiana Economic Development Corp. plans to launch this summer.
The campaign is one of a few tweaks that Commerce Secretary Victor Smith and IEDC President Eric Doden are making to Indiana's job-growth strategy.
Smith said he and Doden, appointed by Gov. Mike Pence in January, have inherited an agency that already works well, so they've asked, "What things can we add to the very successful model that's shown itself?"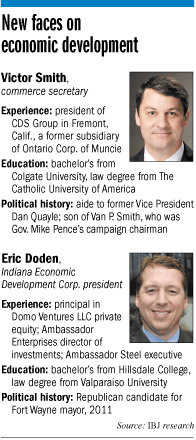 One of those things is a new brand, which will apply to all state agencies. The campaign is being developed in-house, but details about the budget, creative direction and media buying are still being worked out, IEDC spokeswoman Katelyn Hancock said.
IEDC is sitting on a $1.65 million promotion fund, according to the State Budget Agency. An estimated $855,000 will be spent before the fiscal year closes June 30, according to IEDC's biennial budget request.
The most significant change in strategy came when Pence named the two economic development chiefs, who are splitting duties that had been combined under his predecessor, Mitch Daniels. Smith will lead the charge in recruiting corporate investment from out of state and overseas while Doden focuses on Indiana firms with growth potential.
Smith said he'd like to "turbo-charge" IEDC's sales effort.
"Historically, Hoosiers tend to be pretty modest about any success they've had," he said. "It's not bragging if you're telling the facts."
Most states tout the same general qualities to corporate decision-makers, but the specifics are what get their attention, site selection consultant Larry Gigerich said. Indiana has enacted property-tax reform, which creates certainty, he said, and it's revised the corporate tax structure.
"Those are the kinds of things in that branding or messaging, you have to communicate how you're different," said Gigerich, managing director of Ginovus LLC of Carmel.
Given the number of agencies that interact with a company as it's setting up shop in a state, it makes sense for each agency to convey the same message, said Tim Monger, senior vice president of Cassidy Turley's location advisory and incentives services division in Indianapolis.
Daniels, who created IEDC as a quasi-state agency with the governor as its board chairman, said when he came into office in 2005 that job creation was every state agency's responsibility, Monger recalled.
"This sounds like maybe it's taking it a step further," he said.
In addition to branding, Indiana and Pence must continue to make national headlines, as Daniels did by creating a budget surplus during the recession, Monger said.
"Indiana stood out, especially in the Midwest," he said.
Pence chose Smith, 44, the son of his campaign chairman, Van Smith, because of his international business experience. Just before being appointed, Smith was president of CDS Group, based in Fremont, Calif. The electro-mechanical manufacturing firm was a subsidiary of Muncie-based Ontario Corp., where the elder Smith is former president and chairman.
Doden, 43, meanwhile, has spent his career in Indiana and is more familiar with Hoosier businesses. His father, Daryle Doden, was a co-founder of Ambassador Steel in Auburn, which sold to Nucor in 2008 for $185 million. Money from the sale helped create Ambassador Enterprises, where Eric Doden was investment manager before starting a boutique private equity firm, Domo Ventures LLC.
Doden said he's begun traveling around the state to meet with middle-market firms—those worth $20 million to $200 million—to understand their needs. That's no departure from IEDC's previous practice, he said, but the new leadership structure allows him to spend much more time in that role.
The continued emphasis on homegrown firms sends an important signal to executives who could easily leave for another state, said David Shaffer, senior fellow at the Rockefeller Institute of Government in Albany, N.Y.
Even if a governor lands a 2,000-job relocation, "It looks great and it gets attention, but your growth prospects are the people you already have and their health and willingness to stay with you."
That's not lost on Doden, who noted that, from 2005 to 2012, 70 percent of IEDC projects were from expansions of Indiana businesses.
Pence said on the campaign trail that he wants to see more Hoosiers employed "than at any time in our state's history."
That would require new jobs, but Pence and the Legislature are also looking to better align workers' skills with positions that are going unfilled. The Indiana House has unanimously approved the creation of an Indiana Career Council, which will be led by Pence and charged with creating a plan to close the skills gap.
There's another way to tackle work-force development, and that is to lure skilled workers back to the state, Doden said.
"You need to be retaining and attracting talent," he said.
IEDC will create a formal program for reaching out to people who may have moved away after college, but still have an affinity for Indiana, Doden said.
"There's a reason to look at Indiana again with fresh eyes," he said.
Realizing that people ages 22 to 35 have a lot of choices in where they live, Doden said IEDC must back up that message with a strong "quality of place."
"We're going to really focus on making sure we do the best we can to work with local officials and put our best foot forward," he said.
Only Iowa and New Hampshire have created programs to lure back natives, but more states are thinking it's a good idea, Shaffer said.
New York higher education officials even have discussed extending in-state tuition to students whose grandparents live in the state, he said. The idea is to create a connection that would attract the parents, who may have fled upstate New York because of poor economies of the 1980s and 1990s.
Gigerich, who was familiar with Iowa's program, said it would likely be a long-term project for Indiana. A state has to constantly remind expatriates about what's changed since they left.
"They're not going to go out to California and host two or three receptions for people, and they're going to come back here," he said.
Shaffer thinks Hoosiers, like upstate New Yorkers, ultimately do want to live in a place that's like where they were raised. A State University of New York poll of graduating upstate natives found that most of them planned to move to a big city but saw themselves living in a medium-size city or suburb 10 years later.
"That says to me there's some promise behind a strategy like that," Shaffer said.•
Please enable JavaScript to view this content.