Indianapolis startup MaxTradein has expanded its operations to Cincinnati, taking the first step in what its founders hope will be a national rollout.
Childhood friends Peyman Rashid and Justin Bates launched their online used-car marketplace late last year, offering local consumers an alternative to the traditional trade-in process.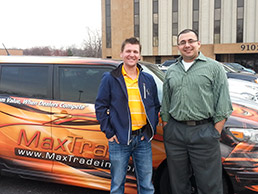 Justin Bates, left, and Peyman Rashid launched their business last year. (Photo courtesy of MaxTradein)
MaxTradein.com allows vehicle owners to list basic information about the car they'd like to sell—make/model, mileage and condition, for example—and invite several local dealers to make an offer. Dealerships have 48 hours to bid.
The owner chooses the preferred offer, and MaxTradein makes the connection.
The service is free to consumers. Auto dealers pay a subscription fee to be listed on the site, plus $199 for each car they buy.
The company said more than three dozen Indianapolis dealerships have signed up, giving them a shot at a wide range of used cars and customers ready to buy something new.
And with more than 1,000 cars listed on the website in two months, the partners decided it was time to grow. Eventually, they expect to have a presence in more than 30 markets nationwide.
They brought in Shawn Schwegman as chief operating officer to help achieve that goal. Schwegman was chief marketing officer for Carmel-based ChaCha Search, and previously served as chief technology officer and vice president of marketing for Internet retailer Overstock.com.
"You don't often come across people with Shawn's proven track record for growing and scaling companies to the next level and beyond," CEO Bates said in a prepared statement.
Please enable JavaScript to view this content.