A federal investigation and a shareholder lawsuit are the latest headwinds to threaten ITT Educational Services Inc., which is trying to reverse a precipitous decline in enrollment.

A federal lawsuit filed in New York March 11 accuses Carmel-based ITT of defrauding all its shareholders over the past three years. And at least a half dozen law firms are soliciting ITT Educational shareholders to launch similar class-action suits against the company.

Kevin Modany, CEO of ITT Educational, wants to move into corporate training.
The legal assault was spurred by ITT's Feb. 22 disclosure that the U.S. Securities and Exchange Commission is investigating how it accounted for $400 million in off-balance-sheet loan programs it used to help students afford its lofty tuition from 2009 to 2011.

Now, about 60 percent of those students are defaulting on the loans, leading to tens of millions of dollars in charges.

Even before the company revealed the SEC inquiry, ITT shares had lost 75 percent of their value over 12 months. The disclosure and lawsuit have sent shares down another 32 percent.

"Adverse media coverage regarding other companies in the proprietary education sector or regarding us directly could damage our reputation, could result in lower enrollments, revenue and profit, and could have a negative impact on our stock price," wrote ITT Educational's attorneys in its annual report, filed on Feb. 22.

The bad publicity adds to a litany of challenges ITT Educational faces as it tries to reverse a three-year trend of declining enrollment.

Traditional universities are ramping up their online programs and are even offering free introductory courses over the Internet—both initiatives that are cutting into the convenience edge that ITT Educational and its for-profit college peers have traditionally held.

In addition, all higher education institutions are struggling through a dip in the number of high school graduates.

Enrollment at ITT's 149 campuses has fallen 28 percent since the end of 2010. And most Wall Street analysts predict the swoon isn't over. An average of six analysts forecast another 9-percent increase this year, then a bottoming-out in 2014.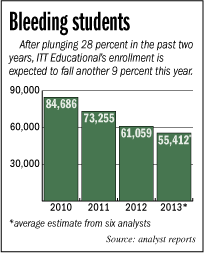 For its part, ITT Educational predicted enrollment would range this year from a decline of no more than 5 percent to a gain of as much as 5 percent. But after ITT Educational issued that forecast Jan. 24, most analysts were unconvinced.

"It will take years to get total enrollment up, in our view," wrote James Samford, an analyst at Citi Research in San Francisco, in a Jan. 25 research note.

After ITT Educational disclosed the SEC investigation, Samford called it "another blow to management credibility" and reiterated his enrollment concerns.

"With high tuition and high fixed costs, ESI also has fundamental challenges that get exacerbated by ongoing enrollment declines," Samford wrote Feb. 25, referring to the company by its ticker symbol.

ITT Educational knows its enrollment is a problem and is fighting back.

To address its high tuition—which averages about $47,000 for a two-year associate's degree—ITT Educational has introduced new Opportunity Scholarships at 101 campuses this year.

In most cases, these scholarships offer a roughly 10-percent to 20-percent discount off an ITT associate's degree. The company expects to spend $100 million to $125 million on the scholarships this year, CEO Kevin Modany said during a presentation to investors on March 11.

"The lead flow for our programs of study at ITT continues to remain strong," Modany said. "The challenge over the last couple of years has really been the conversation rate of that, and we think it relates to some of that price elasticity and sensitivity to price."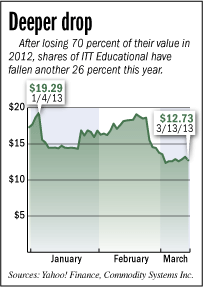 The scholarships have been universally praised by analysts, even though their cost will take a bite out of ITT's earnings this year. But some wonder if the scholarships will have the desired effect, since some of ITT's for-profit university peers started such scholarships two years ago and are now, in some cases, increasing them.

"With other for-profit peers increasing scholarships and advertising, and state schools now offering free online introductory classes for credit, the war for prospective students continues to heat up," Paul Ginocchio, an analyst at Deutsche Bank Securities Inc., wrote in a Jan. 24 research note.

In investor presentations, Modany has been playing up the company's plans to branch into other markets, including corporate training and perhaps even offering dual-credit courses to high schoolers.

Those efforts are designed to use ITT Educational's existing campuses during daytime hours, when ITT Educational uses only 5 percent of its capacity. Most ITT students come to classes in the evenings, when the company's campuses are at 70-percent capacity.

"We are, again, trying to take advantage of capacity that exists," Modany said during a Feb. 26 investor presentation. "The strategic focus for us is driving more volume through that infrastructure, and the incremental margin and leverage opportunity for us is pretty significant."

Alex Paris, an analyst at Barrington Research in Chicago, thinks there is cause for optimism about ITT. He said the new scholarships will start to turn around ITT's enrollment later this year.

And he does not think the SEC investigation or the shareholder lawsuit will affect enrollment. ITT and its peers have faced numerous previous legal actions, with little or no fallout. ITT, for instance, sailed through a 2004 Justice Department criminal investigation that concluded with no charges.

"The socioeconomic group that tends to go to ITT Technical Institutes doesn't read The Wall Street Journal or search the SEC … database," Paris said. The average income of an incoming ITT student is $17,000 per year.

"I've never seen an impact on enrollment from a single SEC investigation," Paris added.

That's true, agreed Jan Hise, an education specialist at the Hawthorne Community Center in Indianapolis, who counsels some of her GED students on where to go to college. But she and her colleagues make sure to print out articles about investigations into for-profit colleges, and to talk about them in class.

"We're really big here on not going into debt that you can't pay back," Hise said. "So we try to steer people to institutions that are more reasonable, and not the proprietary colleges."

And that's what ITT has to worry about.•