Easter Seals Crossroads has promoted its No. 2 leader to take the top post—a challenging assignment at a time the organization is weathering annual deficits of almost $1 million and facing uncertainty over future government funding.

Sandy
Patrick Sandy, who has been vice president of the Indianapolis disability services not-for-profit for 13 of his 15 years there, will replace Jim Vento as CEO on April 1.
Vento will retire after 32 years at the organization.
Board member Dave Moore, who headed the search for Vento's successor, said the committee waded through more than 70 applications from around the United States before deciding it wanted someone who could jump in without a learning curve.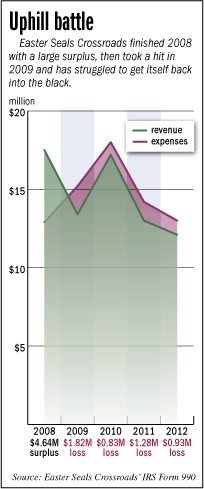 "Basically, we needed somebody who could revive and energize the organization, someone who could build and maintain partnerships," Moore said.
The board wants Sandy to quickly generate new revenue as Easter Seals waits to see how it should adjust programming once key provisions of health care reform go into effect in 2014.
"It's kind of a cautious, wait-and-see type of thing, but there's nothing we can do," Moore said. "We know that the dynamics are changing."
Easter Seals Crossroads, which is affiliated with the national Easter Seals organization in Chicago, has broader services than many other disability services agencies that focus on specific physical or mental conditions. Programs range from rehabilitation for children to job placement for adults with disabilities.
The group had strong financial performance before the recession, finishing the fiscal year that ended in June 2008 with a $4.6 million surplus after pulling in $17.5 million in revenue, IRS records show.
But the financial balance tipped in the other direction in fiscal 2009, with the organization suffering a $1.8 million deficit.
The past four years have ended in the red. In the year ended June 30, 2012, Easter Seals Crossroads lost $929,459 despite a dramatic reduction in expenses. Costs for the year were $13 million, down from $14.2 million in 2011 and $18 million in 2010.
The organization drew $775,000 from its $18.5 million endowment to help cover expenses. But executives realize they can't rely heavily on the fund if they want its value to grow.
"The ideal situation is going to be that we don't ever have to use that," Sandy said. "But the fact is, it's there for the purpose of being able to rely on it."
Financial challenges
Executives blamed last year's deficit on $663,348 in expenses tied to depreciation, amortization and depletion of equipment. One factor in the accounting adjustment was the declining carrying value of iPads that the organization provides to visually impaired seniors.

Vento
Vento said Easter Seals Crossroads wants to maintain the quality of its services and keep launching programs, such as the one using iPads, but they can be expensive.
"It's always challenging," he said. "We're an organization that has been recognized in terms of its ability to serve a broad variety of individuals. We're a No. 1 provider of vocational services."
Easter Seals Crossroads is different from most not-for-profits in that one of its primary programs involves paying its clientele.
Payroll last year was almost $7.9 million, which represented about 60 percent of expenses.
About 100 of Easter Seals Crossroads' 250 employees are people with disabilities who work for the not-for-profit. Most of them are in the Crossroads Industrial Services program, which runs a small factory on East 33rd Street.
The contract-based sales at the factory generated more than one-third of the not-for-profit's revenue last year.
But one of the largest customers is the U.S. Department of Defense, which is facing a massive budget cut from sequestration.
Vento expects Industrial Services to lose business from the federal funding drop.
Medicaid's unknowns
Meanwhile, Easter Seals Crossroads has to figure out how it will fit into health care reform's changes to Medicaid and, to a lesser extent, Medicare.
The government reimbursements account for only a little more than 4 percent of the organization's total budget.
But Easter Seals still worries about the federal and state funding levels because that is the only way many of its disabled clients can pay for services, said Katy Neas, senior vice president for government relations at the not-for-profit's national office.
The Affordable Care Act gives states the opportunity to expand Medicaid, with the federal government picking up much of the tab. Indiana has proposed doing so through its Healthy Indiana Plan, which already covers 40,000 low-income residents, but the federal government hasn't ruled whether that's acceptable.
Even if the Indiana expansion moves forward, the future remains murky. Neas noted that U.S. House Budget Committee Chairman Paul Ryan proposes cutting almost $1.4 trillion from Medicaid by 2022.
Amid the political debates, Crossroads is left struggling with myriad questions, including how much it should budget, whether its clients will have the means to pay, and whether it can still accept Medicaid clients.
"It's recognized in the entire field [of disability services] that things are tough," said Bryan Orander, president of Charitable Advisors in Fishers, who consulted Easter Seals Crossroads on its CEO search.
"Certainly, 10 years from now, organizations like Easter Seals Crossroads will look pretty different. Some of their core programs will shift and evolve."
More ventures
Sandy said he wants to continue an effort Vento started to bolster revenue by finding for-profit businesses with which it can partner, maybe even acquire.
Vento said Easter Seals Crossroads has been looking at ventures that, like Industrial Services, would provide a service to clients while also making money for the group.
Ken Berger, CEO of watchdog group Charity Navigator in Glen Rock, N.J., questioned the move because many not-for-profits struggle to make money off such operations.
"A lot of these jobs are subsidized," Berger said. "The productivity level isn't tremendous. It may break even. It may bring in a little revenue. But that's not going to solve the problem."
He said many not-for-profit leaders nationally have been reluctant to make hard choices, such as cutting programming and budgets, when that would be the right course to remain financially sound.
"One of the problems, in defense of these groups and the leaders, even if you're clear-eyed and pragmatic and you make the tough decisions, there's shifting sands from one minute to the next," he said.
"There are politicians going back and forth. … A visionary leader, a really competent leader, has to have multiple scenarios planned."
New programs
Sandy wants to spend the next several months setting up goals and identifying areas Easter Seals Crossroads could grow.
Services for veterans and their families will be a major focus. Sandy sees that as a way to tap new partners and donors while expanding services.
"What donors are looking for in terms of opportunities are changes—what are the newest services in the field?" he said. "Like with the veterans' initiative, we're trying to expand what we currently do to meet the needs of another group."•
Please enable JavaScript to view this content.