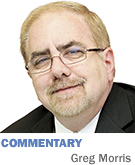 I've been feeling a bit reflective lately as I just completed 22 years at IBJ a few weeks ago. I started my 23rd year on March 5. Sometimes it's beneficial to take a break from the day-to-day controlled chaos to remember a bit of history. The lessons learned over the years can be instructive for the future.
As I've related before, I came to IBJ to sit out a six-month non-compete contract before moving on to our sister company, composed of three radio stations. It was meant to be a short stop in a continuation of my conquest of the radio business. Now, I did end up at our radio company, but I never left IBJ. I pulled a double-duty shift at our newspaper and radio companies until we sold our radio stations in 2006. And I'm very appreciative to still be serving today.
Before IBJ, I worked at a great radio company here in Indianapolis that had been good to me for several years. Things were pretty miserable when I left, but it's a wonderful company today. It proves the point that, over the course of many years, most companies go through ups and downs.
I specifically remember sitting with some former co-workers several months after leaving and calculating that there was 78-percent turnover in the entire staff of three radio stations in the year that I departed. That speaks volumes about the poisonous atmosphere at the time.
Local management wasn't creating the turmoil—it was the out-of-town owners from hell. There were three of them, only one of which was a decent human being. The other two were competing for the title Supreme Jerk of the Universe. (I cleaned that up for our family audience.)
I don't want to sound bitter after all these years, but just thinking about those guys still raises the hairs on the back of my neck. It didn't matter what position you held, every day felt like it could be your last.
I suppose it would be politically incorrect to call them out by name after all these years, but when have I been overly concerned about political correctness? Randy and Scott—you were mean, nasty people and your uncaring treatment of employees was unforgivable. (I also cleaned that up for our family audience.) Ted—I hope you are doing well. You deserved better than working with those clowns.
Wow. That felt great! I'm feeling stronger every minute. Thanks to all you readers for being witness to my successful rehabilitation. Let's keep going here. This is fun.
I recall when I gave notice to leave the company; my boss told me it would be the biggest mistake of my life. Again, not to mention names, but I still love you, Roy, and I want to let you know I'm doing OK. As it turns out, leaving for IBJ was one of the best decisions I've made. I hope those Shell convenience store investments worked out as well for you as the move to IBJ worked out for me. By the way, I don't want to give the impression that I'm putting Roy in the same class as those other yahoos. He's a good guy. He was under the same ungodly pressures as everyone else.
This is incredible. I'm feeling even better. Who needs Dr. Phil when this self-therapy works fine?
I guess this exercise in self-reflection has reminded me that life can be pretty darn good. You have to work hard to make it so, but rarely are great accomplishments and awards easily achieved. Has it been utopia working here every day? Of course not. However, I'm very thankful for the opportunities I've had working for this great locally owned company, and I'm looking forward to the opportunities that lie ahead.
It's so easy to fall into the trap of being negative most of the time. Everything today is a big challenge. Even the easiest things have become difficult. Our 24-hour news cycle bombards us with talking heads reminding us how bad everything is. We have to rise above all this and remind ourselves about all the good things going on around us.
Thanks for letting me relive some history and exorcise some of my personal demons. I'm ready to hit it hard, face whatever comes my way, and try to make a positive difference. Go forth and do the same. Thanks for reading and supporting IBJ.•
__________
Morris is publisher of IBJ. His column appears every other week. To comment on this column, send e-mail to gmorris@ibj.com.
Please enable JavaScript to view this content.