Changes are coming to Nora Plaza that should bring even more traffic to the popular north-side shopping center.
Indianapolis-based developer PK Properties plans a $2 million redevelopment of the 8,000-square-foot building that formerly housed Café Nora, and anchor Whole Foods is expanding into 5,700 square feet of space north of its existing store.
Spurring the upgrades are the neighborhood's strong demographics and affluent population. The location boasts a population of more than 57,000 people within three miles with an average household income of $93,900, Cassidy Turley data show. Nearly 72 percent of residents living within a mile of the location are college-educated.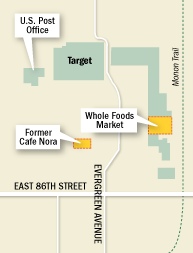 For Whole Foods, the Austin, Texas-based natural and organic chain, the upgrade comes a few years after Kroger opened an upscale store across East 86th Street.
"We view it as a highly successful center," said Wes Podell, vice president of leasing and development at PK Partners. "We believe in it."
PK Partners hopes to have the vacant one-story building fully occupied by the end of summer and has dubbed the development Nora Shops West. The developer is eyeing three to four tenants for the building and so far has a commitment from the local Pizzology Pizzeria & Pub.
IBJ first reported in May that local restaurateur and chef Neal Brown, who launched the pizza concept in Carmel in 2009, was interested in the Nora location.
Meanwhile, Whole Foods is set to expand into space to the north of the store this year, though an exact time line has not been established, said Marilyn Robarts, the store's team leader.
What store offerings will occupy the space also is uncertain, she said, though outside real estate sources say Whole Foods is expanding its café and juice bar.
"Indianapolis has been very good for us," Robarts said. "Sales have been very, very strong, and we do need more space. We're busting at the seams."
The 5,700-square-foot expansion into the space last occupied by a carpet outlet will increase the footprint of the location to 38,500 square feet, Robarts said, which is the typical size of a Whole Foods store.
The chain of 340 stores arrived at Nora Plaza in late 2007 via Whole Foods' $565 million buyout of Wild Oats. Its only other Indianapolis-area location is in Carmel, at the upscale Clay Terrace outdoor mall.
Whole Foods' reputation as a mecca for organic and natural food lovers has made it the nation's hottest grocery chain, and a strong anchor for Nora Plaza, on the north side of East 86th Street between College Avenue and Westfield Boulevard.
"It's a really, really strong retail area, and there's a lot of demand there for B-shop space," said Steve Delaney, a restaurant expert at the locally based Sitehawk Retail Real Estate brokerage. "It's just one of those centers that will always reinvent itself."
Average lease rates run about $22 a square foot, typical for the area, and the 304,000-square-foot center, also anchored by Target and Marshalls, is 97-percent occupied. Besides the space Whole Foods is taking, the only other vacancy is a 4,000-square-foot storefront near Marshalls.
Nora Plaza opened in 1958 and has had several owners through the years.
PK Partners bought the entire shopping center in 2004. Three years later, it sold most of it to Michigan-based Ramco-Gershenson Properties Trust and a Chicago-based partner, Heilman LLC.
Ramco-Gershenson also owns Merchants Square in Carmel.
Ruth Hayes, president of the Nora-Northside Community Council, is a longtime resident of the area and appreciates the updates PK Partners President Phil Larman made to Nora Plaza when his firm owned it.
Renovations included removing the outdated and deteriorating canopy and column wraps and replacing them with cultured stone columns and a dark bronze aluminum roof edging.
PK Partners owns several retail centers on the north side. In the Nora Plaza area, it still owns the building occupied by a PNC bank branch as well as the 11,200-square-foot Nora Plaza Shops along the Monon Trail. Its tenants include a Huddles Frozen Yogurt shop and a Verizon Wireless store.

Podell
PK Partners purchased the former Café Nora building from Target late last year and has begun interior work on the dated structure that's been vacant since 2009.
Podell is confident the developer will have little trouble filling the space. Architectural enhancements and an outdoor patio for Pizzology should make the building attractive to potential tenants, he said.
"There's been very strong interest, and there's no sign-up for a lease; it's all been through word of mouth," Podell said. "We should be able to lease the whole building without even marketing it."
Pizzology owner Brown, who also operates the downtown Libertine restaurant, is excited about a second location for his pizzeria. He plans for even more locations in the Indianapolis area but declined to divulge details.
"I think there's a little bit of a void there, and I think they want something that's unique," he said of the Nora residents. "I think they appreciate the independent restaurants a lot more than the chain restaurants, so that was pretty compelling."
Brown plans to take about 3,500 square feet, which is larger than the 2,900 square feet of space he occupies along Hazel Dell Parkway in Carmel.
The upgrades in the works by both PK Partners and Whole Foods are eagerly anticipated by tenants such as Gary Goodman, who's operated Goodman Shoes at Nora Place since the shopping center opened 54 years ago.
"We just signed another 10-year lease, so we're real happy here," he said. "I think it's going to be great."•
Please enable JavaScript to view this content.